Will Apple Lose the Profit Crown to Samsung?
Is Apple (NASDAQ:AAPL) about to lose its handset profit crown to its South Korea-based rival? A recent report from analysts at investment research firm Canaccord Genuity suggests that Samsung (SSNLF.PK) could take the lead in handset profits as Apple's profits continue to decline. Although Apple still took the majority of profits in the first quarter of this year, analysts at Cannacord Genuity point to an overall trend which may indicate the Cupertino-based company is slipping in the race for handset profit.
Apple took 57 percent of total worldwide handset profit in the first quarter of this year, while Samsung took 43 percent. However, this is a decline for Apple compared to the same quarter from last year. In the first quarter of 2012, Apple held 74 percent of the profit, while Samsung only had 26 percent. Similarly, in the last quarter of 2012, Apple was responsible for 72 percent of global handset profits, while Samsung controlled 29 percent. Apple and Samsung were able to seize over 100 percent of the total industry's profits due to operating losses from other handset manufacturers like BlackBerry (NASDAQ:BBRY), Nokia (NYSE:NOK), and Motorola Mobility (NASDAQ:GOOG).
Cannacord Genuity analyst Michael Walkley thinks that Samsung's new Galaxy S4 will help propel the company's profits past its Cupertino-based handset rival. Samsung has also been particularly successful in penetrating emerging markets where the relatively more expensive iPhone is at a price disadvantage. This is one reason some analysts believe Apple would benefit from the introduction of a low-cost iPhone.
Apple has already forecast falling gross margins for the June quarter due to the increase in sales of less profitable products like the iPad mini. Apple indicated that its gross margins could drop as low as 36 percent in the third quarter.
Other analysts cite the iPhone's smaller screen size as a market disadvantage. Laurence Isaac Balter of Oracle Investment Research believes that many consumers are choosing Samsung handsets over Apple's devices due to the larger screen sizes. Via The New York Times, Balter states that "the market is clearly saying the larger screen. People, when they're faced between the two, are choosing the larger screen."
Here's how Apple has traded so far this week.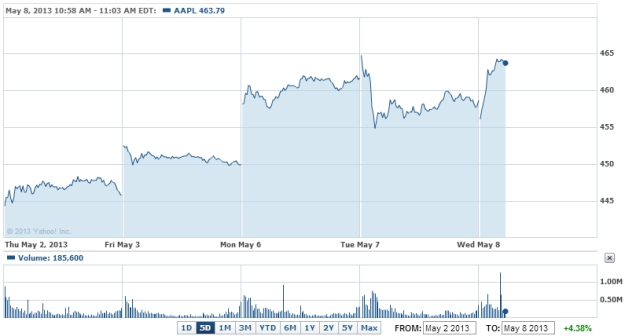 Don't Miss: Is the iPhone the Key to T-Mobile's Future Growth?