Will Apple Loyalists Come to the Rescue?
Apple's (NASDAQ:AAPL) loyal customers will help the company address growth problems, according to Deutsche Bank's Chris Whitmore. The analyst also reiterated his Buy rating on the stock and his $575 price target, saying the loyalty will help add to the shareholder value.
"The key underpinning of this view is the stickiness of the iOS platform and the substantial and growing investment (both time and money) Apple users place in it," Whitmore wrote in a note to investors. "Although the U.S. phone market is well penetrated, we see substantial opportunity for Apple to grow its user base in emerging markets and further monetize existing iOS users through the living room (Apple TV, additional content, etc.)."
According to the analyst, Apple's existing customers were likely to upgrade to new hardware from the company in the future. In addition, the iPhone maker would continue to grow its user base by tying in new customers into the ecosystem. Apple-only features such as iMessage and FaceTime increased iOS "stickiness," Whitmore wrote.
That was because iOS users had made a "significant investment in time and dollars into the iOS platform, and as a consequence the switching costs [were] remarkably high," he said.
With about 400 million iPhones, iPads, and iPod touches in use and 40 billion cumulative application downloads, the analyst estimated there were about 100 applications downloaded per device. About $54 billion cumulative dollars were spent on iTunes, accessories, and the App Store as of the December-ending quarter. That implied that the average iOS device had about $130 in content.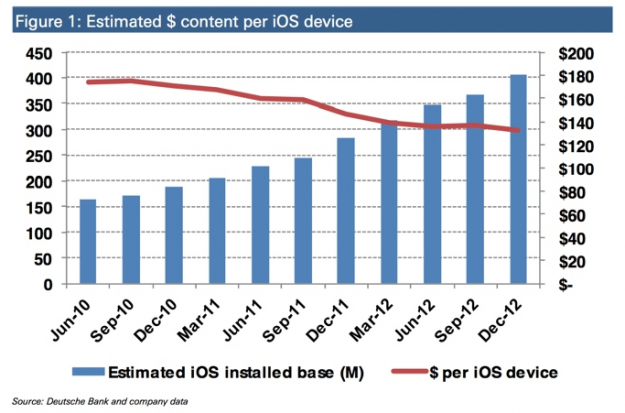 In the past trading week, Apple (NASDAQ:AAPL) managed to finish the week higher 3.16%: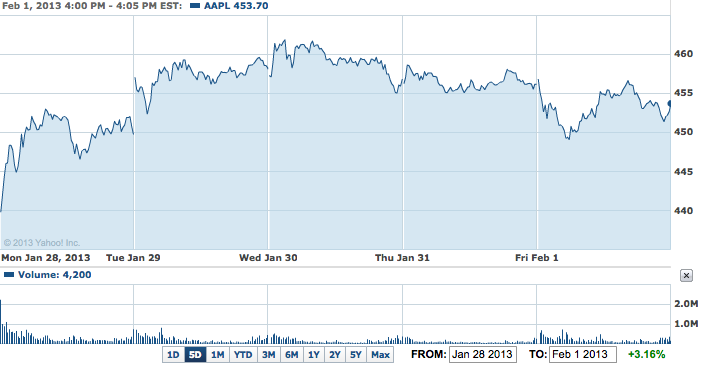 Don't Miss: Will Apple's New iPad Do Magic?