Will Apple Macs Change Forever With This Shot of Intel?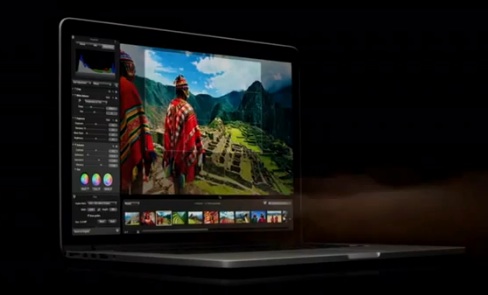 Is the next generation of Apple's (NASDAQ:AAPL) Macs about to get a major upgrade thanks to Intel's (NASDAQ:INTC) new "Iris" graphics processors?
Ever since it released the Haswell series of processors, Intel has been branding its latest generation of chips with more distinctive monikers that seem to reflect a greater faith in the chip's ability to compete with dedicated processors from rivals such as Nvidia (NASDAQ:NVDA) and Advanced Micro Devices (NYSE:AMD).
Although discrete Graphics Processing Units, or GPUs, are generally viewed as superior to integrated processors, Intel's new Iris line of integrated GPUs could help change that perception. Discrete, or dedicated, GPUs are typically able to process graphics much faster due to having their own dedicated RAM.
On the other hand, these types of discrete processors also tend to generate more heat and consume more power than their integrated counterparts. This can be an issue for ultra-thin laptops like Apple's MacBook Air.
However, Intel's latest generation of integrated graphics processors are designed to be comparable to discrete chip offerings from Nvidia and AMD. Although Apple's last 15-inch MacBook Pro model featured a discrete processor from Nvidia, the 13-inch model only had room to accommodate Intel's integrated HD Graphics 4000 chip. Now Apple will be able to get significant processing power from Intel's latest Haswell series chip without sacrificing the size or low-power consumption benefits that come with an integrated graphics processor.
Apple observers anticipate that the Cupertino-based company will introduce the new MacBook Pro and MacBook Air models that feature the new Haswell series chips at this year's Worldwide Developers Conference, or WWDC, in June. The chart below compares Apple and Intel stock movement over the past week.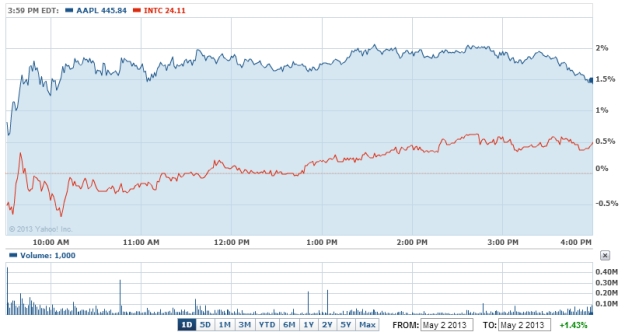 Don't Miss: These Banks Made Hay With the Apple Bond Sale.