Will Apple or Android Be Your Child's Favorite Toy?
Eyeballs are a precious commodity in the technology industry. Major corporations are in a seemingly endless race to attract as many users as possible, and mobile devices are already a daily necessity for millions of people. However, the target audience is becoming younger than ever as children as young as 2 years old become tablet users.
Will Apple (NASDAQ:AAPL) or Android (NASDAQ:GOOGL) be your child's favorite toy? According to a new report from NPD Group, ownership of tablets in households with 2- to 12-year-olds increased to 59 percent this year, up from 50 percent last year. In fact, 48 percent of kids ages 2 to 12 use tablets this year, compared to 38 percent in 2013. Almost half of parents say their children are playing on tablets more than they were last year.
"Most households have electronics such as tablets, and in some cases children not only use these devices, they are the primary owners," said Juli Lennett, president of the Toys division at NPD Group, in a press release. "The role of technology in children's lives cannot be overlooked, and parents recognize that, while sometimes struggling with it. This generation is using technology as their coming-of-age play source, as past generations have done by moving to other items or methods of play as they aged."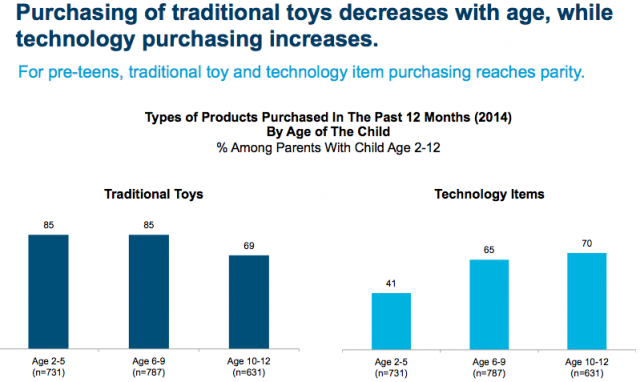 While traditional toys are still popular among children younger than 10, technology items are just as popular among the 10-12 age group. As the chart above shows, 70 percent of 10- to 12-year-olds owned technology items, slightly ahead of the 69 percent that owned traditional toys.
The report also finds that many tech gadgets are handed down to children. Smartphones are the most likely to be handed down, followed by e-readers, consoles, and the iPod Touch. Tablets are one of the least handed-down devices among families.
If Millennials are any indication, the next generation will rely heavily on tech devices in their daily lives. In a separate report, NPD Group recently found that 56 percent of U.S. tablet owners age 18-34 use their tablets for activities related to the TV program they are watching, or for other programming related activities. That compares to only 41 percent among all tablet owners age 18 and older.
More From Wall St. Cheat Sheet:
Follow Eric on Twitter @Mr_Eric_WSCS