Will Apple Release this New Gaming Device?
Is Apple (NASDAQ:AAPL) finally releasing its own dedicated gaming controller? According to rumors emerging from this year's GDC (Game Developers Conference), the answer seems to be a definite yes. Although an app that converts the iPhone into a virtual joypad has long been available, this would be the first physical device from Apple that would be exclusively dedicated as a gaming controller.
The iPad and iPhone are already wildly popular platforms for gaming even though Apple has never created a device exclusively for gaming, unless you count the Apple/Bandai  PiPP!N console from the mid-nineties.
According to Jon Jordan at PocketGamer, Apple has been consulting with game developers at this year's GDC, albeit under a "pseudonym company name," in preparation for a formal announcement about the game controller at its annual April press conference.
PocketGamer admits that none of the sources who reportedly talked to Apple representatives at the GDC actually saw a physical device. However, this would not be unusual since Apple typically "doesn't let unreleased hardware leave its closely guarded offices."
Samsung (SSNLF.PK), Apple's main rival in the smartphone market, announced its own Game Pad at the Galaxy S4 launch earlier this month. PocketGamer also reports that Google (NASDAQ:GOOG) will soon be announcing the release of its own official game controller.
However, before Apple gaming aficionados get their hopes up, we should check in with professional Apple rumor dispeller, Jim Dalrymple. On his blog "The Loop," Dalrymple typically offers succinct responses to Apple stories and rumors. Regarding the rumor of Apple's upcoming release of a dedicated game controller, Dalrymple simply wrote, "Nope."
Apple closed down 2.08 percent at $442.66 on Thursday, at the end of a shortened trading week.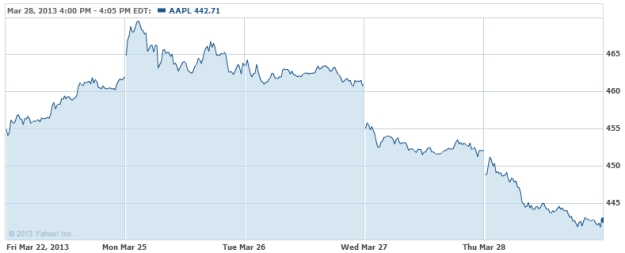 Don't Miss: Apple Beats Samsung at Social.