Will Apple Shareholders Get These Answers?
Next week's earnings report from Apple (NASDAQ:AAPL) is being called the most important in years for the company, but its annual shareholders meeting, set for next month, does not come with any less consequence. The meeting will take place at 9 a.m. PT on February 27 at Apple's campus in Cupertino, California, according to a filing with the U.S. Securities and Exchange Commission, and will allow in all holders of the company's stock as of January 2, 2013.
Among the issues up for discussion at the meeting, as reported by AppleInsider, are the election of the company's board of directors, the ratification of Ernst & Young as its independent accounting firm, an advisory vote for executive compensation, and two shareholder proposals.
Should you buy or sell Apple's stock ahead of earnings in a few days? Our 20-page proprietary analysis will help you save time and make money. Click here to get your SPECIAL REPORT now.
Compensation Issues
The first shareholder proposal is regarding company compensation and asks that all senior executives retain a "significant percentage" of their stock awards earned through equity pay programs until they retire. This will motivate a higher level of performance that ensures future success for the company as a whole, the proposal adds.
The proposal specifically mentions the "mega grant" of one million restricted stock units received by chief executive Tim Cook that held a grant date value of $376 million. Half of those shares were set to vest in five years and the rest in ten years, but such a system has no future performance requirement, the proposal argues.
The company's board, according to AppleInsider, disagrees with the proposal.
The second shareholder proposal targets reports of alleged labor abuse at Apple's manufacturing partner Foxconn and asks for the establishment of a company board committee on human rights that would "review the implications of company policies, above and beyond matters of legal compliance, for the human rights of individuals in the US and worldwide, including assessing the impacts of company operations and supply chains on resources and public welfare in host communities."
The board is also in opposition to this proposal, and argues that the company is already committed to high standards of social responsibility and human rights.
Among the proposals made and recommended by the board to be passed, one wants the elimination of language from the company's articles of incorporation to make the adoption of majority voting for directors easier. In addition, the board also wants to get rid of "blank check" preferred stock, which essentially means that any future preferred stock would have to be approved by shareholders before being issued.
Start 2013 better than ever by saving time and making money with your Limited Time Offer for our highly-acclaimed Stock Picker Newsletter. Click here for our fresh Feature Stock Pick now!
Another board proposal asks for the establishment of a "par value" of $0.0001 per share for Apple common stock in order to bring down corporate expenses.
Here's how Apple's (NASDAQ:AAPL) stock traded on Wednesday: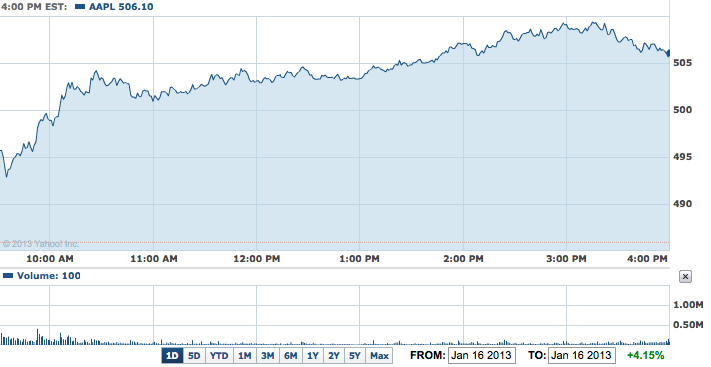 Don't Miss: Judge Tells Amazon and Apple to Play Nice.