Will Apple's iPad Be the Hottest Gift This Mother's Day?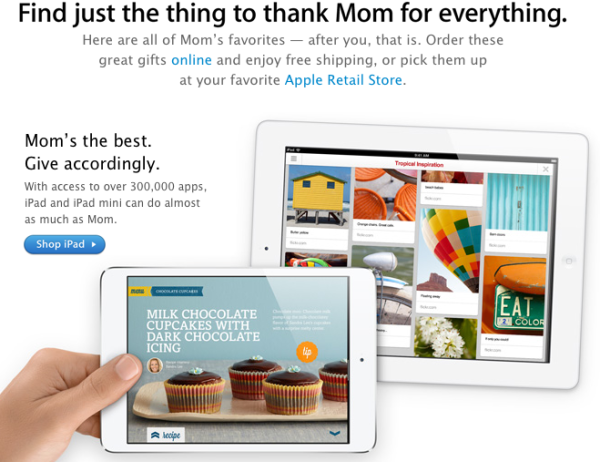 While flowers and candy typically come to mind when thinking about Mother's Day, moms across the nation are set to receive more technology-based gifts than ever before.
Consumers are expected to spend an average of $168.94 on mom this year, up 11 percent from last year's $152.52, according to the National Retail Federation's Mother's Day spending survey conducted by BIGinsight. Total spending is projected to reach $20.7 billion.
"It's clear that Americans this year want to honor the woman with the hardest job in the world with unique and special gifts this Mother's Day," said NRF President and CEO Matthew Shay. "After a long winter that kept many from splurging on any new spring merchandise, retailers are looking forward to opening their doors and surprising shoppers with promotions that are perfect for any gardener, host, fashionista, or tech-savvy mom."
Traditional gifts will still be popular, but consumers are expected to stretch the budget for certain gadgets. The survey finds that more than $2.3 billion will be spent on electronics, with 14.1 percent of people taking the tech route, an all-time high for the survey. In comparison, consumers spent $1.6 billion on electronics last year. More than one-third of consumers will buy jewelry, spending a total of $4.2 billion.
"Budgetary constraints will keep many families on the lookout for the perfect group gift, like a new tablet or smartphone, or even that cashmere sweater they know mom has had her eye on," said BIGinsight Consumer Insights Director Pam Goodfellow. "This year, there's no question mom will blush over the outpouring of admiration her family and friends want to bestow upon her."
Even though Apple's (NASDAQ:AAPL) cheapest tablet — the iPad mini — starts at $329, an iPad appears to be a top pick for those shopping for a tablet. Apple sold more than 19.5 million iPads in the first three months of the year, a record for the March quarter. Apple also received top honors in the J.D. Power and Associates 2013 U.S. Tablet Satisfaction Survey, narrowly beating out Amazon (NASDAQ:AMZN).
Tablet growth is exploding around the world. In the first quarter, worldwide tablet shipments surged 142.4 percent from a year earlier, according to International Data Corporation. Apple held 39.6 percent of the market share, followed by Samsung at 17.9 percent. Microsoft (NASDAQ:MSFT) cracked the top five for the first time with a market share of 1.8 percent, courtesy of its new Surface RT and Surface Pro tablets.
Don't Miss: Chart of the Day: These 5 American Giants Lead the Way