Will Apple's iPads Make Flying Cheaper?
Besides its sleek, minimalist design and Apple (NASDAQ:AAPL) brand quality, much of the iPad's appeal derives from its lightweight construction. Now many American Airlines pilots are quite literally getting a lot of mileage out of the iPad's low weight.
According to an American Airlines news release, the airline has received FAA permission to use the iPad as an Electronic Flight Bag. The iPad is the only tablet device that has been approved by the FAA as Electronic Flight Bag.
An Electronic Flight Bag is a digital replacement for all of a pilot's paper-based reference materials and manuals that they must normally bring with them on every flight. The traditional flight kitbag can weigh upwards of 35 pounds. American Airlines estimates that using the iPad in lieu of the regular kitbag will save the airline approximately $1.2 million in annual fuel costs.
Via the official American Airlines website, VP Captain John Hale stated, "This is a very exciting and important milestone for all of us at American Airlines as we work to modernize our processes and best meet the needs of our people. With this approval from the FAA, we will be able to use iPad to fully realize the benefits of our Electronic Flight Bag program, including improving the work environment for our pilots, reducing our dependency on paper products and increasing fuel efficiency on our planes. We are equipping our people with the best resources, and this will allow our pilots to fly more efficiently."
Besides using the iPad as a piloting accessory, the airline is also initiating its use as an informational customer service device for flight attendants. It remains to be seen if the airline will be passing its new iPad fuel savings on to the passengers.
Here's how Apple (NASDAQ:AAPL) traded Wednesday: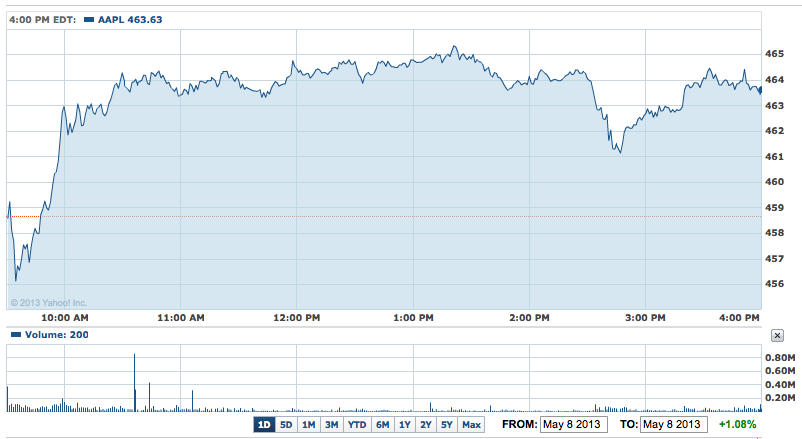 Don't Miss: Apple Under Continued Fire For Privacy Violations.