Will Copying Apple and Samsung Pay Off for Xiaomi?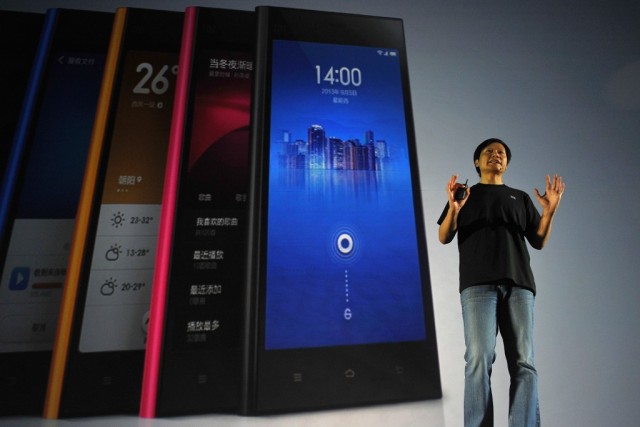 As the smartphone and the battle to supply it spread around the world, there's a new power joining Apple and Samsung at the top. It's one that has risen to popularity in China with low-cost phones, a strong social media strategy, and a business model that relies on software and services instead of handsets for the company's slim profits — and the firm doesn't have a problem with taking cues from the designs of other smartphone giants.
As Paul Mozur and Shanshan Wang report for The New York Times in a piece that refers to Xiaomi as "a new smartphone giant," the Chinese smartphone battle used to be between Apple and Samsung. But over the summer, Xiaomi, a smartphone manufacturer known for balancing quality with affordability, took the top position in China's competitive smartphone market and simultaneously became the world's third-largest smartphone maker.
Xiaomi was founded in 2010 as what Mozur and Wang characterize as a "lean startup," with the goal of selling well-designed phones at low prices over the Internet. Its first handset hit the market at about the same time that Apple introduced the iPhone 4s, and despite that late start, an astute social media strategy and business model that centers on selling services that work on its phones helped Xiaomi build a following among young Chinese buyers. Xiaomi considers itself an Internet company, rejects traditional marketing for social media promotion, and sells hardware at low prices, choosing instead to make money with software and services.
According to projections by IDC, people in China are expected to purchase 500 million smartphones in 2015, more than three times as many as will be sold in the United States. Expectations are that Xiaomi is poised to become one of the most powerful smartphone makers in the world's most powerful market.
The company's founders, including Chinese entrepreneur Lei Jun and former Google executive Lin Bin, hope to continue Xiaomi's rise in markets beyond China. While The New York Times notes that the firm doesn't plan to enter markets like the United States and Europe, it is considering developing markets like Brazil and India, and hopes to use e-commerce networks to sell cheap, high-quality smartphones.
How will Xiaomi expand beyond China?
However, as The New York Times reports, Xiaomi faces significant challenges in expanding beyond China. The company has little in the way of a patent portfolio, leaving it vulnerable to lawsuits. Some experts attribute Xiaomi's success to its production of cheap knock-offs of Apple's and Samsung's high-end phones, but Mozur and Wang think that the company is more than a copycat, and has "out-innovated" all rivals in China, with its online-first approach now being copied by its rivals, and its fans engaging in what Li Nan, vice president of the rival Meizu, terms "a form of idolatry" in their devotion to the company.
Mozur and Wang write that while Xiaomi makes "some money" on phone sales, it plans to increase profitability by selling services like entertainment and apps through the phone. It has also begun to sell other devices, such as a smart TV, a tablet, and a fitness band, which work with the user interface it built atop Google's Android mobile operating system. Its rise in China and in a number of other markets throughout Asia has been precipitated by advertising victories achieved by promoting product launches and parties via social media.
According to the Times, Lin said that Xiaomi will target markets with large populations, a developed e-commerce infrastructure, and weak telecom carriers — an important factor, because if strong service providers give consumers significant subsidies, the advantage Xiaomi gains by selling cheap phones erodes. Lin told The New York Times: "I would put China No. 1, India two, Indonesia three, then hopefully follow with Brazil and Russia. The developed countries with tightly controlled carrier networks are not in the top five." Each of these countries has a large population of consumers who have yet to buy their first smartphone.
Can Xiaomi stay on top — and make a profit while there?
As Quartz reports, recent Gartner data shows that while South Korea's Samsung and U.S.-based Apple remain the world's No. 1 and No. 2 smartphone makers, respectively, the other three spots in the top five go to Chinese companies: Huawei, Xiaomi, and Lenovo, which Gartner says now command a combined 15.5% of the global smartphone market.
According to Gartner,  Samsung's third-quarter sales declined by 7 million units since the same quarter last year, while Apple's increased by almost 8 million. Quartz notes that while Huawei, Xiaomi, and Lenovo aren't expected to immediately compete at the high end of the market, where Apple dominates, they are "a real force" at the mid to low end of the market.
However, making a profit in that sector of the market is, as Quartz puts it, another story. Reuters recently reported that a regulatory filing from Xiaomi shows the company made 347.5 million yuan, or $56 million, in net profit last year, illustrating the "razor-thin" margins on which it operates.
Xiaomi recorded revenue of 26.6 billion yuan for an operating margin of 1.8%. As Apple Insider notes, Apple reported revenues within Greater China of $25.4 billion in fiscal year 2013, more than six times as much as Xiaomi reported earning in China, and operating income of $8.5 billion, more than 150 times as much as Xiaomi actually earned in 2013.
Apple's profit margins in China of about 33% dwarf Xiaomi's profit margin of less than 2%, calling into question how sustainable Xiaomi's sales of low-cost phones are in China, or how it can feasibly roll out the same business model to other countries. Additionally, its strategy of copying other smartphone makers' devices has already led to problems, prompting India's Delhi High Court to suspend sales of Xiaomi devices due to patent infringement on Ericsson intellectual property.
As MarketWatch reports, Xiaomi sold half a million smartphones in India in just four months after partnering with Flipkart to release its phones in July. Further intellectual property disputes could plague Xiaomi as it expands to other markets, to worse effect than the criticism of Jony Ive and other Apple executives has so far brought on the company.
Forrester Research analyst Bryan Wang told Reuters of Xiaomi: "They're growing so fast and so lean, I wouldn't be surprised even if they were losing money. The current market is so competitive that I don't think it's sustainable without consolidation."
Reuters notes that all but the leading smartphones makers — Samsung and Apple — are expected to see profitability dwindle over the coming years due to pricing pressure from companies like Xiaomi. But Samsung's mobile division reported an operating margin of 18.7% last year, and Apple reported 28.7% for the year ended September 2013. LG, which posted a margin of just 0.5%, lost its position as the world's third-biggest smartphone maker during the third quarter of the year, when Xiaomi reached a global market share of 5.6%.
While Xiaomi has been outspoken about wanting to supplant Apple and Samsung, companies whose designs it has copied, its financial documents show that Apple and Samsung are the only companies in the equation actually making money selling their smartphones. But 9to5Mac notes that Gartner's most recent data illustrates Samsung feeling the weight of Xiaomi's rise to the top five.
While small companies with slim margins may be taking hold, it's too early to tell if Xiaomi's model — light on patents and on profits — will prove a sustainable way to operate. It's the subject of speculation for analysts and industry watchers, some of whom say Xiaomi won't be able to stay at the top without generating a more workable level of profits.
More from Tech Cheat Sheet:
Want more great content like this? Sign up here to receive the best of Cheat Sheet delivered daily. No spam; just tailored content straight to your inbox.