Will Dell's Future Be Determined Thursday?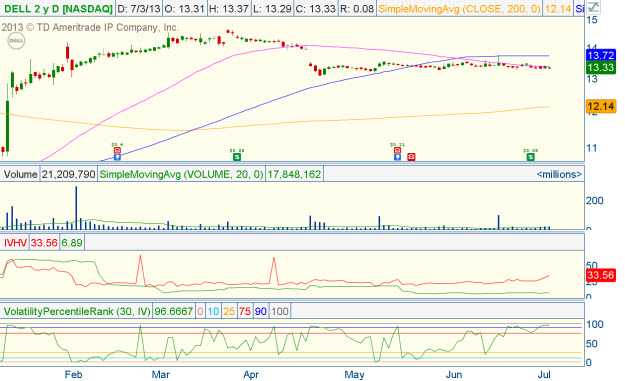 Thursday is a day of judgement for Dell (NASDAQ:DELL).
For months, Carl Icahn and Southeastern Asset Management have been playing tug-of-war over the future of the personal computer manufacturer with the company's founder and chief executive Michael Dell. On Thursday, shareholders will vote whether to accept the $24.4 billion leveraged buyout offer that Mr. Dell and partner private-equity firm Silver Lake made in early February.
If they reject it and decide to implement Icahn's proposal, shareholders must give him control of the board in a so-called proxy fight.
But shareholders are facing a difficult choice; on one hand, if Mr. Dell's proposal is accepted, many shareholders stand to lose a great deal by selling their stakes at $13.65 per share, but, on the other hand, Icahn's plan exposes them to a great deal of risk.
Icahn of Icahn Enterprises (NASDAQ:IEP) owns nearly 9 percent of the company's shares, the second-largest stake after Mr. Dell's approximately 16 percent holding. Icahn and fellow shareholder Southeastern Asset Management have proposed a tender offer for 72 percent of the company's shares at $14 apiece, which would leave a portion of the company public and keep Dell largely a PC company. Last week, a new dimension was added; shareholders were promised one warrant for every four of their shares, and the warrant would give shareholders the right to buy one Dell share for $20 over the next seven years. Dell's shares have not traded above $20 since September 2008.
In a filing made with the Securities and Exchange Commission Wednesday, the special committee of Dell's board, which was charged with overseeing the go-private transaction, reiterated its recommendation for shareholders to accept Mr. Dell's bid. "To summarize, while the Company's strong balance sheet makes it possible to borrow significant amounts, we consider it unwise to layer substantial financial risk on a company already
facing significant challenges from competition and from the rapid pace of technological change," the document stated, referring to Icahn's proposal. "As a private company controlled by Mr. Dell and Silver Lake, the Company will have a significant debt burden, [but] the risks of that capital structure will be borne entirely by the buyers and not by the public stockholders," the committee added.
With shareholders facing this difficult choice, the vote is expected to be close.
A source told Bloomberg Wednesday that while the special committee believes the buyout group has room to raise their offer, it has not been formally told by the buyers that their bid is best and final. Still, a second source contended that the committee is considering a delay to Thursday's vote, a move that would allow shareholders to rethink their votes. A third source added to the complexity, telling the publication that the buyout group would make a decision by Thursday morning if the number of votes already cast would be enough to sink the proposal.
"Instead of executing the vote and maybe not getting it passed, Dell may need to postpone the vote until they know it could get passed through," Monness Crespi Hardt & Co. analyst Jeff Fidacaro told Bloomberg.
Follow Meghan on Twitter @MFoley_WSCS