Will 'Destiny' Be Ready for the Launch Flood?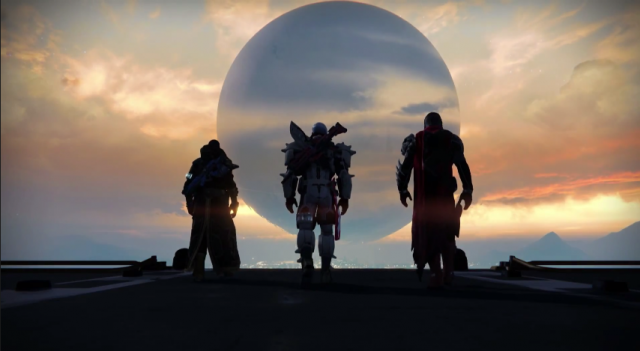 Destiny will be live soon and is predicated to be one of the best-selling video games of this year. Analysts predict the game will sell up to 15 million copies — that's a lot of users logging in to play one game at the same time. On September 9, millions of people will flood the game's servers, log in, and create their Guardian — ready to roam the always-online, sci-fi world. But will Bungie's servers be able to handle the weight of all these users on launch day?
Destiny's popularity does call for some concern for those looking to play the game day one. Bungie has taken some precautions by stressing the game's servers ahead of time to test for any issues the engineering team may encounter. In July, Bungie invited those who pre-ordered Destiny to participate in the beta. The servers saw around 4.6 million people exploring the Destiny galaxy throughout the course of the experiment. Altogether, a lot of users, but it pales in comparison to the predicted numbers the game will sell. And with no offline component to distract midnight players from network errors, any launch hiccups will leave gamers with a temporary $60 piece of plastic on their hands until issues are resolved. This wouldn't be the first time network issues would stall a day one launch.
Online video games have had a predictable history of launch errors, the most recent being Titanfall. PC and Xbox One players attempting to log in to the game's multiplayer mode at midnight were greeted by a stalled "initializing" or "attempting connection" screen. EA quickly responded to the error, fixing the issue that morning with a patch for the game. But not every company has been so quick to fix launch bugs.
For Blizzard, Error 37 and Error 3006 became the most feared words for gamers trying to access Diablo 3′s servers at launch. People would log on to find the servers were busy or get on for a short time only to find the game would freeze and have to force quit their session. Blizzard worked from launch until well into the afternoon to correct the connection issues.
"Despite very aggressive projections, our preparations for the launch of the game did not go far enough," Blizzard stated in an apology letter. Despite the company's best efforts to predict and prepare for the oncoming launch, they were unable to meet requirements.
EA's SimCity team promised fans that they'd taken every precaution to make sure the game would run smoothly at launch, but it too fell victim to slow network issues. Its servers were unable to withstand the influx of players.
These failed game launches stand as a lesson to Bungie and Activision, which is why they're going to such great lengths to make sure Destiny's release goes smoothly. Beta testing was one precautionary measure, but Bungie has taken the launch one step further — by housing the servers in Las Vegas with over 100 engineers monitoring the links to PSN and Xbox Live to ensure they are stable.
"The interesting thing about Las Vegas is, you get a lot of natural disasters walking down up and down the strip, but you don't get a lot of true natural disasters affecting the landscape. There are no earthquakes, no hurricanes, no floods – it's perfect," Chief Executive Officer Pete Parsons explained in an interview with The Guardian.
Bungie may soon have to take up the Postman's creed (with some minor alterations) if all goes over smoothly: Neither snow nor rain nor heat nor gloom of night stays these engineers from the swift completion of launching Destiny. Perhaps Bungie will break the mold of the online games that have come before and have Destiny launch without issue. We'll only know when players boot up their systems and see on September 9.
More from Tech Cheat Sheet:
Want more great content like this? Sign up here to receive the best of Cheat Sheet delivered daily. No spam; just tailored content straight to your inbox.