Will Gorilla Glass 4 Finally Keep iPhones From Shattering?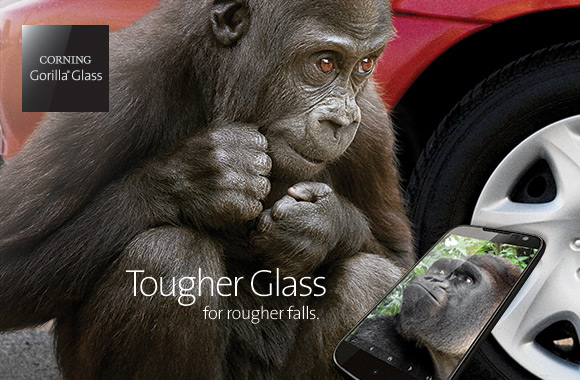 It's an inevitable moment for any smartphone owner, and for all its traumatic repetitions is a horrifying experience each time: the first or 500th time that you lose your grip on your expensive device and watch in excruciating slow motion as it falls to the ground. If you're lucky on that particular occasion, your phone might land with a dull thud and emerge unscathed, or perhaps gain just a minor dent or scratch at the corner. But if you've exhausted your luck or otherwise gotten on the wrong side of gravity, a major crack or even a full-on shattered display will await you where a smooth (and innocent) touchscreen once was.
Apple's iconic iPhone is as susceptible to such episodes and the resulting damage as any smartphone on the market. But there could be hope for a better screen in the iPhone's future, one more able to withstand the drops and damage that inevitably occur when humans with less-than-perfect dexterity carry a fragile device everywhere, day in and day out. Corning recently introduced Gorilla Glass 4, its toughest cover glass yet, which could become the material of choice for manufacturers seeking to build thinner but more damage-resistant smartphones. Will the toughest Gorilla Glass yet make Apple shelve its sapphire aspirations and, better yet, finally create an iPhone that doesn't shatter when dropped?
As Cult of Mac reports, Apple has a complicated history with Corning. It seemed that Corning's relationship with Apple had reached its end earlier this year, when even Corning's executives thought that Apple would ditch Gorilla Glass — which had been used in every iPhone touchscreen since 2007 — for the synthetic sapphire crystal manufactured by Apple's new partner, GT Advanced Technologies.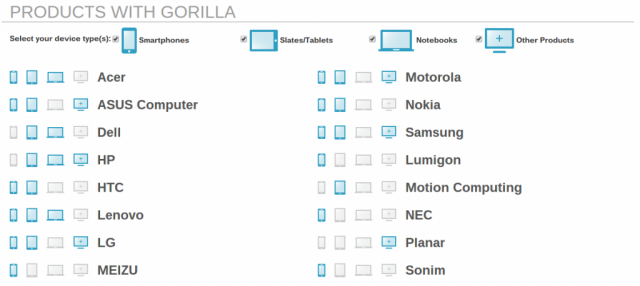 But Apple's partnership with GT has since imploded, and Corning saved the day by creating the extra-large displays for the iPhone 6 and iPhone 6 Plus at the eleventh hour. Now, the company is hoping that its latest, toughest version of Gorilla Glass yet — Gorilla Glass 4 — will keep the threat of sapphire manufacturers at bay for the near future.
Dave Velasquez, Corning's director of marketing and commercial ops, shared Corning's rationale with Cult of Mac, noting that: "Sapphire is a really, really nice material that's very good for reducing scratches. However, we feel very strongly that glass is the best material for touch panel cover glass. When you weigh up everything from cost to drop-testing, to the amount of energy that's needed to make it, in our opinion Gorilla Glass is clearly the best material to use."
While sapphire was the subject of countless rumors before the launch of Apple's latest iPhones, Gorilla Glass is the material used in most of the touchscreens on the high-end devices that we use everyday. Corning's website explains that more than 3 billion devices by 33 major brands all use Gorilla Glass, and provides the graphic above, illustrating how many common devices use Gorilla Glass. (A full list of the products that have been verified by the manufacturer and by Corning as using Gorilla Glass is also available.)
But what, exactly, is Gorilla Glass? Corning's Gorilla Glass is an artificially strengthened material. Cult of Mac reports that it's made by dipping glass into a molten salt bath of potassium nitrate. Potassium ions in the salt diffuse into the glass and create a hardened "compression" layer on its surface. The concept has been around since the 1960s and Corning has marketed the Gorilla Glass brand since 2011, but the technology has been linked to Apple since the first iPhone.
For those with more interest in learning about the science behind Gorilla Glass, Corning enlisted the help of Mythbusters stars Adam Savage and Jamie Hyneman to explain the advances that Corning made with Gorilla Glass 4. They demonstrate the difference between the displays found on devices made in 2008 and the covers made for today's smartphones. As Apple Insider notes, the improvement is attributed to Gorilla Glass's compressive strength, which refers to the force between the glass's inner and outer layers.
Corning uses an ion exchange process to create glass with a specific amount of compressive strength. The process replaces smaller ions with larger ions, to "tune" the balance between compression and tension in the glass. Corning says that Gorilla Glass 4 is up to two times harder than competing glass used in smartphones, tablets, and other mobile devices — and Apple originally turned to Corning because it wanted a better material than what was available when it created the first iPhone.
Cult of Mac reports that in 2006, when Steve Jobs began looking for a glass manufacturer for the iPhone, he spoke with a former Xerox PARC friend named John Seely Brown, who was on Corning's board of directors. Brown told Jobs to speak with Corning's young chief executive, Wendell Weeks. From that conversation originated the relationship between the two companies. Weeks told Jobs that Corning didn't have the facilities to manufacture the kind of material that Apple wanted for the iPhone, but Jobs reportedly told him: "Don't be afraid. Get your mind around it. You can do it." By the time six months had passed, Gorilla Glass had been born.
At the time, most manufacturers making smartphone screens were using plastic, which scratched easily and marred the appearance of a new phone even after only minimal usage. Corning's Velasquez told Cult of Mac, "Smartphones were getting better and better, but the first thing people look at tends to be the screen. That's where we came in."
The first generations of the iPhone featured the original Gorilla Glass, and in 2012, Corning introduced Gorilla Glass 2, which was more resistant to damage and reformulated at the atomic level. What Cult of Mac calls Corning's "biggest challenge to date" arrived last year, when Apple signed a deal with GT Advanced Technologies to set up a factory for sapphire displays intended for the next generation of iPhones. Analyst Matt Margolis told Cult of Mac: "My understanding is that both new iPhone models were supposed to have sapphire displays. The bigger you go with a phone the more of a risk breakage becomes, which is why Apple was keen to use sapphire, since it's known for its resilience."
However, it became apparent in June that the sapphire not only would not be ready for the iPhone 6 and iPhone 6 Plus, but that sapphire was both too expensive and too unreliable for the uses that Apple had planned. Velasquez's comments imply that had Apple consulted with Corning about the sapphire manufacturing process, the company would have shared its experience with making the crystal. Margolis notes that Corning has been publicly defending Gorilla Glass since news of the GT deal broke, and talked about sapphire was 10 times the cost of Gorilla Glass — "which in the end," Margolis says, "turned out to be very accurate."
Corning didn't just wait for GT's implosion to bring Apple back to its door. In the meantime, its scientists developed Gorilla Glass 4, looking at hundreds of broken devices to discover that the main cause of failures is "sharp contact drops," which account for more than 70% of breakages. The Gorilla Glass 4 team devised new drop test methods to simulate what Cult of Mac refers to as "real-world smartphone disasters," and the company claims that Gorilla Glass 4 will pass meter-high drop tests about 80% of the time.
The added strength of Gorilla Glass 4 could prove critical as phones get both bigger and thinner. The iPhone 6 has room for little cushioning around the bezel, which increases the likelihood of a single drop doing real damage. Velasquez explained to Cult of Mac, "The trends that we're currently seeing in smartphones — larger screens, thinner form factors, more aggressive design — are all decisions that make it more challenging to deliver a cover glass that will survive these drops." Corning won't disclose the volume of glass it can produce in a year, or reveal whether Gorilla Glass 4 is used in the iPhone 6 or iPhone 6 Plus.
If Gorilla Glass 4, which Corning says is the most durable smartphone display material in the world, isn't used in the latest iPhones, it could appear in the iPhone 7 and keep Apple from further experiments with sapphire crystal manufacturing for the time being. But Margolis said to Cult of Mac that he anticipates that Corning has another challenge waiting right around the corner, even if Gorilla Glass 4 protects it from the "upgrade cycle" for now.
"The next big challenge to Gorilla Glass is going to be sapphire laminate," he told the publication. "This is a similar process, in which a thin layer of sapphire is added to glass to make it scratch-resistant. Unlike pure sapphire, this material would be very close in price to Gorilla Glass."
The speculation over whether sapphire would be used as the screen material for the iPhone 6 illustrates just how enthusiastic tech-savvy consumers and Apple fans are about the prospects of smartphones that are less susceptible to scratches or to shattering when dropped. (The popularity of YouTube videos showing drop tests and new iPhones being put through all kinds of elaborate torture also illustrate that consumers don't mind watching an iPhone shatter — as long as it's not one they've spent hundreds on.)
Gorilla Glass 4 could provide better protection to smartphones, which consumers occasionally, inevitably, drop. As a Trefis Team post at Forbes points out, the thinness of a device has become a selling point. The original iPhone, which Apple launched in 2007, measured 11.6 millimeters thick, while the recently launched iPhone 6 measures just 6.9 millimeters thick. Gorilla Glass 4 could help Apple create even thinner devices while making them more resistant to the drops and damage that are bound to occur with a device that the user carriers everywhere, everyday.
A piece of Gorilla Glass 4 can offer the same damage resistance as a thicker piece of Gorilla Glass 3, so manufacturers like Apple could make their smartphones' screens 20% to 25% thinner than with Gorilla Glass 3 if they wanted to "settle" with the same damage resistance levels of Gorilla Glass 3.
It seems that Corning's chances of Apple choosing Gorilla Glass 4 for the next generation of iPhones are pretty good. But it remains to be seen what other companies Corning will have to compete with as Gorilla Glass contends for the title of the most durable, scratch- and shatter-resistant display glass yet. But one thing seems sure: Consumers will likely have little preference for the material or manufacturer of their iPhone screens, just as long as the chances of a shattered iPhone (and a ruined day) continue to go down.
 More from Tech Cheat Sheet:
Want more great content like this? Sign up here to receive the best of Cheat Sheet delivered daily. No spam; just tailored content straight to your inbox.