Will Netflix Become the First Web-based TV Network?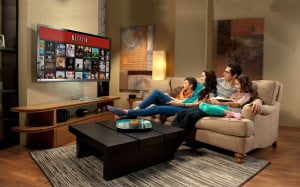 Netflix Inc. (NASDAQ:NFLX) rose 5.4 percent to close at $257.26 on Friday, its highest level since August 3, 2011. Barclays Plc increased its price target for Netflix shares on the news along with its expectations for strong consumer growth, Bloomberg reports. Netflix is currently the top performer in the Standard & Poor's 500 Index in 2013 after the price has more than doubled.
The subscription-based video-streaming service has continued to see wild success as it begins its foray into original programming. New original shows such as House of Cards, Arrested Development, and Orange is the New Black are likely contributing to added consumer interest as Anthony DiClemente, an analyst at Barclays in New York, said that Netflix may report second-quarter results showing growth in new viewers.
DiClemente says that Netflix is also likely benefitting from increased activity on mobile devices — an area with strong growth potential. Shares of Netflix are currently rated as the equivalent of hold while he raised his price target for shares from $220 to $250.
As of March 31, Netflix had more than 36 million streaming customers in 40 countries. The company is scheduled to report earnings on July 22.
Netflix's new strategy calls for an increase in original programming so that it may start to compete more directly with entertainment services like Time Warner Inc.'s (NYSE:TWX) HBO. Chief Executive Officer Reed Hastings says that shows like Arrested Development and House of Cards are highly important to his strategy of transforming Netflix from a streaming service offering re-run programming into a Web-based television network comparable to HBO.
According to Brian Grazer, co-chairman of Imagine Entertainment, the production company behind Arrested Development, talks are heating up regarding another new season of the show. "We are in conversations with them to do another," Grazer said. "They are interested in doing that."
While Netflix declined comment on the negotiations, spokesman Joris Evers said, "We have said before that we'd be interested in doing another season of 'Arrested Development' if it is logistically possible."
Along with the popular Arrested Development, the original series Hemlock Grove has also exceeded viewing expectations, according to Joris Evers. Netflix's newly released show Orange is the New Black has already prompted the company to order a second season, to go along with renewals of Hemlock Grove, House of Cards, and Lilyhammer.
Rumors also suggest that Netflix might move into feature films in the future as well — or at least mini-series, which might make more sense when you compare the service to HBO.
Investors are likely to focus on subscriber figures to see how Netflix has done in retaining subscribers who might have joined to see the variety of new original shows. Because of Netflix's one-month trial subscription, onlookers are eager to see how many of these subscribers will stay beyond the trial period. However, with Netflix having a head of steam and moving into a new phase of service, subscribers don't seem likely to duck out of the fun just yet.