Will Record Labels Kill The Apple iRadio Goose?
Will Apple's (NASDAQ:AAPL) iRadio ambitions be tripped up on record label industry demands for higher royalty rates? Although the music companies originally balked at Apple's lowball royalty figure back in March of this year, it seemed that a compromise had been obtained in April when Apple was able to sign Universal Music to a deal. Universal Music is the largest of the major record labels and it was assumed that this breakthrough deal might lead to the other labels following suit.
However, it appears that talks with Sony Music Entertainment (NYSE:SNE) and Warner Music are still ongoing. At the heart of the holdup is a dispute over how the record labels will be compensated. Internet music streaming service Pandora (NYSE:P) currently pays a fee of 12 cents per 100 songs. The typical industry standard is 21 cents per 100 songs. After initially offering 6 cents per 100 songs, Apple increased its offer to 12.5 cents.
According to anonymous sources cited by the Financial Times, Apple is splitting its revenue offer into three separate tranches. The Cupertino-based company is offering a royalty per individual song played, a percentage of any advertising revenue, and a guaranteed minimum payout no matter how many songs get played or ads sold. Sources also believe that Apple's music streaming service will be supported by advertising revenue rather than subscription fees from users.
Apple comes to the negotiating table with considerable benefits for the record labels. Apple already has an enormous base of daily users, a large ecosystem, and an established commerce infrastructure for selling music through its iTunes store.
However, music label executives also view these potential benefits as reasons why Apple should have to pay a higher royalty rate. In this sense, the music industry is walking a fine line between extracting as many golden eggs from Apple's goose as they can, without actually killing the deal.
Meanwhile, as Apple races to beat Google's (NASDAQ:GOOG) own planned music streaming service launch, the record labels are trying to push the "Internet Radio Fairness Act" through Congress. This bill seeks to end the disparities between what traditional radio services pay for royalties compared to what Internet radio companies pay.
Although observers can't be sure when Apple's iRadio service will debut, there is one thing that is certain. Apple has the potential to transform the music streaming industry in much the same way that it has already changed the way we consume other digital media.
Here's how Apple stock has traded so far this week.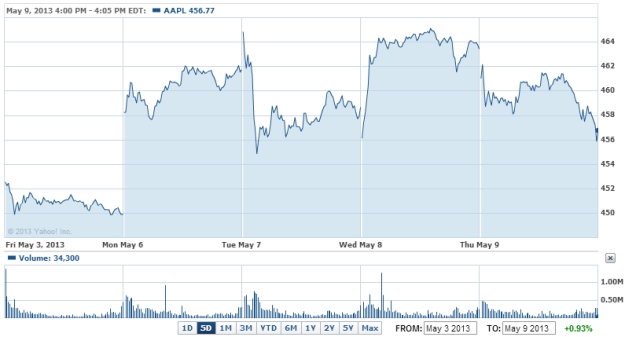 Don't Miss: Why Do These People Want Apple, Google in Their Cars?