Will Research In Motion Surge Higher?
With shares of Research In Motion (NASDAQ:BBRY) trading around $15, is the company an OUTPERFORM, WAIT AND SEE, or STAY AWAY? Let's analyze the stock with the relevant sections of our CHEAT SHEET investing framework:
T = Trends for a Stock's Movement
Research In Motion engages in the design, manufacture, and marketing of wireless solutions worldwide. It provides platforms and solutions for access to email, voice, instant messaging, short message service, internet and intranet-based applications, and browsing through the development of integrated hardware, software, and services. The company has recently made major marketing moves in order to improve its image. So far, investors have appreciated these changes.
Head on over to the next page to explore the technical landscape of Research In Motion's stock…
T = Technicals on the Stock Chart are Strong
Research In Motion saw a monster run in the early 2000s, only to see the stock get demolished in recent years. Currently, the stock seems to be picking up steam as a new marketing campaign is underway. Analyzing the price trend and its strength can be done using key simple moving averages. What are the key moving averages? The 50-day (pink), 100-day (blue), and 200-day (yellow) simple moving averages. As seen in the daily price chart below, Research In Motion is trading above its rising key averages, which signals bullish price action in the near-term.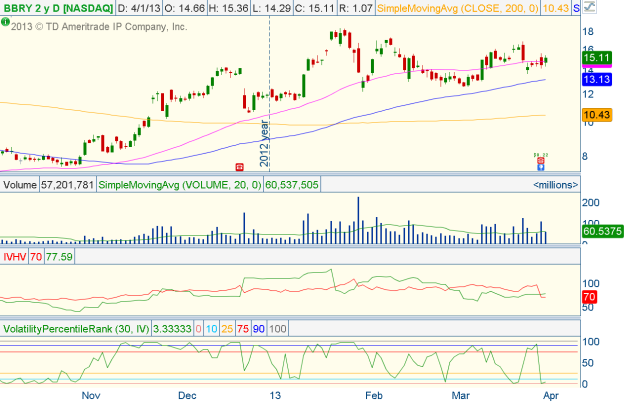 (Source: Thinkorswim)
Taking a look at the implied volatility (red) and implied volatility skew levels of Research In Motion options may help determine if investors are bullish, neutral, or bearish.
| | | | |
| --- | --- | --- | --- |
| | Implied Volatility (IV) | 30-Day IV Percentile | 90-Day IV Percentile |
| Research In Motion Options | 70% | 3% | 0% |
What does this mean? This means that investors or traders are buying a good amount of call and put options contracts as compared to the last 30 and 90 trading days.
| | | |
| --- | --- | --- |
| | Put IV Skew | Call IV Skew |
| April Options | Flat | Average |
| May Options | Flat | Average |
As of today, there is an average demand from call buyers or sellers and low demand by put buyers or high demand by put sellers, all neutral to bullish over the next two months. To summarize, investors are buying a good amount of call and put option contracts and are leaning neutral to bullish over the next two months.
On the next page, let's take a look at the earnings and revenue growth rates, and the conclusion…
E = Earnings Are Decreasing Quarter-Over-Quarter
Rising stock prices are often strongly correlated with rising earnings and revenue growth rates. Also, the last four quarterly earnings announcement reactions help gauge investor sentiment. What do the last four quarterly earnings and revenue growth (Y-O-Y) figures for Research In Motion look like and more important, how did the markets like these numbers?
| | | | | |
| --- | --- | --- | --- | --- |
| | 2012 Q4 | 2012 Q3 | 2012 Q2 | 2012 Q1 |
| Earnings Growth (Y-O-Y) | -96.08 | -171.43% | -174.44% | -113.64% |
| Revenue Growth (Y-O-Y) | -47.21% | -31.07% | -42.67% | -24.59% |
| Earnings Reaction | -0.82% | -22.73% | 5.04% | -19.05% |
Research In Motion has seen decreasing earnings and revenue growth rates over the last four quarters. From these figures, the markets have been very emotional about the company's last four earnings announcements.
P = Excellent Relative Performance Versus Peers and Sector
How has Research In Motion stock done relative to its peers, Apple (NASDAQ:AAPL), Google (NASDAQ:GOOG), Nokia (NYSE:NOK), and the sector?
| | | | | | |
| --- | --- | --- | --- | --- | --- |
| | Research In Motion | Apple | Google | Nokia | Sector |
| Year-to-Date Return | 30.26% | -21% | 10.45% | -19.95% | 2.8% |
Research In Motion has been a relative performance leader year-to-date.
Conclusion
Research In Motion is an established company that has seen its fair share of ups and downs. The company recently made some major changes in hopes of improving its business. Earnings and revenue growth are still decreasing and investors have remained skeptical. However, the stock has outperformed its peers and sector by a wide margin. The price trend remains strong. Look for Research In Motion to continue to OUTPERFORM.
Using a solid investing framework such as this can help improve your stock-picking skills. Don't waste another minute — click here and get our CHEAT SHEET stock picks now.