Will Sirius Finally Make its Move?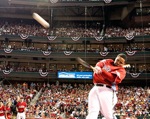 No matter where investors stand on Sirius XM Radio (NASDAQ:SIRI), most agree that the stock's lack of movement in 2013 has been baffling. Bulls say keeping the stock price low is a good thing, as it encourages larger investments, while bears say the lack of movement indicates Sirius is not primed for major growth. Yet the latest round of news seems to indicate the time for Sirius has finally come.
Investors who picked up Sirius at $1 per share will note that Sirius has been a good buy for years. The stock's resurgence and ability to withstand general market fluctuations (with a little help) has made it a favorite for the meek at heart this year. What is the evidence that Sirius is just pausing on its way to much higher prices?
Most analysts point to the growth of the auto industry, the company's strong financials and the resolution of leadership issues with majority interest-holding Liberty Media (NASDAQ:LMCA) as good reason to consider Sirius on the rise. Ahead of Tuesday's earnings report, Sirius rose to $3.12 for week, beating the S&P 500 average and clocking a rise of nearly 4 percent for the week. News of year-long free packages for BMW and MINI drivers didn't hurt, either. Indeed, it appears investor optimism is finally taking hold…
Though Sirius's year-to-date growth has been anywhere from negligible to modest, its past year was impressive, gaining over 40 percent since April 2012. With the latest round of buying, Sirius will need to rise above $3.28 to score a win for its new-found bulls, and that seems like a legitimate possibility for the country's lone satellite radio provider.
So why isn't Sirius earning in proportion to top automaker sales reports? that questioned has baffled investors for months, and should give anyone thinking about going big with Sirius reason for pause. Its price hike on subscriptions made it a considerably more expensive service than, say, Netflix (NASDAQ:NFLX), which has risen over 100 percent in the past year. Netflix has proven that consumers are fully open to subscription services, as long as they are priced right and deliver essential services.
As Pandora (NYSE:P) continues to make its presence felt in the industry, trial subscribers may decide Sirius isn't worth it. More than half of trial subscribers (54 percent) already do. Of course, the bullish stance holds that the volume of new car sales makes that number indicative of highly positive trends. In that estimation, the glass is just about half-full.
Investing Insights: Does LinkedIn Support All-Time Highs?