Will the Pentagon be Apple's Next Battleground?
Does Apple's (NASDAQ:AAPL) impending Pentagon security approval mean the end of BlackBerry's (NASDAQ:BBRY) dominance in the military market? A Pentagon spokesperson via Bloomberg has announced that Apple devices running iOS 6 will be granted approval sometime next week.
This follows close on the heels of BlackBerry's security approval for its BlackBerry 10 operating system earlier this month. Samsung (SSNLF.PK) also won approval for its Android-powered Galaxy devices earlier this month, although it had to beef-up its security first by adding Knox software.
BlackBerry has long dominated the military smartphone niche market, but the Pentagon has recently been making efforts to promote platform diversity in its mobile device selections. Although the Department of Defense market is relatively small with only 3 million-plus employees, there is a certain prestige attached to the market. Being awarded a security clearance rating with the U.S. government has a beneficial spillover effect into civilian markets that place a high value on this government security approval.
After Apple's devices are officially given a Pentagon security clearance, Apple will likely use this designation to further promote the security of its products as well as gain a foothold in the military market. However, before Apple devices can be widely used in the military, the Pentagon must first create a secure network for the iOS devices. It is unclear when this network would be built.
Besides achieving its military security designation, Apple also recently won a security certification from the Commerce Department's National Institute of Standards and Technology. This is a separate cryptographic certification that guarantees a federally-approved level of information security on mobile devices.
Apple shares closed down 0.83 percent at $452.97 on Friday after shedding $3.80 from its price at the opening bell. Here's how Apple has traded so far over the past week.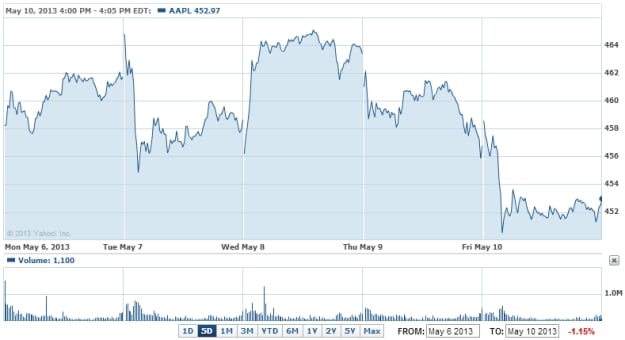 Don't Miss: Apple iTunes to Microsoft: Thanks, But No Thanks.