Will This Acquisition Let Google Outdo Apple's Siri?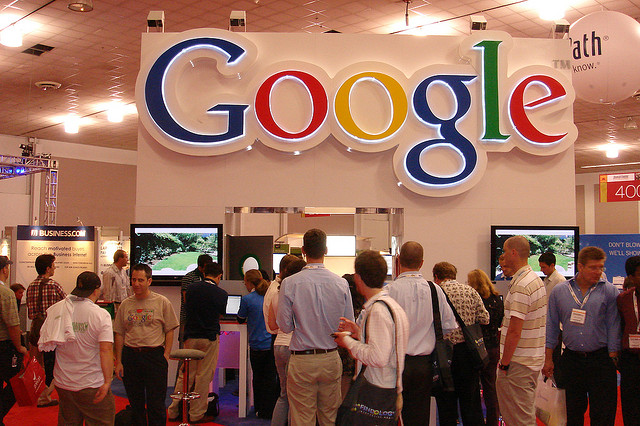 Although Google (NASDAQ:GOOG) is the unquestionable Internet search leader by market share, Apple's (NASDAQ:AAPL) 2011 debut of Siri–the voice-activated personal assistant that can execute searches based on natural language queries–was viewed as a revolutionary step forward in natural language, human-computer interaction. However, it appears that the Mountain View-based tech giant may have outmaneuvered its Cupertino-based rival in the natural language field with its recent acquisition of a cutting-edge natural language research company.
On Friday, the Seattle-based startup Wavii confirmed on its website that it had been acquired by Google. Wavii was founded by a former Microsoft (NASDAQ:MSFT) manager, Adrian Aoun, who announced Google's acquisition on Wavii's website.
Wavii specializes in programming natural language processing for computers, which enables computers to better understand and respond to natural language communication from humans. Google will most likely fold Wavii's natural language processing research into its Web-search division, which has created a large database of related search terms known as a "knowledge graph." Wavii's natural language processing technology could also be a major boost for the voice-activated functions used in Google Glass.
Perhaps most importantly, Wavii's natural language research and semantic search capabilities could give the search engine giant a crucial edge over Apple in the race to develop advanced human-computer interaction technologies with better natural language capabilities than what exists today. Apple would have most likely used Wavii's natural language research to further improve the human-computer interaction capabilities in its Siri application.
According to an anonymous source via TechCrunch, Apple had been competing against Google to buy the company but apparently lost the bidding war. Wavii was reportedly sold to Google for over $30 million.
Via the Wavii website, Aoun stated, "We're excited to announce that Wavii has teamed up with Google! You probably know us best for our app that takes the deluge of information streaming across the web and condenses it into fast, fun updates. While we won't continue to offer this particular service, we'll be using our natural language research at Google in ways that may be useful to millions of people around the world. To all of our loyal Wavii users, we owe you a big thanks for all of your feedback and involvement throughout this journey. We look forward to taking our technology to the next level and delighting you with what we come up with next!"
Apple closed up 2.16 percent, or $8.82, at $417.20. Google closed down 0.95 percent, or $7.68, at $801.42 on Friday. The chart below compares Apple and Google stock movement throughout the past week.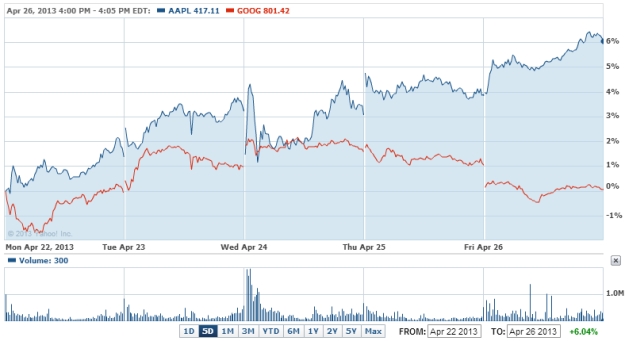 Don't Miss: iPad Slows As Surface Grows: Microsoft Proves Its Worth to Apple.