Will This Lawsuit Derail Facebook's Oculus Plans?
All the fun in the sun for virtual reality company Oculus VR and social network giant Facebook (NASDAQ:FB) has to take a second to pause as ZeniMax Media has filed a lawsuit against Oculus. According to PCWorld, the case reached court Wednesday, May 21, in Dallas at the U.S. District Court for the Northern District of Texas.
It doesn't seem like a case that will go by simply, as ZeniMax CEO and Chair Robert Altman said in a press release, "We cannot ignore the unlawful exploitation of intellectual property that we develop and own, nor will we allow misappropriation and infringement to go unaddressed." Meanwhile, Oculus stands firmly, stating that, "The lawsuit filed by ZeniMax has no merit whatsoever. As we have previously said, ZeniMax did not contribute to any Oculus technology. Oculus will defend these claims vigorously," according to a statement received by CNET.
Since the Facebook acquisition of Oculus came to a total of $2 billion, it's clear that there is a large chunk of money at stake to which ZeniMax feels partly entitled. The company, which was responsible for games such as Doom and the Elder Scrolls series through subsidiary Bethesda, claimed in its press release that Oculus' founder, Palmer Luckey, "has held himself out to the public as the visionary developer of virtual reality technology, when in fact the key technology Luckey used to establish Oculus was developed by ZeniMax." The overlap between the two companies comes from John Carmack, who worked at ZeniMax and helped on the Oculus project in its early stages, as well was from close work between ZeniMax and Oculus for an E3 demo in 2012.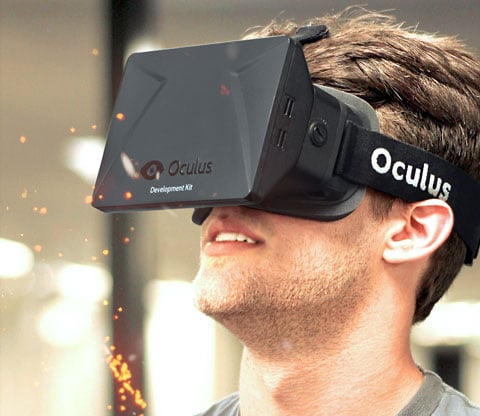 According to PCWorld, John Carmack was a talented games programmer working for ZeniMax before he joined Oculus in mid-2013. Carmack and others from ZeniMax worked together with Luckey to improve his headset in preparation for an E3 demo, after which ZeniMax claims Luckey prepared to take the Oculus Rift to market despite not having permission to disclose to, allow use by, sell to, or transfer to third parties the intellectual property that ZeniMax contributed to Oculus Rift. ZeniMax alleges that a lot of the hardware improvements were a result of its involvement, and that the software development kit for the device was made using ZeniMax's technology. In the press release, it claims: "ZeniMax's intellectual property has provided the fundamental technology driving the Oculus Rift since its inception."
Naturally, Oculus firmly disagrees. Of course, there was the matter of Luckey already working on the project before the involvement of ZeniMax, albeit in the aforementioned unrefined form. Some of the issue may hinge on Carmack's involvement in the project while still employed by ZeniMax, as his contract with ZeniMax made the company the owner of any relevant copyrightable works that he produced during his employment there.
Carmack addressed the issue on Twitter with the following posts:
No work I have ever done has been patented. Zenimax owns the code that I wrote, but they don't own VR.

— John Carmack (@ID_AA_Carmack) May 1, 2014
Oculus uses zero lines of code that I wrote while under contract to Zenimax.

— John Carmack (@ID_AA_Carmack) May 1, 2014
The case could damage Facebook and Oculus. But if things turn out in Oculus's favor, then Facebook and the VR company will be able to get back to whatever exciting things they're actually planning beyond offering a solid gaming device. As Facebook seems certain that virtual reality could be a key component in the future of the Web and social media, this lawsuit may stand in the way of any progress toward those ends.
If you're interested in Oculus Rift and virtual reality, you may be interested in our earlier article on an up-and-coming competitor in the field. Check that story out here.
With Oculus Rift gaining enough popularity to drive Facebook to spend $2 billion to acquire it and Sony jumping up to announce its own virtual reality platform, Project Morpheus, this may be the best time to be in the business of making virtual reality equipment. One Chinese startup is looking to add something to the mix with its own VR headset that it claims is on par with Oculus Rift and Morpheus. That project is called ANTVR.
ANTVR's agenda is simple: offer something that's for everyone. The device can work as a simple screen for watching movies or whatever else — though that would be a major under-use of the technology stored in the device. Watching video covers the broadest range of consumers. Then, ANTVR also keeps the gamers in mind, who might be the consumer group most interested in the future of VR and the platforms that will be available.
On top of Blu-ray players and Android devices, ANTVR claims to be compatible with PlayStation, Xbox, and PC. In the creator's words, "Compatible with all games & movies!" The support for multiple platforms may be a winning factor for many consumers, as Project Morpheus is naturally limited to PS4 and Oculus Rift is for PC. But the multiple supports aren't the only thing it has going for it gaming-wise — it has a secret weapon up its sleeve.
The ANTVR proves it has gaming in mind with a built-in controller that transforms between a gun, joystick, and controller with its own multi-axis sensors. Parts of the controller can even come apart during game play to simulate a grenade throw for the user. On top of that, the ANTVR's sensors can recognize when a player takes a step in any direction, jumps, or crouches, and then translate that into motion within the game.
For all intents and purposes, it would seem ANTVR has a solid competitor to go up against Oculus Rift and Project Morpheus. It also has ambitious distribution goals. If funded, it plans to distribute the product by September of this year. Project Morpheus and Oculus Rift don't have confirmed commercial launches, though developer versions of Oculus Rift have already distributed. ANTVR also has the Kickstarter version priced as low as $270 for early backers, though one thing that could stand in its way is the HDMI cable or the large added cost for a low-latency wireless transmission of video.
With the campaign goal of $200,000 more than halfway funded and more than a month still left to go, it seems assured that this project will be funded and be pitted against the big players in VR. The questions that remain are whether ANTVR will quickly get bought up like Oculus Rift, or if all of these VR products will be part of just another false VR revolution that sees the release of numerous products that never gain traction.
Here's a detailed list of the device's specs:
Optics — aspherical lens
Motion tracking — two (headset + controller) of 9-axis IMU, 1000Hz
Field of view — 100 degrees diagonal, 4:3 aspect ratio
Display — 1920×1080 LCD (1.03 Mega pixel per eye)
Input — HDMI cable (AK beta STANDARD) or WHDI wireless (AK beta WIRELESS)
Output — USB-2.4GHz and Bluetooth
Platforms —– PC, Xbox, PS, Android devices, etc.
Weight — 0.370 kilograms
Audio — 3.5mm output
Battery performance — 8 or 3 hours (with WHDI unit)
IPD Adjustment — 60-75mm
Prescription glasses adaption — YES
More From Wall St. Cheat Sheet:
Follow Mark on Twitter @WallStMarkSheet