Will This Monster iPad Boost Apple Earnings?
Apple's (NASDAQ:AAPL) new iPad with increased memory will add 2 cents to the company's per share earnings for every 100,000 units sold in this quarter, according to Wells Fargo analyst Maynard Um. Um said his calculations assumed an average selling price of $864 and a higher gross margin for the device.
Apple announced a new iPad with twice the memory of its current largest fourth-generation model on Tuesday. The new tablet, with 128 GB storage, will be available starting February 5 for $799 for a Wi-Fi version and $929 for a cellular model.
"We believe the new device will be in addition to the current product portfolio and will fill a hole in the market for tablets with larger storage capacities (business users and/or high-end consumers)," Um wrote in a note to investors.
The analyst added that he didn't believe the new device would hurt sales of Apple's existing iPad versions. "Given that the new iPad is, in our opinion, geared towards a different end-market than the current iPad portfolio, we believe there should be minimal cannibalization of existing iPads," he wrote.
Enterprise Winner?
Goldman Sachs analyst Bill Shope also wrote that the new model, despite representing only a relatively minor change, would add momentum to Apple's efforts to "displace traditional PCs in the enterprise longer term."
Shope noted Apple's assertion that virtually all of the Fortune 500 and over 85 percent of the Global 500 firms were currently deploying or testing the iPad. "This penetration is supported by our recent report … which shows that tablets are gaining momentum in office environments," Shope wrote. "This report included a survey of corporate purchasing managers, and 57 percent of the respondents noted that their white collar workforce uses the iPad, up from 52 percent in 2011 and 25 percent in 2010."
Here's how Apple has traded through Thursday: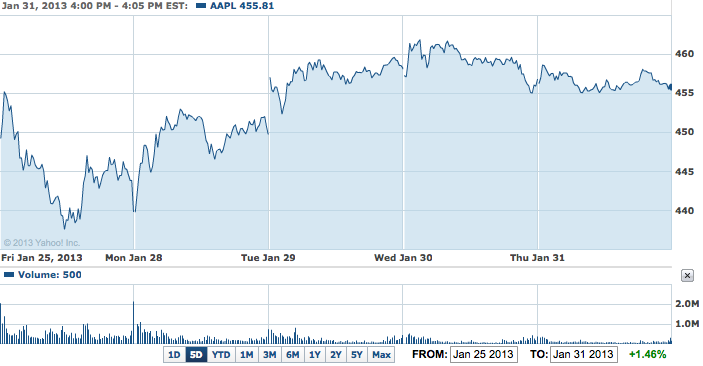 Don't Miss: Apple's New iPad Takes Aim.