Will You Buy Comcast's Smart Light Bulbs?
Comcast Corp. (NASDAQ:CMCSA) is looking to branch out beyond its struggling television service, and it is turning to light bulbs to do it, Bloomberg revealed Thursday. And the company is not introducing just any old light bulb;  the Ultra iQ LED BR30 can be controlled remotely anywhere using a wireless technology called ZigBee through the Xfinity Home platform.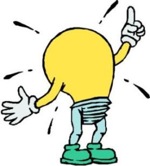 Comcast's newest decision to partner with OSRAM Sylvania to offer these energy efficient light bulbs reflects its attempt to access new sources of revenue now that it is facing increased competition from phone companies and Internet streaming services.
The global media and technology company is also working to further develop its Xfinity Home service that it started two years ago. Xfinity Home is a broadband and cloud-based platform that helps customers stay connected to their home and family and provides next-generation home security, control, and energy management features. Comcast sells a package for video monitoring and a programmable thermostat for $39.95 a month.
The energy-saving LED smart light bulbs can be plugged into any standard light bulb socket and reportedly last up to 17.5 times longer than standard incandescent light bulbs. Customers can use the wireless technology ZigBee for quick and easy adjustments using a smartphone. The price of the service has yet to be disclosed.
Comcast, the biggest U.S. cable company, hopes the sales of this new venture will help it recover from its loss of 60,000 video customers in the first quarter. It is now the first service provider to offer an integrated remote controlled light bulb.
Don't Miss: Bid For Hulu: AT&T Wants Some, Too?