Wozniak: Can We Stop Hating Apple Already?
Steve Wozniak, one of the original co-founders of Apple (NASDAQ:AAPL), recently made an appearance at the Login technology conference in Lithuania where he offered some sage advice for Apple investors. According to TechCrunch, Wozniak said that Apple's recent 16-month low was "disappointing" but also expressed confidence in the Cupertino-based company's ability to develop products that would "surprise and shock us all."
Wozniak stated, "Over time I've seen Apple go up or down 2x over a few months. It's very disappointing because if you look at the amount of cash that Apple holds that cash translates to one to two hundred dollars per share of stock just in cash form. So the expectations are a little lower even than they expect." Apple currently holds about $140 billion in cash.
However, "Woz," as he is affectionately known by Apple fans, noted that these low expectations are not justified by the reality of the industry. Wozniak rhetorically asked, "But where are the profits of the whole industry though? They are still with Apple and profits are all that really matter in the long run." As Tim Worstall at Forbes has previously noted, "the aim and point of the whole game is profit: by which standard we really can say that Apple is the leading phone handset maker, even if it fails by some of the others."
Wozniak continued, "Apple's business model tends to be new products, even products that didn't exist before and doing well out of them and not re-making the same thing, as eventually that just gets a little bit stale. So I would guess that Apple is very well prepared, and working on new things that are going to surprise and shock us all." Unfortunately, Wozniak also said he "honestly" doesn't know what amazing products Apple may be developing now since he makes it a point to "never ask key insiders at Apple what they are about to come out with," according to Cult of Mac…
Besides commenting on the current state of Apple, Wozniak also offered his visionary thoughts on the future direction that computers could take human development. Wozniak believes that computers have the potential to bring humans "to a place of perfect happiness" as they free our minds "to think of other things and enabled us to get to where we are today" reports TechCrunch.
Although Wozniak was happy to speculate about the general future of technology, he refused to speculate about any specific upcoming Apple product launches. "I gave up trying to guess a long time ago," he stated via TechCrunch.
Here's how Apple (NASDAQ:AAPL) traded Friday: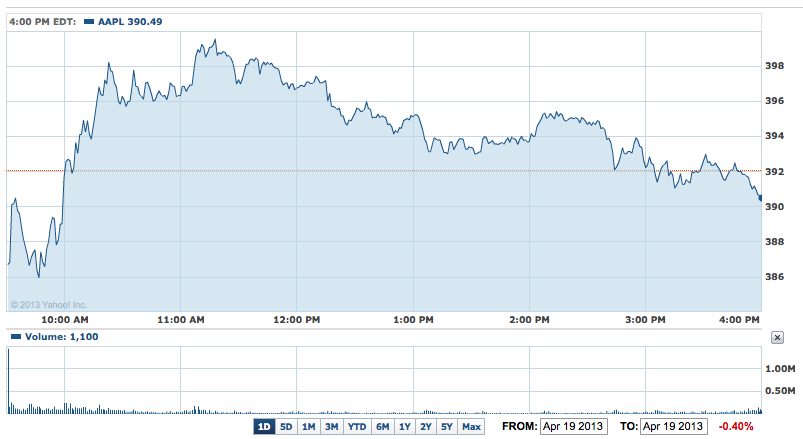 Don't Miss: Will Apple Do What Google Wouldn't in China?