Yahoo-Bound Couric Is Officially Off Disney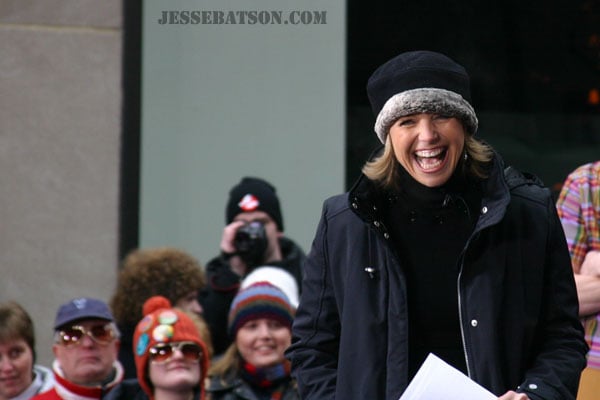 Walt Disney Co. (NYSE:DIS) is pulling the plug on Katie Couric's daytime talk show Katie, but don't worry, the popular news anchor already has another job lined up. Back in November, we learned that Couric would join Yahoo's (NASDAQ:YHOO) team in the new year and become the company's new global anchor, but it was still unclear whether she would continue anchoring Katie or let the show go after two seasons.
In order to permit the move, Disney's ABC Network let Couric out of an agreement to produce segments only for its news division, but now it has been confirmed that Katie is ending, and reps for Couric and the show's distributor ABC Domestic Television said in a joint statement this week via NY Daily News, "While production will continue on Katie through June 2014, we've mutually agreed that there will not be a third season of the show. We're very proud of everyone's contributions to making Katie the #1 new syndicated talk show of 2012-2013, and we look forward to the rest of the season."
It isn't entirely surprising that Katie is ending, as rumors have swirled that drama has been bubbling up behind the scenes between Couric and producers, but the show still enjoyed success after its initial launch in September 2012, and according to Bloomberg, the program drew the largest audience of a daytime talk show since "Dr. Phil" in 2002. Some say that Couric wanted to continue, but now she will put her focus on Yahoo following the completion of Katie's second season.
Incredibly proud of what we've accomplished with @KatieShow. Many thanks to my talented, hard-working staff & still so much to look fwd to!

— Katie Couric (@katiecouric) December 19, 2013
It'll certainly be interesting to see what Couric can do at Yahoo. The struggling web portal has been working to build content on its news platform, and now CEO Mayer will get a fresh face to help the site attract consumers who already get most of their news via the Internet. In addition to Couric, Mayer has already enlisted David Pogue, Matt Bai, and Megan Liberman — all from the New York Times – to increase Yahoo's presence in the news sphere, and it is possible that these new hires will be exactly what Yahoo needs to successfully make its comeback.
Big names like Pogue, Bai, and Liberman help attract advertisers, a key revenue source for Yahoo, and the familiarity of Couric is only expected to help. Greg Sterling, an analyst at Opus Research, explained back in November via Bloomberg, "She's a very brand-friendly personality, especially for a female audience. They're looking to get TV-style brand advertisers to spend with them."
So now Mayer will carve out a new role for Couric at Yahoo, and hope that consumers will be attracted to the newswoman's candor at Yahoo just as they have been attracted to "Katie," the show. Bloomberg reports that "Katie" drew an average of 2.27 million viewers in the week that ending December 8, and those kind of numbers would mean big things for Yahoo.
More From Wall St. Cheat Sheet: