Yahoo CEO Marissa Mayer Just Achieved a CEO's Dream
Marissa Mayer continues to kick ass and take names at Yahoo (NASDAQ:YHOO). On Tuesday, Yahoo announced quarterly earnings after the bell — and what Mayer pulled off was nothing short of a CEO's dream.
At first, the earnings press release was distributed. Investors pushed the stock down over 2 percent after-hours as Yahoo experienced a dip in revenues. This is what we on Wall Street call "reacting to the headline numbers".
An overwhelming majority of the time, this is the direction a stock continues to trade for the remainder of the after-hours session and the following day. Especially in the case of highly covered mega-cap stocks such as Yahoo, most institutional investors and traders enter earnings with firm expectations and game plans for post-results trading.
However, once in a blue moon, a CEO is able to move proverbial mountains. Yahoo CEO Marissa Mayer did just that. Here's how it went down…
Mayer has lots of credibility with investors. Deservedly so: she had lifted Yahoo shares over 75 percent prior to this week's earnings. So, when she started talking, investors were listening closely.
Lucky for investors…
Mayer rationalized the revenue dip and clearly confirmed Yahoo is on track to execute its turnaround plans to be more of a tech company such as Google (NASDAQ:GOOG), rather than an old-school media company. At this point in after-hours trading, the stock started to strongly recover.
Mayer went on to systematically explain how each division was performing, the improvements those divisions made under her tenure, and the improvements investors should expect in the coming quarters. This is exactly what investors want to hear after betting on a turnaround CEO. Moreover, Mayer did what other turnaround CEOs often fail to do: she never used a victim's tone or sounded like she was making excuses. Instead, she hammered home details with supreme confidence and passion for the process and the team delivering the results.
Consequently, Yahoo's stock moved from negative to positive in after-hours trading. In addition, after investors and the media digested Mayer's comments, Yahoo's stock popped a heart-thumping 10 percent the following day. Yup, 10 percent.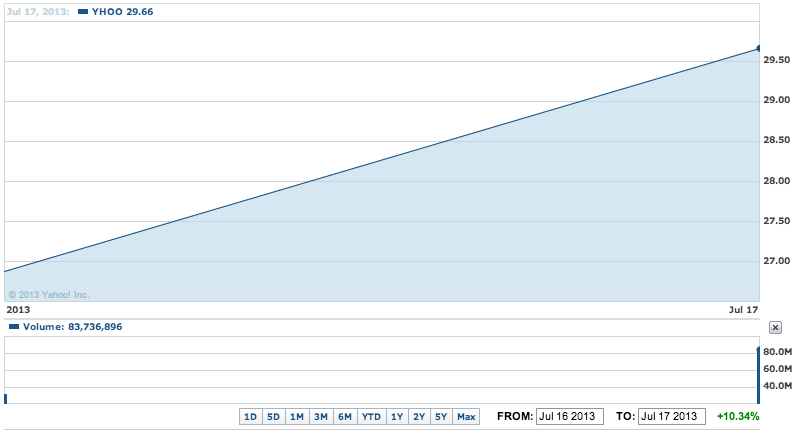 I've closely followed earnings season since I started investing approximately 20 years ago. In that time I've mostly seen lower-than-expected headlines lead to nervous, back-peddling CEO commentary that couldn't stop the tsunami of sell orders. So, when Mayer pulled off her Superwoman feat, I knew she was literally living the CEO dream.
Now, don't miss 6 Changes From Marissa Mayer That Yahoo Is Celebrating.