Yahoo Is Working on an Algorithm to Map the Scenic Route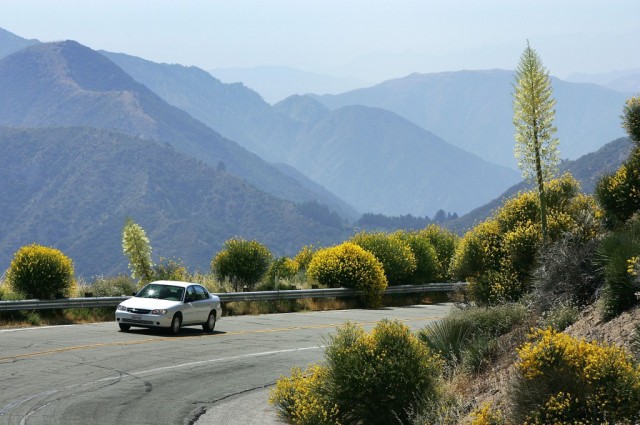 If you're tired of the same boring but efficient route that Google (NASDAQ:GOOG) or Apple (NASDAQ:AAPL) Maps recommend, Yahoo (NASDAQ:YHOO) might soon have an alternative that could make your commute a little more enjoyable.
Wired reports that Yahoo researchers, working in a lab in Barcelona, are building a maps application that takes users the scenic route. The abstract of a paper that describes the research, published by Daniele Quercia and Luca Maria Aiello of Yahoo and Rossano Schifanella of the University of Torino, explains that the software's goal is to "automatically suggest routes that are not only short but also emotionally pleasant."
The methodology, which relied on crowdsourced data is briefly explained: "To quantify the extent to which urban locations are pleasant, we use data from a crowd-sourcing platform that shows two street scenes in London (out of hundreds), and a user votes on which one looks more beautiful, quiet, and happy. We consider votes from more than 3.3K individuals and translate them into quantitative measures of location perceptions. We arrange those locations into a graph upon which we learn pleasant routes. Based on a quantitative validation, we find that, compared to the shortest routes, the recommended ones add just a few extra walking minutes and are indeed perceived to be more beautiful, quiet, and happy."
The researchers used data from Urban Gems, a site that takes for its tagline the aspiration of "crowdsourcing quiet, beauty, and happiness." The site asks users to view two photos side by side, comparing the two, and answering a question: "Which place do you find more beautiful?"; "Which place makes you happier?"; or "Which place do you find more quiet?" And 3,300 people compared streets in London. From the resulting data, the researchers mapped routes that passed by the highest-rated spots.
As Wired's Kyle VanHemert points out, our adoption of algorithms, data, connectivity, and technology as a whole have hinged on the "promise of efficiency," with every app, tool, and piece of software marketed on the premise that it'll enable us to complete a task, or multiple tasks, more quickly, more easily, more efficiently. The concept of the "scenic route," once common in an era of navigation by paper roadmap, is no longer familiar in the age of driving directions dictated by Siri.
And though VanHemert notes that "efficiency isn't everything," it certainly is ubiquitous, as evidenced by the dominance of Google Maps. "The cult of efficiency may not have any idol more awesome than Google Maps, which has made the world more knowable–and navigable–than ever before," he wrote. "It's an incredible achievement by Google and its partners, and it's an indispensable tool for the rest of us."
Looking to find a viable alternative to that single-minded focus on the shortest route, the researchers began to explore how to scale up the experiment. They substituted Flickr data for the initial set of photos determined by user votes, and built an algorithm to replicate the results obtained with the human-curated sample: "To test the generality of our approach, we consider Flickr metadata of more than 3.7M pictures in London and 1.3M in Boston, compute proxies for the crowdsourced beauty dimension (the one for which we have collected the most votes), and evaluate those proxies with 30 participants in London and 54 in Boston."
Users preferred the algorithm's routes — the "beautiful, quiet, and happy" route — to the shortest route. The scenic routes only added a few minutes to the time required for their standard, more efficient alternatives, which users seemed to consider an acceptable trade-off to find a route that enabled them to enjoy a little bit more beauty as they traveled to where they needed to go. (The new routes were 12 percent longer).
The researchers are building their own app with the intention of gaining more user feedback to fine-tune the algorithms. If the app becomes a commercial offering down the road, it could give Yahoo something unique to present to users, and an incentive to use Yahoo Maps instead of the options that come preloaded on Android and iOS phones. And perhaps an app that calculates the scenic route could also change people's perspective a little bit, shifting their focus from the fastest way to get somewhere to the route that offers an enjoyable view along the way.
More From Wall St. Cheat Sheet:
Want more great content like this? Sign up here to receive the best of Cheat Sheet delivered daily. No spam; just tailored content straight to your inbox.