You Won't Believe This Apple App Store Milestone
Ever since the Apple (NASDAQ:AAPL) App Store debuted in 2008, it has been an unparalleled success. Now the Cupertino-based company is about to acknowledge this success with an unprecedented milestone. Total app downloads are quickly approaching the 50 billion mark.
Whoever is fortunate enough to grab the 50 billionth app download will be rewarded by Apple with a $10,000 App Store gift card. In other words, your lifetime app budget will most likely be taken care of.  However, don't despair if you miss the lucky download by a few digits – Apple is also offering a $500 gift card for the next 50 app downloads after the 50 billion mark. To keep the contest as fair as possible, only twenty-five daily app downloads per individual will be counted as potential contest winners.
Besides giving away gift cards, Apple also revealed a historical list of the most popular downloads for the iPhone and iPad. Anyone who has ever played a video game on a mobile device would not be surprised to know that Angry Birds topped the list of the most popular paid iPhone apps, while two other iterations of the game also made it into the top ten. Facebook (NASDAQ:FB), Pandora (NYSE:P) Radio and Instagram took the top three positions for free iPhone apps.
Reflecting the more business-oriented uses of the iPad, its top paid app was the Pages word processing software. However, two variations of the Angry Birds app took the next two top spots on the list of paid apps for the iPad. Skype was the number one free app for the iPad. Since the iPad's larger screen lends itself to movie watching, it wasn't a surprise to see the Netflix (NASDAQ:NFLX) app was number three on the list of free iPad apps.
Interestingly, Google (NASDAQ:GOOG) held four of the top twenty-five spots for the most popular apps on iOS. In no particular order, those apps included Google Earth, Google Maps, and Google Search.
Here's how Apple traded over the past week.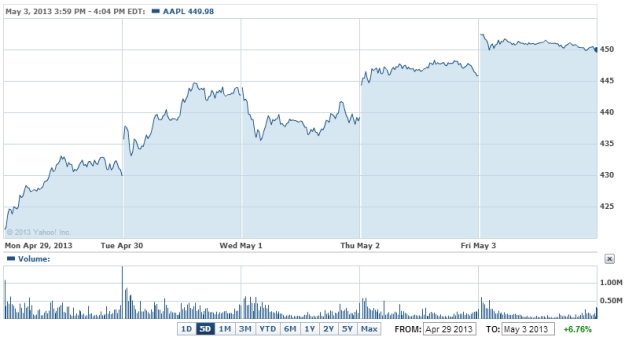 Don't Miss: Investors Might Not Agree, But Barron's Thinks Apple Is Stellar.