1 Feature Stock Pick You Must Know for June
Fellow investors and traders,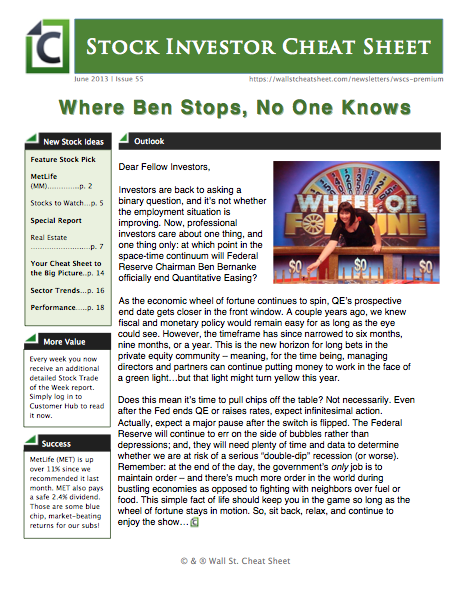 Profit takers hit the market a little later than the 'sell in May and go away' tradition this year. Additionally, Fed Chairman Ben Bernanke continues to keep everyone guess about future interest increases, and the as we all know the markets do not take uncertainty well.
In today's volatile and ever-changing market conditions it is important to do your investing homework. So, we apply our CHEAT SHEET investing framework to find the companies that rise to the top even during the most turbulent of times.
We've done a ton of research and found a mobile technology stock with all the characteristics to win in today's market based on key value metrics.
The best part is our feature stock pick for June is now available in our acclaimed 15-page Stock Investor Cheat Sheet (full of more stock ideas, a Special Report, and much more). Click here now to discover our pick before the next leg higher!
Cheers to your success,
Damien & Derek Hoffman
Founders, Wall St. Cheat Sheet
P.S. – Act now and we'll send you our new 24-page Ultimate Cheat Sheet to Apple's Stock free ($68 value)!