10 Charts Reveal America's Dismal Jobs Situation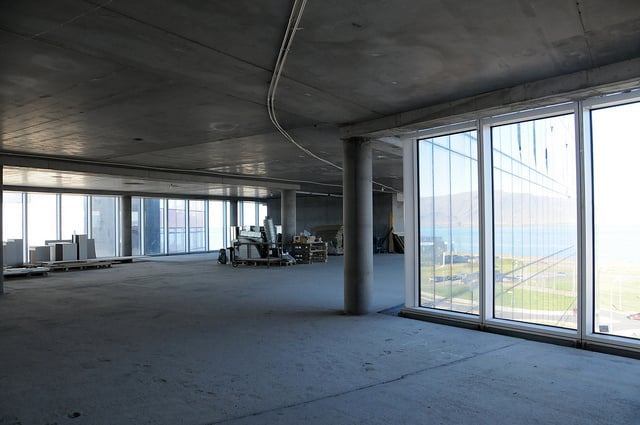 The Great Recession technically ended in the summer of 2009 after the U.S. gross domestic product rebounded from bottom-levels and started to expand. However, to any American not looking at the textbook definition, the recession is still being felt across the country.
The Bureau of Labor Statistics recently provided hope that the "jobless recovery" is making progress. In October, the U.S. economy added an estimated 204,000 jobs, easily beating expectations of only 120,000 jobs. Furthermore, revisions showed an extra 60,000 jobs were created in August and September than previously thought.
Despite the better-than-expected results, the overall employment situation in America remains weak. More jobs were lost in the recent recession than any other post-World War II downturn. Making matters worse, the majority of those jobs have yet to come back. The quality of jobs that have been added to the economy are also a concern. Here's a a look at 10 charts showing the bigger jobs picture.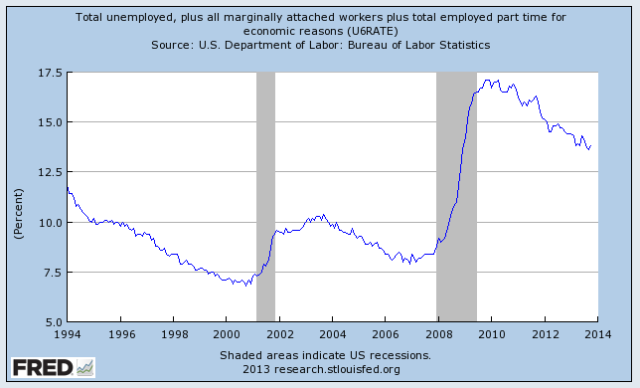 1. Unemployment Rates
The headline unemployment rate rose to 7.3 percent last month from 7.2 percent in September. That is below the peak of 10 percent in 2009, but the rate has now remained above 7 percent for 59 consecutive months.
Additionally, the U-6 unemployment rate, which includes everyone in the headline rate — plus people who are employed part-time but prefer a full-time position, or want work but have stopped looking — also rose two-tenths of a percentage point and remains stubbornly high at 13.8 percent.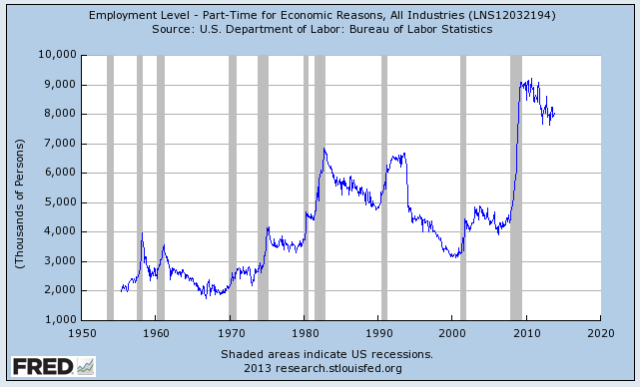 2. Part-Time Workers
The number of people employed part-time because of economic reasons is nearly 8 million. These individuals had their hours slashed or were unable to find a full-time job. They are also one reason for the high U-6 unemployment rate.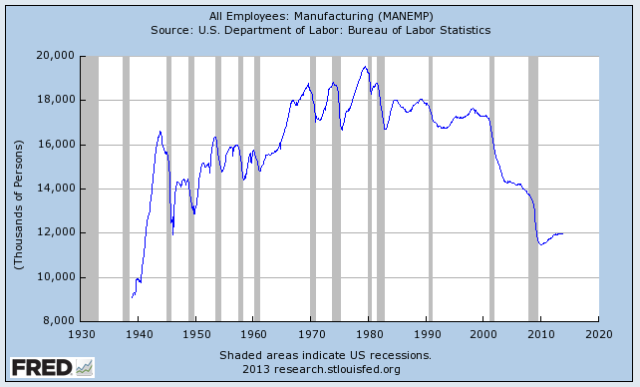 3. Manufacturing
The backbone of the U.S. economy and employment used to be manufacturing, but this is clearly no longer the case. The manufacturing sector has been bleeding jobs for decades. The number of employees in the manufacturing sector is near its lowest point since 1946. Over the past decade, more than 2.6 million manufacturing jobs have been destroyed.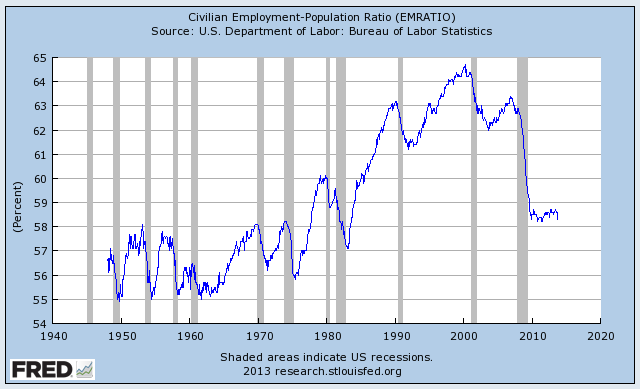 4. Employment-to-Population Ratio
Despite the decline in the headline unemployment rate over recent years, the percentage of working-age Americans with a job is under 59 percent, its lowest level since 1983. This ratio will have difficulty improving. The adult population increases by about 200,000 people each month, but the economy has averaged a monthly gain of only 194,000 jobs over the past 12 months.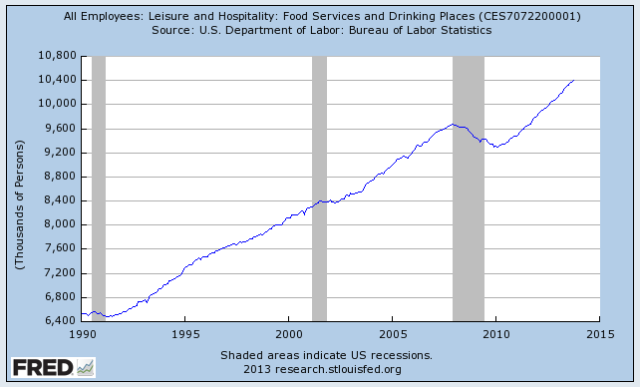 5. Quality
A growing number of analysts and economists are beginning to realize a quality issue with the jobs being created. Leisure and hospitality employment increased by 53,000 jobs in October, the most of any category. Retail jobs — another low-wage industry — added 44,000 jobs in last. Over the past year, these two industries are responsible for more than 800,000 new jobs.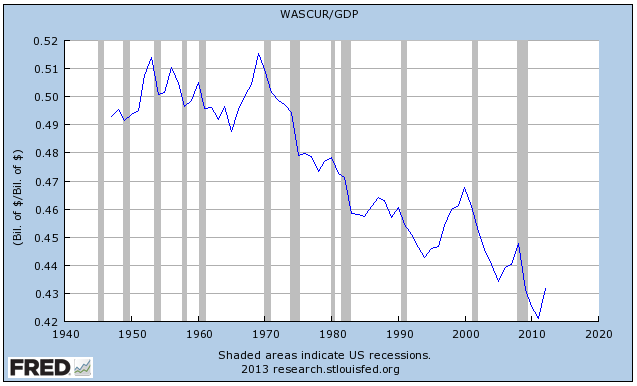 6. Paychecks
Wages and salaries as a percentage of GDP have been declining for over four decades. According to recent data from the U.S. Bureau of Labor Statistics, employees in seven of the 10 largest occupations typically earn less than $30,000 a year. A retail salesperson — the most popular occupation — earned an average of only $25,310 last year.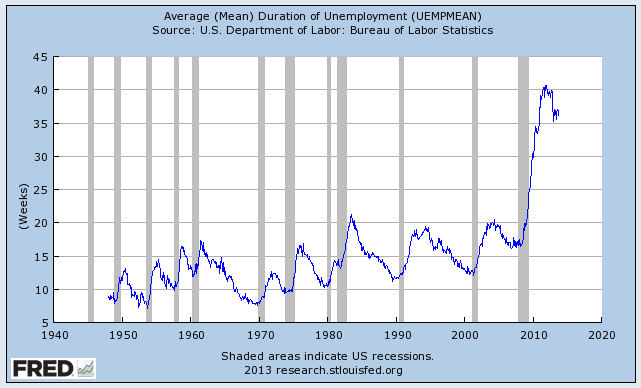 7. Job Hunt
Financial advisors often advocate an emergency savings fund of around eight months. The simple reason for this is that it takes the average unemployed person about 36 weeks to find a new job. That is below the high of 41 weeks seen in recent years, but well above historical standards.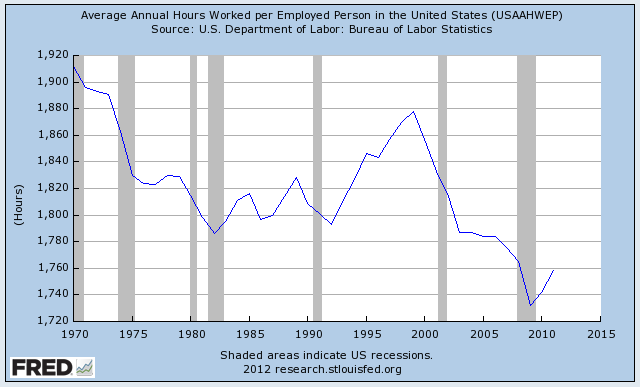 8. Hours Worked
The typical work week has also seen a dramatic change over the decades. The average amount of annual time worked per employed person in the U.S. has declined from 1,900 hours in 1970 to about 1,760 hours in 2011.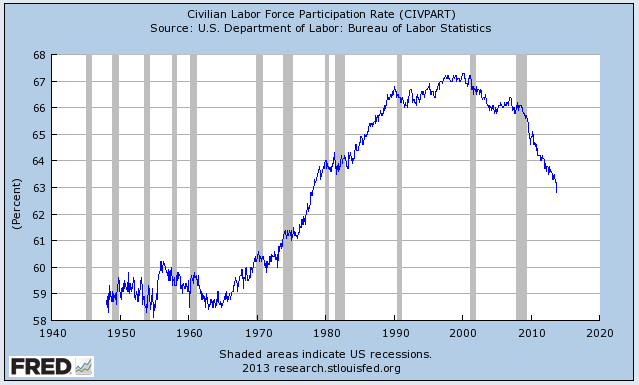 9. Labor Force
A large catalyst for the declining headline unemployment is due to job hunters dropping out of the labor force. The share of working-age Americans who were employed or looking for work fell to 62.8 percent last month, its lowest level since 1978 — a time when fewer women were participating in the labor force.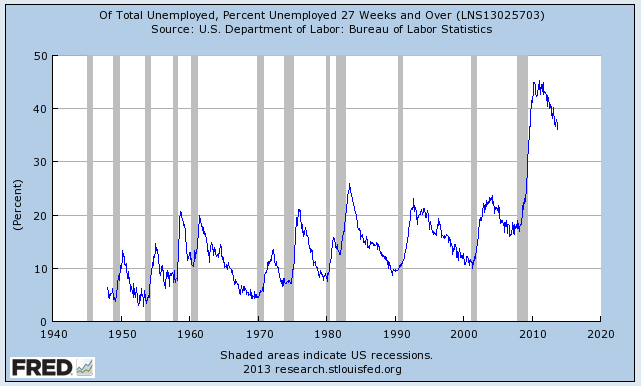 10. Long-Term Unemployment
In October, the total number of unemployed persons remained little changed at 11.3 million while the number of long-term unemployed, those jobless for 27 weeks or more, was about 4.1 million. Those individuals constitute 36.1 percent of the unemployed, and their numbers have shrunk by just 852,000 in the past 12 months.
Don't Miss: Will This Generation Come Up Short in Retirement?
Follow Eric on Twitter @Mr_Eric_WSCS