10 Great Gifts for the Coffee Lover on Your List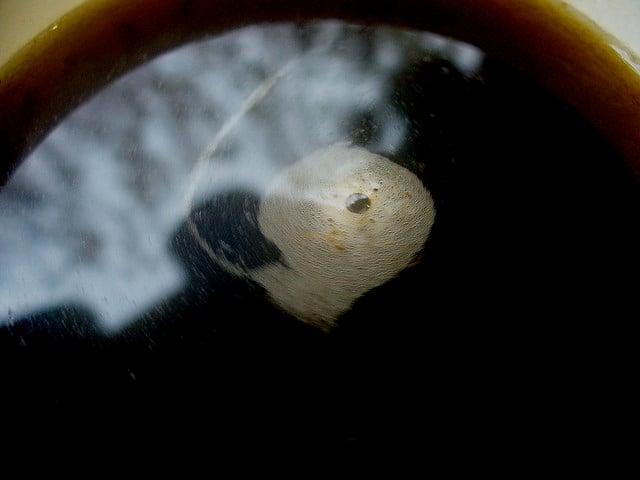 Coffee has become recognized as a human necessity. It is no longer a luxury or an indulgence; it is a corollary of human energy and human efficiency.

– William H. Ukers, All About Coffee (1922)
According to a 2013 survey conducted by the National Coffee Association, approximately 83 percent of adults drink coffee in the United States — the world's biggest consumer of that beverage. That percentage translates into a little more than 200 million coffee drinkers. Plus, about 63 percent of adult Americans drink a cup of coffee every day and nearly a quarter of drink more than one cup. The average is three cups per person. But what is more interesting than the increasing share of Americans that drink the beverage is the fact coffee has become more than just a caffeine-delivery system. "You could say this nation runs on two dark liquids — petroleum and coffee," Syracuse University popular culture professor Bob Thompson told USA Today. "Thousands of people are lubricated and made mobile by coffee every single day."
However, you can also say that the $30 billion-a-year national industry — propelled by a foodie fixation, a promise of health benefits, and an intoxicating aroma that draws people together the world over — has been rapidly transformed. For many Americans, no longer is the 4-cup automatic drip coffee machine an adequate tool for brewing the beverage. Among coffee scholars, the history of coffee drinking in American is divided into three eras. In the first, the development of vacuum packaging led to bulk production and mass consumption, where taste and quality were subjected to price. Then, between the 1960s and 1990s, specialty coffee companies — like Starbucks (NASDAQ:SBUX) — emerged, changing how Americans drank coffee.
Finally, in the 1990s, coffee drinking entered a third wave, where taste, craft, and origin of beans have become important concerns. To bring out the best possible flavors of coffee beans, a wide variety of coffee brewing equipment have become increasing popular. For those coffee-loving, home-brewing people on your holiday shopping list this season, here are several gift suggestions.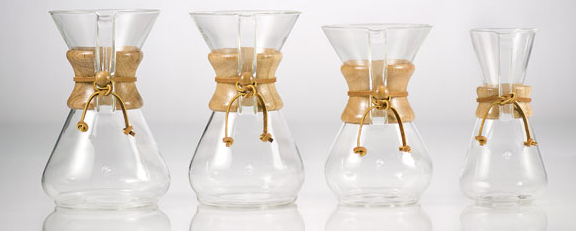 1. Chemex Glass Coffeemaker: A Standalone Siphon Brewer
Invented in 1941 by Dr. Peter Schlumbohm, the Chemex Coffeemaker brews coffee without imparting any flavors of its own and the resulting beverage is promised to be strong but without any bitterness. Known as a pristine coffeemaker, Chemex employs all the chemically-correct methods of brewing. The one-piece, hourglass-shaped vessel is crafted from non-porous, borosilicate glass with a polished wood collar serving as a insulated handle around the middle of the coffeemaker. That glass is a chemically inert material that does not absorb odors or chemical residues. It was even included on the Illinois Institute of Technology's list of the 100 best-designed products of modern times.
To use, water must be heated prior to brewing. After the water comes to a boil, the water should be cooled slightly — for about 30 seconds — and then used to wet the grounds, which must be a regular grind so that the filtration rate is not impeded. Once the water has drained and the grounds allowed to bloom, water should be poured up to 1/4-inch from the top of the class and allowed to brew for up to six or seven minutes, for a 10-cup vessel.
Retail Cost: A three-cup model runs $37.50 and a ten-cup vessels sells for $45.50
Extras: Chemex Pre-Folded Circle Coffee Filters and Chemex CMC Glass Coffeemaker Cover.
2. HIC Brands 14-Ounce Milk Frother
According to its description on Amazon, the milk frother creates luscious, creamy froth quickly for lattes, cappuccinos, and other beverages. The pot is made of stainless steel and has a 14-ounce capacity. To make froth, simply add hot — but not boiling — milk to the pot and pump rapidly 15 to 20 times. It does not require batteries or electricity. The result, in the words of one reviewer, is "frothed milk [that] lasts throughout the drinking experience."
Retail Cost: The 14-ounce frother runs $23.99 on Amazon.
Alternative: For a few dollars less, a handheld frother can be used. In about 15 seconds and 20 seconds, milk froth will be produced.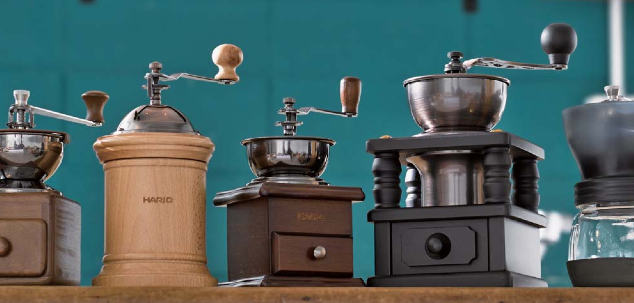 3. Hario Ceramic Coffee Mill Skerton — Manual Grinder
Whole beans store flavor longer than ground coffee does. Once coffee is ground the oils begin to evaporate much more rapidly, which can cause a quick change in flavor. Coffee aficionados will be able to tell if the beans used in a brew were ground right before the coffee was prepared, or the day before. So, to maximize flavor, grind on site, and right before brewing. To make this possible, there are a wide variety of electric and manual options. Both versions have adjustments to ensure the proper grind size for different brewing methods. However, manual grinders can be less expensive and more convenient if the manual labor is not a problem. Plus, it can also be an added benefit for those interested in being closely involved in the production of their beverages.
The Hario mill is rated four and half stars on Amazon. "For coffee connoisseurs wanting a conical burr grinder for under 50 bucks, this is your answer," said one reviewer. "Its electrical equivalent averages $200 in cost, making this a great money saver. Grinds fine enough for espresso and [T]urkish grind (though [T]urkish takes a long time to grind) and coarse enough for a french press. A quality grinder makes a difference."
Retail Cost: The mill runs $37.98 on Amazon.
Extras: American Weigh 2-Kilogram Mini Scale — for serious home coffee brewers, a scale is necessary because all ground coffee is not equal; beans are not all perfectly uniform.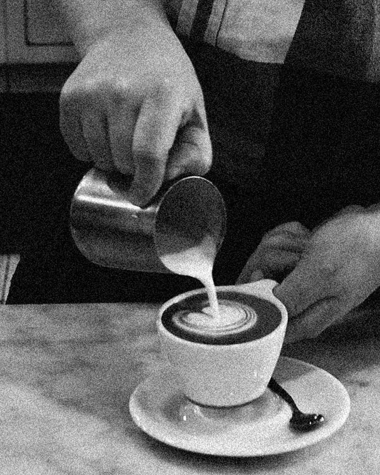 4. NotNEUTRAL Lino Cappuccino Cup
Ceramic is the traditional material used for crafting cappuccino cups because it is a good thermal conductor, meaning it keeps your beverage hot.
The Lino collection is described as the "seamless marriage of form and function." The contour of the cup's interior "provides optimal fluid dynamics for the perfect pour, while the wide mouth accommodates the drinker's nose to take in the aroma. The base is thick to retain heat, while the rim has an elegant mouth feel." The 6-ounce mugs come in a set of two, complete with accompanying saucers.
Retail Cost: The set runs $36.00.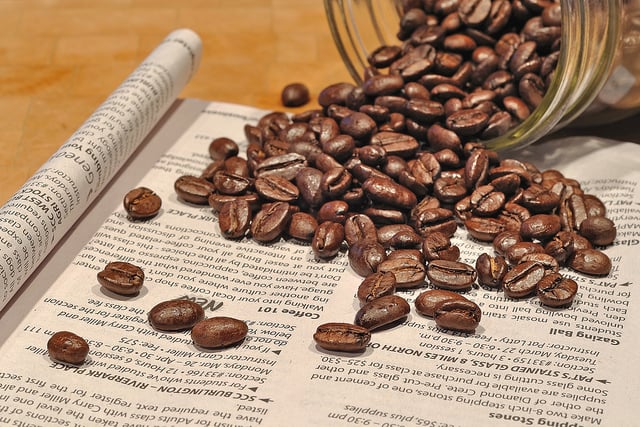 5. Coffee Beans
The golden rule of making the perfect cup of coffee is the beans used. It should be whole beans, sustainably grown, and roasted within a few weeks of using. As the Atlantic's Michael Haft and Harrison Suarez pointed out in a recent article, "third wave" coffee culture dictates that the beans should be a lighter roast so the flavors — or the terroir — of the coffee can be tasted.
There are long list of quality roasters in the United States, but Thrillist drew together a panel of important coffee writers and shop owners to determine the 11 best. Companies like Santa Cruz, California-based Verve Coffee Roasters and San Francisco's Four Barrel Coffee all made the list, but the top award went Durham, North Carolina-based Counter Culture Coffee. As the company's notable bean, judges picked Ndaroini, which "embodies the very definition of a great Kenyan coffee," according to Counter Culture's website. As Bill Wash of Pure Coffee Blog wrote: "A solid roaster with a growing presence up and down the East Coast, Counter Culture tends to be a certifying badge of quality at the coffeehouses that serve them. Add into the picture their regional presence, training centers, and educational opportunities, and you have a great asset in Counter Culture."
Retail Cost: A 12-ounce bag of Ndaroini runs $21.00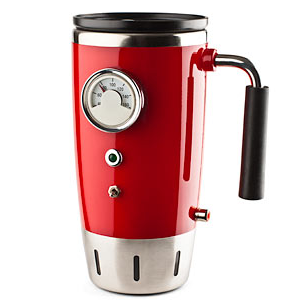 6. Hot Rod Heated Travel Mug
Not everyone owns a car, every car does not have a cigarette lighter, and certainly there are many Americans who do not commute by car — but if you happen to be driving in a car with a cigarette lighter, you can have hot coffee.
This thermally-insulated travel mug comes with a 12-volt power outlet and a digital temperature gauge on its side. Some people could have a problem with the small amount of coffee the mug holds; its capacity is only 8 ounces.
Retail Cost: On Amazon, list price of the travel mug is $19.70.
Alternatives: To some coffee drinkers, the mug — with its retro-inspired design — may be a bit of a novelty item. But the fact remains that Americans throw away 25 billion paper cups, which translates into approximately 363 million pounds of waste, and there are numerous unique, environmentally-friendly cups to replace their paper counterparts. Some are even as simple as the "cuppow," a 100 percent recyclable and BPA-free lid that turns a canning jar into a travel mug.
The pour-over method allows coffee aficionados a greater degree of control on the finished beverage. With this method, the brewer can control the rate of extraction by how fast or how slow the water is poured as well as the temperature of the water. It also brings the focus back to the coffee being made instead of the technology used to make it.

7. Coffee Dripper
This cone-shaped device was designed for manual, pour-over style coffee brewing. The spiral ribs along the side are meant to facilitate the downward flow of the liquid.
Retail Cost: Hario V60 Glass Coffee Dripper runs $20.1 on Amazon.
8. Coffee Drip Kettle
Of course, hot water is essential to the coffee brewing process. But the type of kettle used can make a big difference in the final product. A long, thin spout gives the brewer the necessary control to manage the timing and flow of the water stream so that the coffee is extracted evenly.

Retail Cost: Hario V60 Buono Coffee Drip Kettle costs $48.00 on Amazon.
9. Pourover Stand
This piece of equipment can be a bit pricey, and of course, they are not absolutely necessary. However, it is a beautiful addition to a brew set up, and a pourover stand does make the operation more stable.
Retail Cost: Hario V60 Coffee Dripper Stand costs $89.99 on Amazon.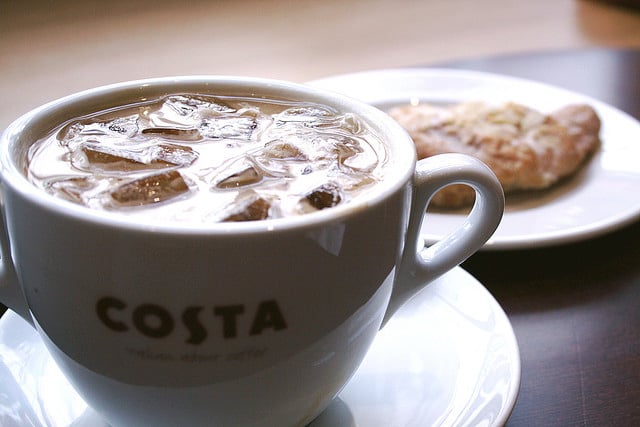 10. Iced Coffee Maker
Iced coffee has taken criticism. For many people, the problem is that most cafes simply put leftover coffee in the refrigerator to use as iced coffee. However, as cold brewing has become more widespread, coffee no longer has to be the beverage that started life out hot. The science behind cold brewing is simple — any ingredient that is water soluble can dissolve and therefore infuse the water with its flavor. If coffee grounds are placed in water for 21 hours, the result is coffee. Of course, heat speeds up the process, but cold-brewing makes a far tastier beverage that is less acidic.
Retail Cost: Bodum Bean Ice French Press runs $37.00 on Amazon.
Follow Meghan on Twitter @MFoley_WSCS
Don't Miss: Black Friday Scams: Why 'Deals' Are Misleading.