3 Alternative Investment Ideas to the SPDR Gold Trust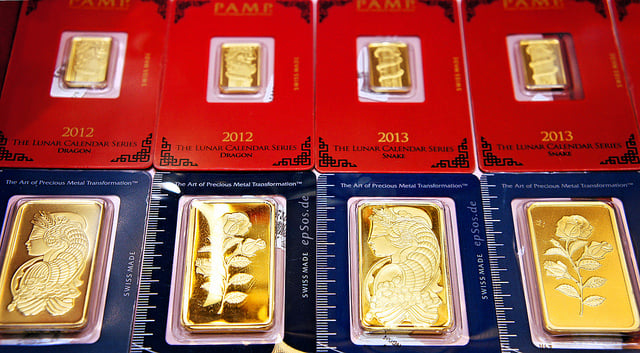 Investors who want to own gold will typically flock towards the SPDR Gold Trust (NYSEARCA:GLD) unless they are sophisticated enough to trade futures contracts. SPDR has two attributes that I find to be very appealing. First, it is very liquid with a small bid/ask spread, which allows investors to easily enter or exit a position at a price that is very close to the actual spot gold price. Second, it has a very low cost of ownership at just 0.4 percent per year. Nevertheless, investors who are looking to get exposure to gold have better options in my opinion. This article covers three of them.
The first is the Central Gold Trust (AMEX:GTU). The Central Gold Trust holds most of its assets in physical gold in a vault in Canada. The rest (about 2.5 percent) is held as either gold certificates or in cash or cash equivalents. Like the GLD, the Central Gold Trust has a very low cost of ownership at just 0.35 percent. While the shares are not nearly as liquid as GLD shares the Central Gold Trust has a huge advantage over the GLD: it trades at a 5.8 percent discount to its NAV, which means that investors who buy it are getting gold at about $70/ounce cheaper than those investors buying the GLD.
The second is the Central Fund of Canada (AMEX:CEF). The Central Fund of Canada is similar to the Central Gold Trust except that it holds about 42 percent of its assets in silver with the rest being in gold. Investors who agree with my arguments for silver ownership, put forth here, should consider the Central Fund of Canada, although bear in mind that silver tends to be more volatile than gold. As with the Central Gold Trust, the Central Fund of Canada trades at a discount — 4.5 percent – to its net asset value, which makes it an excellent way for investors to get exposure to the precious metals markets.
The third is Royal Gold (NASDAQ:RGLD). Royal Gold is a royalty and streaming company. This means that it makes deals with miners that give it the right to a portion of the revenues from the gold sales from agreed upon mines either for free or for a fixed price. For example, the company's largest deal gives it the right to 52.25 percent of the gold produced at Thompson Creek's Mt. Milligan mine for $435/ounce. It gets this right by giving the mining company some up-front capital that it can use to develop its mine or explore for more gold.
This is an excellent business model because it enables the company to generate profits and dividends that are leveraged to the gold price. At the same time the company has very low fixed costs unlike gold mining companies, which have high and variable costs that make their businesses riskier to own. Thus while the gold price has slumped as of late and while mining companies have seen their profits deteriorate Royal Gold has been making money and paying a nearly 1.75 percent dividend that has been growing rapidly — it is up from $0.28 per share in 2008 to $0.84 per share currently.
Before investing in Royal Gold, investors should keep in mind that while most of the company's revenues come from gold sales, it does have some revenues from silver, copper, and nickel sales. Investors may also want to take a look at the project-by-project breakdown I produced of Royal Gold's properties here.
More From Wall St. Cheat Sheet: