3 Reasons Why MasterCard Is In Pain and Visa's Smiling
The past 52-week period has been kind to Visa (NYSE:V) and MasterCard (NYSE:MA), the two largest payment processors in the United States. Each stock has outperformed the S&P 500 respectably, and is competently surfing a long-term trend away from cash. At a glance, it's easy to see why the stocks trade in a highly sympathetic way. Generally, what's good or bad for one is good or bad from the other. They ride the same macro trends and hold the same optimistic aggregate Buy rating among analysts.
That said, Mr. Market has clearly favored one over the other this past 52-week period. Visa's stock has climbed more than 51 percent since last May, while MasterCard has puttered along at a comparatively slow 27 percent climb. So why is this the case?

1) Revenue growth
To be clear, Visa's market cap is about 75 percent larger than MasterCard's, making absolute comparisons pretty useless. However, year over year, Visa has still increased revenues at a faster rate than MasterCard. Not only is its top line larger — $3 billion for Visa in the most recent quarter, compared to $1.9 billion for MasterCard — but it has grown at a faster rate for the past four quarters.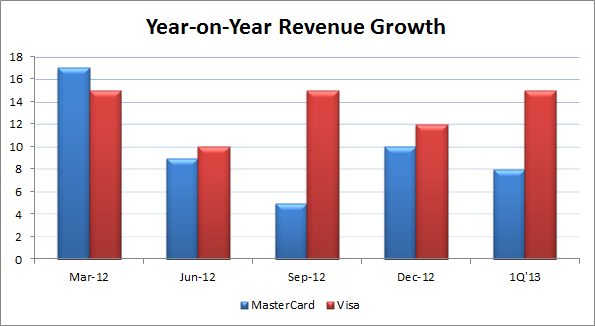 2) Transaction volume
MasterCard definitely won the total transaction volume growth rate in 2012. The company logged 20 percent growth or better in every quarter of the year, fueled by provisions in the Dodd-Frank act that ended exclusivity rights on debit transactions. Previously, Visa-branded cards could only be processed on Visa's networks, a situation that created a modicum in inequity in the payments processing world.
Now, cards are required to offer more leniency in what network carries the transaction, which allowed MasterCard to grab some of the pie. However, MasterCard's transaction volume growth rate is slowing down to a more normal level, while Visa's is increasing.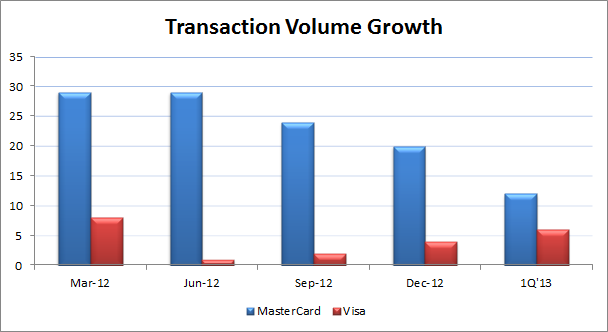 3) European operations
A major consideration when thinking about these two companies is that MasterCard is already in possession of its European operations. Meanwhile, Visa Europe — which is separate from the U.S. company but operates as a licensee –  is owned by a consortium of banks. These banks own put options that they can exercise and force Visa to buy out the European operation.
Mr. Market seems unsure exactly what to think about this possibility. Analysts suggest that such a move could cost the company as much as $12 billion. Visa, for its part, has said that it is prepared for whatever the future may bring, and is sitting on $5.6 billion in cash and cash equivalents to back up that claim.
Don't Miss: Salary Secrets: 9 CEOs and a Few $1 Lies.