3 Things Bill Gates Has Learned From Warren Buffett
Bill Gates proves that no matter how rich or successful you are, there's always room for more learning and improvement. In a light, insightful post written on his LinkedIn profile, Gates offers the three things he believes to have learned from Warren Buffet over the years. He speaks endearingly about Buffet — with whom he's on a first-name basis, a privilege we've arguably not yet been afforded — with a relaxed and playful tone that allows his humility to shine through. Gates breaks the three lessons down for us:
1. The first thing Gates outlines has to do, unsurprisingly, with investing. But interestingly enough, Microsoft Corp's (NASDAQ:MSFT) former CEO contends that what he learned first and foremost from Buffet is that, it's not just about investing. Gates instead highlights Buffet's "whole framework for business thinking" — a much more powerful way of considering investments. He explains that Buffet uses the analogy of a moat to help make big decisions, saying, "He talks about looking for a company's moat—its competitive advantage—and whether the moat is shrinking or growing. He says a shareholder has to act as if he owns the entire business, looking at the future profit stream and deciding what it's worth. And you have to be willing to ignore the market rather than follow it, because you want to take advantage of the market's mistakes—the companies that have been underpriced." Gates continues on to keep the post light and casual, even admitting that he was reluctant to initially meet Buffet at a dinner his mother put together for the two, although his opinions have since changed.
2. Next, Gates highlights the way Buffet has encouraged him to use [his] platform. He points out the quirky letters Buffet writes to his shareholders, and how effective this communication becomes when a business leader is frank, honest, and relaxed with his shareholders. The connection is helpful for both parties, as it opens the door for reflections about conclusions and expectations.  Buffet's letters are especially productive because he speaks openly and honestly and is not afraid to take a position. Gates explains, "Warren is justly famous for his…because he's been willing to speak frankly and criticize things like stock options and financial derivatives. He's not afraid to take positions, like his stand on raising taxes on the rich, that run counter to his self-interest." Gates has since adopted similar techniques, though not nearly as good as Buffet's, he jokes.
3. Lastly, Gates attributes Buffet for teaching him to know how valuable your time is. He starts out by assuring us all that "No matter how much money you have, you can't buy more time." Gates would definitely know. He then goes on to illuminate that although Buffet is unwilling to spend his time in "useless meetings," he is willing to use that time helping work with people he trusts, even if that entails giving out his personal phone number to Berskshire Hathaway (NYSE:BRK.A) advisors.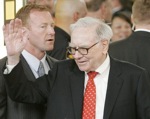 Gates ends his post on a sincere, almost sentimental note, saying, "…not many people get to ask him for advice on a regular basis. I feel very lucky in that regard: The dialogue has been invaluable to me, and not only at Microsoft…He's one of a kind.
Don't Miss: Risk-On Mode Puts Markets Back on Top.