4 Signs Income Inequality Isn't Going Away in the U.S.
Last week, the U.S. Census Bureau released its annual Income, Poverty, and Health Insurance Coverage in the United States report. The document, which covers 2012, revealed that little progress was made between 2011 and 2012 toward reducing poverty, closing the income gap, or increasing median household income. It also clearly demonstrates the damage that the late-2000s crisis had on the economic well-being of Americans.
Income inequality has increased steadily in the United States, even as the stock market has recovered most of its losses; the Dow Jones Industrial average doubled from the low it hit in March 2009. The housing market has also shown signs of recovery, and with three years of steady increases, the official poverty rate remained flat in 2012 at 15 percent. Yet for an increasing number of working families, economic security is out reach. Between 2007 and 2011, the share of working families considered low income, meaning their earnings are 200 percent of the official poverty threshold, increased from 28 percent to 32 percent nationally.
Here are some highlights from the report and elsewhere that demonstrate how income inequality in the U.S. remains a huge problem, and how we haven't necessarily made any improvement in the past few years.
1. Median Income Gap Between Races
Median annual income in the U.S. in 2012 was $51,017, and according to the Census Bureau, that was not statistically different in real terms from the 2011 median income of $51,100. Over the past seven years, real median income has declined 8.3 percent, largely as a result of the recession.
Within this data, the Census Bureau reveals that the income difference between racial groups has not closed by any significant margin — and in some cases, it has even increased.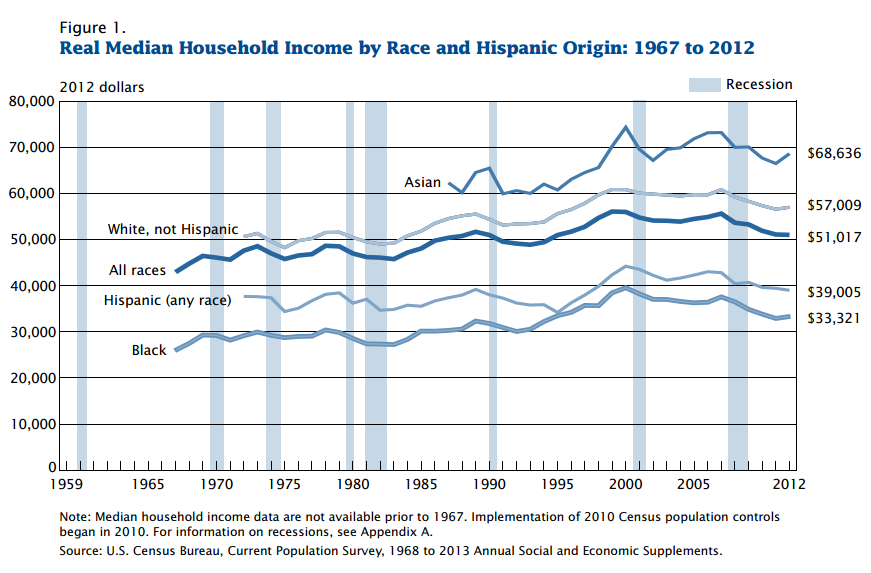 2. Income Gap Between the Sexes
While the female-to-male earnings ratio has increased fairly steadily since the Census Bureau began tracking such data in 1959, the gap has not moved much over the past several years. Earnings for both sexes has stagnated, with median earnings among men at $49,398 and median earnings among women at $37,791.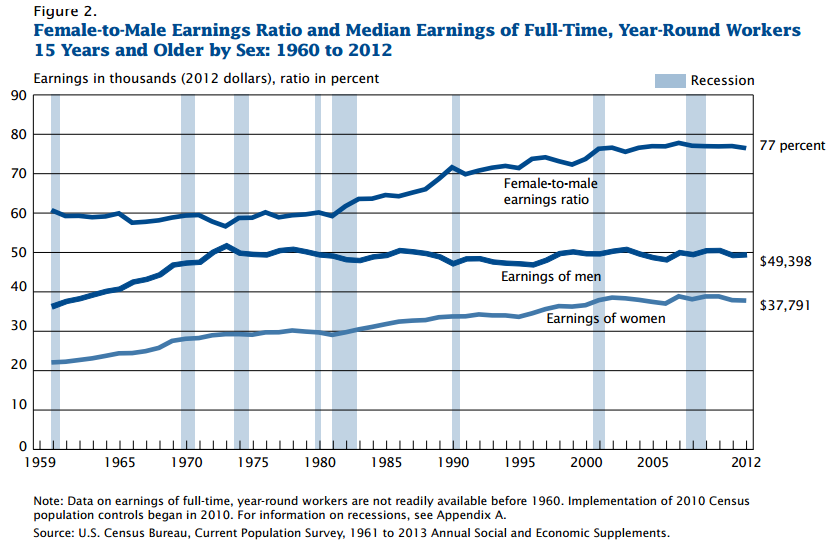 3. Rich Get Richer
Pew Research tabulations of Census Bureau Data show that the share of total income claimed by the top 5 percent of households has increased 5 full percentage points from 1972 to 22 percent in 2012. The income level necessary to qualify as a member of the richest 5 percent in the United States has increased from $130,350 in 1972 to $191,156 in 2012.
Pew Research shows that while median household income among all earners has increased 19 percent since 1967, the median income of the top 5 percent of households has increased 67 percent over the same period.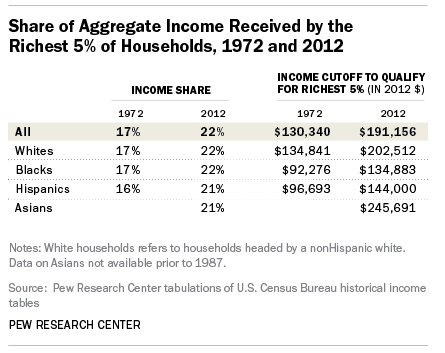 4. Evaporating Mid-Wage Jobs
The National Employment Law Project showed that while low-wage occupations accounted for 21 percent of recession-era job losses, they accounted for 58 percent of recovery job gains — and while mid-wage occupations accounted for 60 percent of recession losses, they accounted for just 22 percent of recovery growth.
What this means is that post-recession job growth is characterized by Americans taking lower-paying jobs, moving out of the middle class and into the lower class. Low-wage industries such as food services, retail, administrative support, and waste management services constituted 43 percent of net job growth during the recovery. Within these industries, 76 percent of job growth occurred at the low end of the wage scale.
If inequality is defined by a shrinking middle class and growth at opposite ends of the spectrum, then the past decade can certainly be defined by its inequality. Since the first quarter of 2011, employment has grown by 8.7 percent in lower-wage occupations and by 6.6 percent in higher-wage occupations. Meanwhile, employment in mid-wage occupations has fallen by 7.3 percent.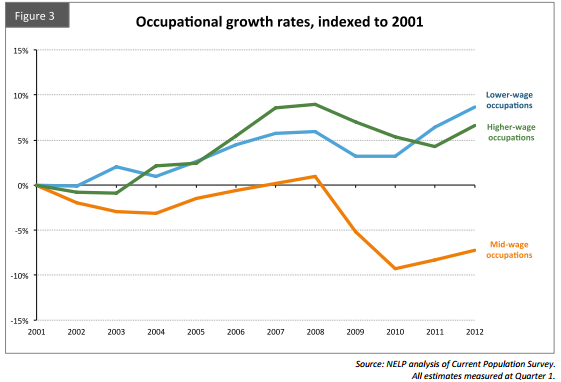 Don't Miss: These Downbeat Fed Speeches Subdued Stocks.