4 Ways Americans Are Financially Illiterate
Financial literacy is arguably one of the most important skills someone can develop in today's world (right next to traditional literacy and technological literacy). Basic finance touches nearly every part of a person's life, and is a building block of some of the most important decisions people make: buying a car, buying a home, going to college, and saving for retirement are just some examples.
A well-informed consumer is critical for any stable economy, but research shows that more than half of Americans fail a basic finance quiz. Here are four ways that Americans have demonstrate financial illiteracy, courtesy of the FINRA Investor Education Foundation.
1) Shopping for credit cards
One of the best ways to ensure you'll get a bad deal in any transaction is to not shop around. You have a duty to look out for your own best interest: this means ensuring that you are not paying any more than you should be, and that you are getting a product that is worth what you are spending. Unfortunately, the FINRA survey shows that most Americans did not compare credit cards before acquiring one. With total outstanding consumer credit as high as it has ever been, it is critically important that people know what they are signing up for.
2) Planning ahead
In financial planning, it's always important to make sure that Present You takes care of Future You. It's easy to spend money now and achieve short-term satisfaction, but failure to plan ahead can result in a tremendous amount of hardship. The FINRA survey showed that 56 percent of Americans have no rainy day fund.
This means that in the event of an emergency, 56 percent of Americans will either be unable to finance a solution (needing a new car, paying a medical bill, repairing damage to a home) or will have to access high-interest debt.
3) Running a personal deficit
People like to compare balancing the federal budget to balancing a personal budget. Defined this way, fiscal responsibility is a matter of making sure that you do not spend more than you earn. During times of economic recession many people are forced to cut into savings or use credit to pay for the cost of living, but in 2012 a huge portion of Americans were still regularly spending more money than they made, while more than one in three was simply breaking even. (We just hope that those who are spending more than they earn at least shopped around for the best lines of credit.)
4) Failing the test
Traditionally, if you want to know what someone else knows, you ask them. When asked five questions about basic finance, 61 percent of Americans answered three or fewer correctly. Here are the questions they were asked:
Suppose you have $100 in a savings account earning 2 percent interest a year. After five years, how much would you have? More than $102, exactly $102, less than $102, or don't know?
Imagine that the interest rate on your savings account is 1 percent a year and inflation is 2 percent a year. After one year, would the money in the account buy more than it does today, exactly the same, or less than today?
If interest rates rise, what will typically happen to bond prices? Rise, fall, stay the same, or is there no relationship?
True or false: A 15-year mortgage typically requires higher monthly payments than a 30-year mortgage, but the total interest over the life of the loan will be less.
True or false: Buying a single company's stock usually provides a safer return than a stock mutual fund.
Here's how the market traded on Friday: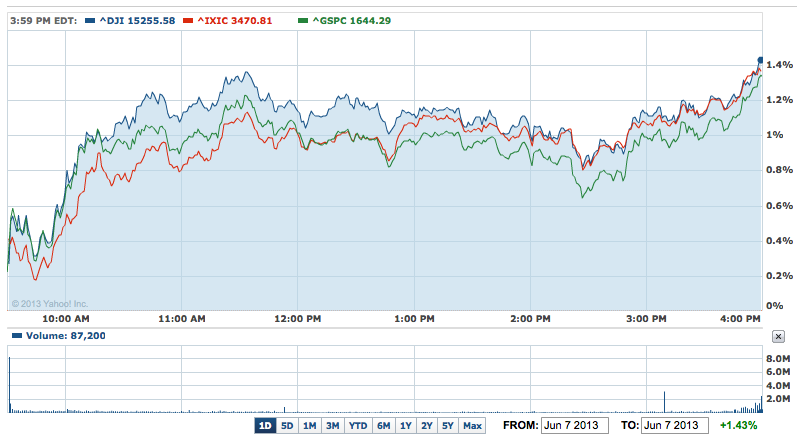 Don't Miss: Labor's Mixed Results: Jobs Spiked But Unemployment Rose.