5 Bull Stocks Returning Over 500% in 5 Years or Less
The Dow Jones Industrials, one of the most widely watched equity indexes, has returned 66.3 percent over the past five-year period. The Nasdaq, home to many high-growth technology stocks, has returned about 128 percent over the same period. The S&P 500, a more broad-based index, has climbed nearly 80.1 percent.
Between them, these indexes set what many investors consider to be the benchmark for equity performance. If shares in a company are doing worse than the index, they are lagging; if they are doing better, they are outperforming. While there is obviously more nuance to evaluating stock performance, the indexes are often used to get an "at a glance" understanding of how the market is doing — a summary of the performance of many individual stocks.
Of course, within these indexes there are stocks that do poorly and there are stocks that do well, and some stocks do much better than others. Let's take a look at a few that have done more than just outperformed the benchmark — they've left it in the dust.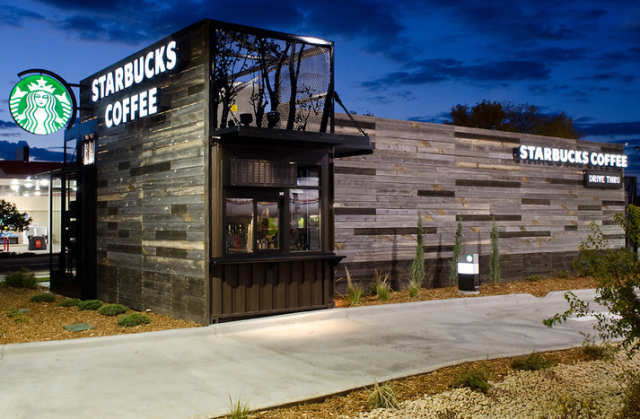 1. Starbucks Corp. (NASDAQ:SBUX)
Between the free Wi-Fi, sleek, eco-friendly retail locations, and a decent cup of coffee, Starbucks has become an American classic, both as a business and as an investment. The stock has returned just over 500 percent since August, climbing from less than $10 per share in the wake of the financial crisis in October 2008 to just about $80 per share in October.
The incredible thing about Starbucks is that even after such an amazing run, it shows little if any signs of slowing down. The firm won't report third-quarter earnings until Wednesday, but in the second quarter, it grew revenue by 13.3 percent on the year and earnings by 25.4 percent. For the coming report, analysts are expecting revenue growth of 13 percent, to $3.81 billion, and earnings growth of 30.4 percent, to 60 cents per share. Analysts hold a mean price target of $84.27 on the stock, about 5.9 percent higher than it was trading on Friday.

2. CBS Corp. (NYSE:CBS)
Mass media firm CBS Corp. also belongs to the pantheon of companies returning more than 500 percent on the stock chart in five years. Investors have shows like How I Met Your Mother, The Big Bang Theory, and Two and a Half Men to thank for the company's strong performance over the past few years, and they can hopefully count on the return of shows like Mike & Molly to keep things going for a while to come.
CBS won't report earnings until November 6, but analysts are expecting a fairly strong performance from the company. Analysts are forecasting earnings to increase nearly 17 percent to 76 percent, although this estimate has come down over the past few weeks as the network's viewership ratings have declined.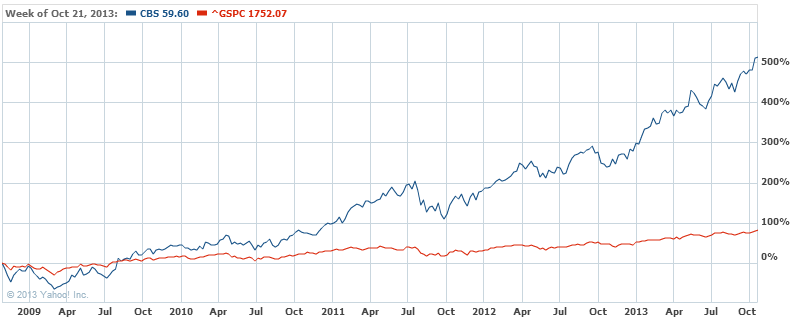 3. Ford Motor Co. (NYSE:F)
Ford stock has grown an incredible 710 percent over the past five years, demonstrating beyond a shadow of a doubt that it deserves its place near the top of the automotive totem pole. One of the interesting things about Ford stock is that in absolute terms, it is still pretty cheap, trading at about $17.58 on Friday. The stock was trading at about $2 five years ago.
Ford, like Starbucks, also shows few if any signs of slowing down. In the most recent quarter, Ford reported that revenue climbed 12.2 percent on the year to $36 billion, beating the mean analyst estimate of $33.98 billion. Adjusted earnings climbed 12.5 percent on the year to 45 cents per share, beating the mean analyst estimate of 37 cents. Net income — which includes a one-time $250 million restructuring charge and $145 million for a lump-sum payout to retirees — fell 22 percent on the year, to $1.3 billion.
Year-to-date car sales through September at Ford are up 12 percent at 1.887 million, a growth rate that beats all its major competitors.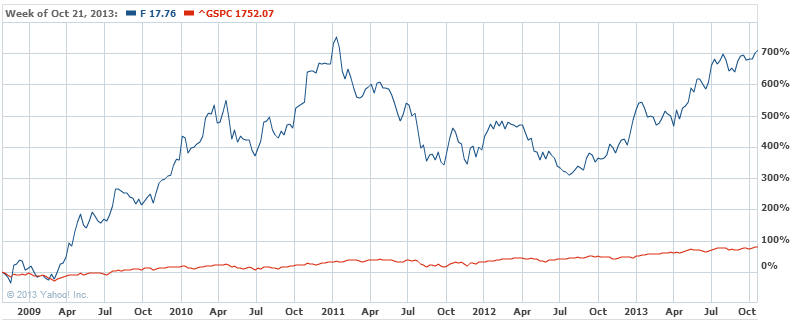 4. Whole Foods Market (NASDAQ:WFM)
Whole Foods has made its investors incredibly wealthy over the past five years. Shares of the health and organic foods grocer have increased a mind-boggling 1,105 percent since last August, rocketing from about $5 to about $65.
But for better or worse, the vast majority of Whole Foods shareholders are institutional investors; the company's stock is 85 percent owned by them. Major holders include T. Rowe Price, the Vanguard Group, State Street, and Wells Fargo.
Whole Foods will report earnings in November, and analysts are expecting revenue to grow 4.3 percent on the year to $3.04 billion, and for earnings to climb 1 cent per share to 31 cents.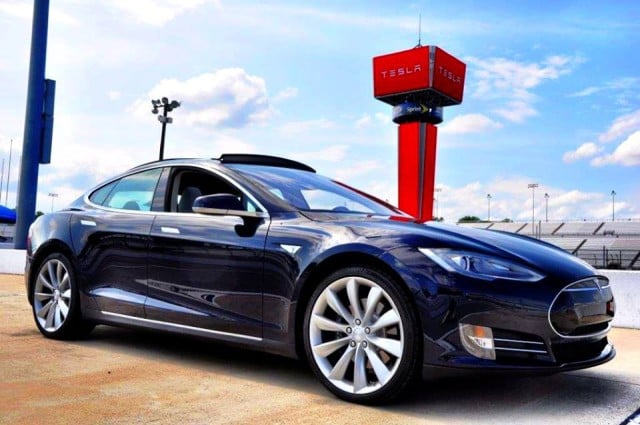 5. Tesla Motors (NASDAQ:TSLA)
Shares of Tesla Motors have climbed an impressive 801 percent over the three years the company has traded on the Nasdaq. What is perhaps most impressive, though, is that the stock has climbed about 500 percent in the past 52-week period, shooting up from less than $30 per share to nearly $170 since last October.
It's unclear if the company's current valuation is justified by the fundamentals, but stock's insane growth over the past several months definitely earns it a place in the record books.
Tesla will also report earnings in November. Analysts are expecting revenue to climb from just $50 million in the year-ago period to $534.6 million, and fir earnings to climb from a loss of 92 cents per share to a gain of 11 cents per share.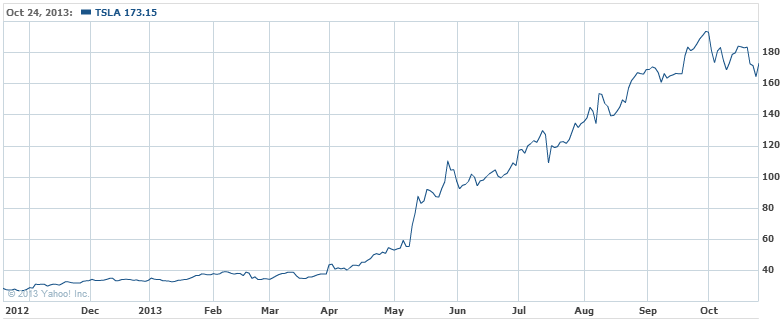 Don't Miss: Nearly 50 Years On, Ford's Mustang Is Still Galloping.