5 Signs the American Consumer Is On Life Support
The Great Recession technically ended in the summer of 2009, as gross domestic product rebounded from the bottom and started to expand. However, to any American not looking at the textbook definition, the recession is still alive and well.
Consumer spending accounts for the majority of the U.S. economy, but with real wages declining or remaining stagnant, it is unknown how long Americans can keep buying trinkets and major items on credit. Median household income is down more than 7 percent since the start of the recession, and Americans are taking home a smaller piece of the overall economy.
Paychecks:
As the chart below shows, wages and salaries as a percentage of GDP have been declining for over four decades.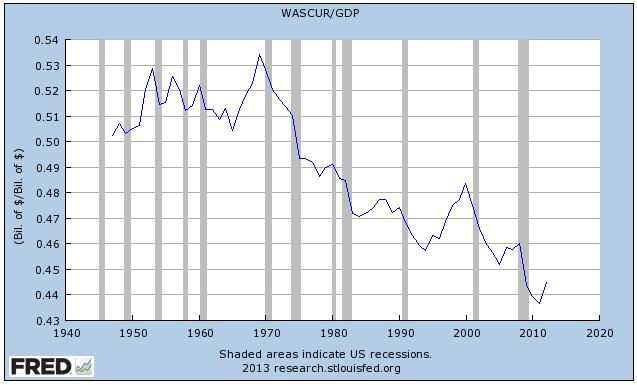 Furthermore, according to data from the U.S. Bureau of Labor Statistics, employees in seven of the 10 largest occupations typically earn less than $30,000 a year. A retail salesperson – the most popular occupation – earned an average of only $25,310 last year.
Employment to Population Ratio:
Despite the decline in the headline unemployment rate, the percentage of working age Americans with a job is under 59 percent, its lowest level since 1983. This ratio will have difficulty improving. The adult population increases by about 200,000 people each month, but the economy is only adding roughly 170,000 jobs each month.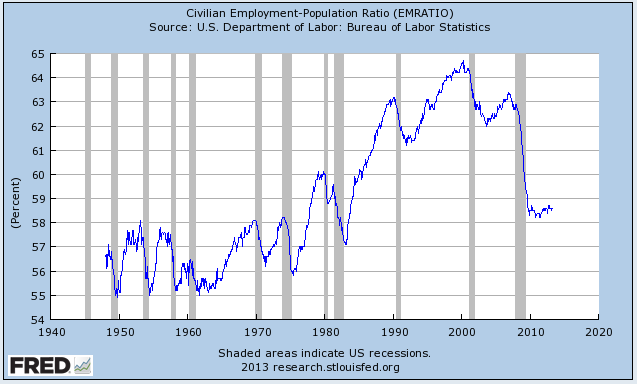 Job Hunt:
Financial advisors often advocate an emergency savings fund of around eight months. The simple reason for this is that it takes the average unemployed person about 35 weeks to find a new job. That is below the high of 41 weeks seen in recent years, but well above historical standards.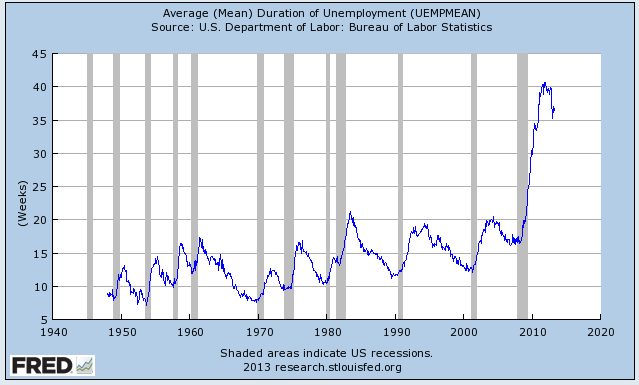 Hours Worked:
The typical work week has also seen a dramatic change over the decades. The average amount of annual time worked per employed person in the U.S. has declined from 1,900 hours in 1970 to about 1,760 hours in 2011.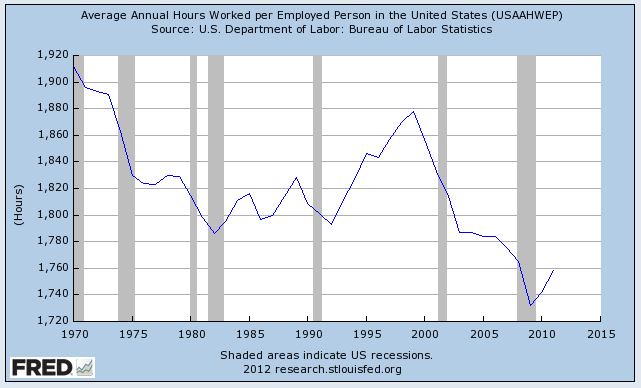 Making matters worse, hourly wages are declining. Earlier this week, the Labor Department reported that hourly compensation plunged 3.8 percent in the first quarter, its worst drop since records began in 1947.
Manufacturing:
The backbone of the U.S. economy and employment used to be manufacturing, but this is clearly no longer the case. The number of employees in the manufacturing sector is near its lowest point since 1946. Over the past decade, more than 2.6 million manufacturing jobs have been destroyed.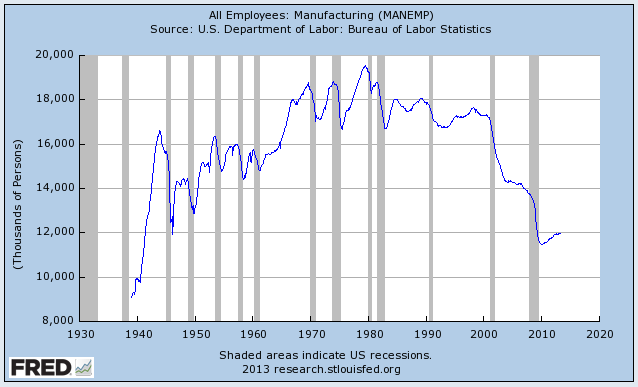 Don't Miss: Are Stocks Finally Running Out of Steam?
Follow Eric on Twitter (@Mr_Eric_WSCS)