5 Signs the American Worker Is Still Gasping for Air
The Great Recession technically ended in the summer of 2009, after the U.S. gross domestic product rebounded from bottom-levels and started to expand. However, to any American not looking at the textbook definition, the recession is still being felt across the economy. Earlier this month, the U.S. Department of Labor reported employers added 195,000 new jobs to their payrolls, easily beating estimates calling for 165,000 jobs. Payrolls for April and May were also revised higher, to show an additional 70,000 jobs. While the gain may look good on the surface, the employment picture in America comes with several caveats.
1. Manufacturing:
The backbone of the U.S. economy and employment used to be manufacturing, but this is clearly no longer the case. The manufacturing sector lost 6,000 jobs in June, representing the fourth consecutive monthly contraction.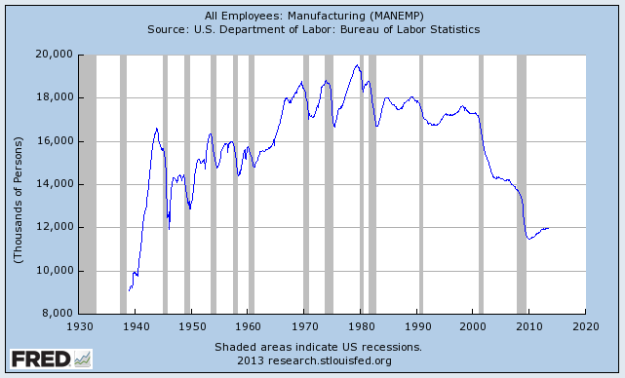 The number of employees in the manufacturing sector is near its lowest point since 1946. Over the past decade, more than 2.6 million manufacturing jobs have been destroyed.
2. Unemployment Rates:
The headline unemployment rate remained unchanged at 7.6 percent in June. That is below the peak of 10 percent in 2009, but the unemployment rate has now stayed above 7 percent for 55 consecutive months.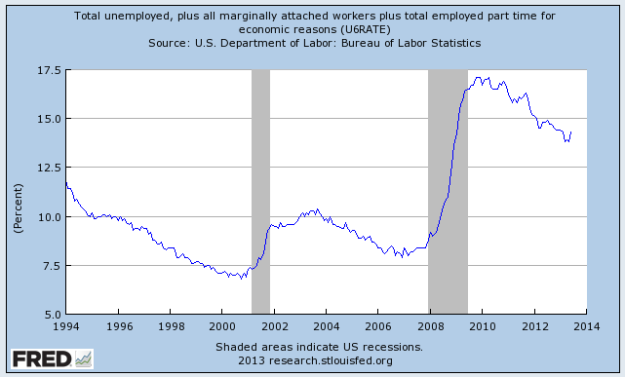 The U-6 unemployment rate, which includes everyone in the headline rate, plus people who are employed part-time but prefer a full-time position, or want work but have stopped looking, jumped from 13.8 percent to 14.3 percent, its highest level in four months.
3. Part-Time Workers:
The number of people employed part time because of economic reasons increased by 322,000 in June to 8.2 million. These individuals had their hours slashed or were unable to find a full-time job. They are also the reason for the large jump in the U-6 unemployment rate.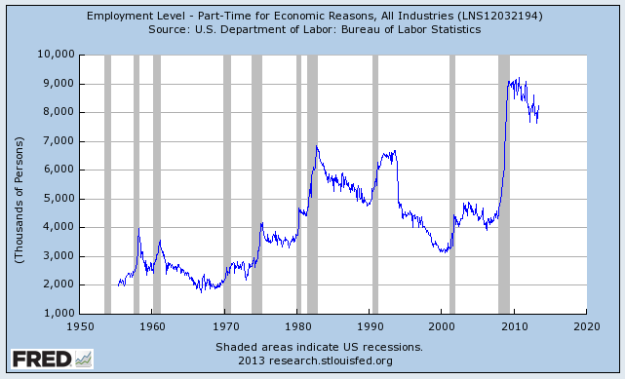 4. Employment-to-Population Ratio:
Despite the decline in the headline unemployment rate over recent years, the percentage of working age Americans with a job is under 59 percent, its lowest level since 1983. This ratio will have difficulty improving. The adult population increases by about 200,000 people each month, which is about the same number of jobs being created each month so far in 2013.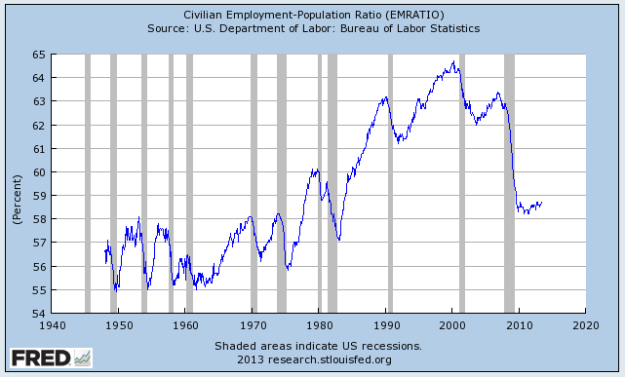 5. Quality:
A growing number of analysts and economists are beginning to realize a quality issue with the jobs being created. Leisure and hospitality employment increased by 75,000 jobs last month, after posting a 69,000 gain in May. Retail jobs — another low-wage industry — added 37,100 jobs in June.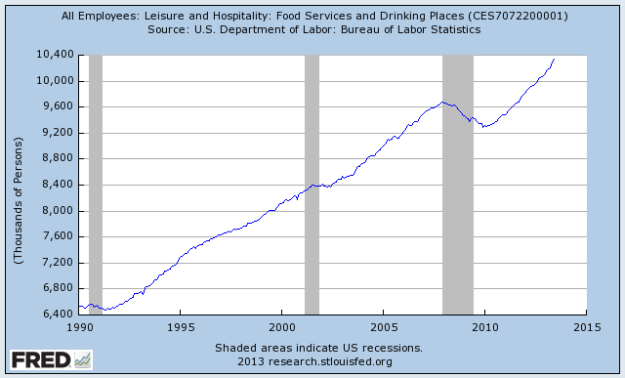 Follow Eric on Twitter (@Mr_Eric_WSCS)
Don't Miss: 10 Cities With the Highest Home Price Increases.