6 Facts To Prove Americans' Lack of Financial Planning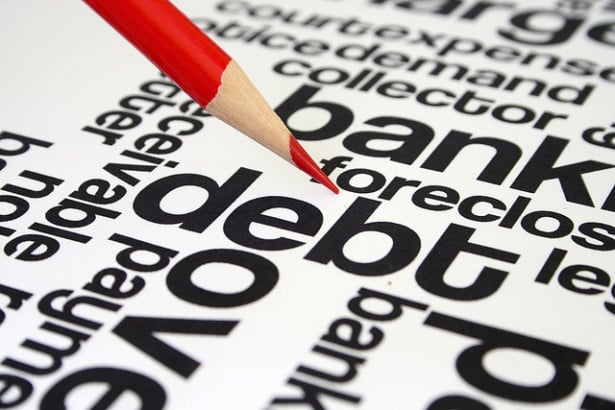 Northwestern Mutual has made an in-depth evaluation of the state of financial planning in America and Americans' ability to stay on course over the long-term to meet their goals. Part of the assessment was aimed at determining how Americans are responding to the current economic and political climate and understanding whether or not Americans feel they are "moving in the right direction" in terms of saving, spending, and finances. The survey covered 1,546 Americans who were at least 25 years of age.
All told, the data seems to indicate that Americans have problems planning out their finances. But nonetheless, although the household debt service ratio and the financial obligations ratio ticked up last quarter, to 10.5 percent and 15.7 percent, respectively, the previous quarter's values were the lowest on record since those figures were first recorded in 1980. What this disparity seems to indicate is that while consumers are increasingly becoming wary of taking on new debt, given the troubles faced during the financial crisis, they may not be able to handle the debt they do have.
Here are six facts that prove Americans' lack of financial planning skills:
1) More than 6 in 10 Americans admit their financial planning needs improvement, an increase from the figure recorded in 2012. The main excuse respondents gave for their poor planning skills is not having enough time. Not enough interest, confusion, and not knowing where to find the right help were also commonly mentioned barriers. Compared to last year, more Americans said that the single greatest barrier was confusion and a lack of time.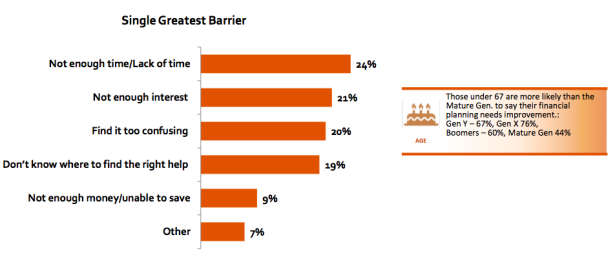 2) Almost 50 percent Americans are either "informal" financial planners or have no plans or goals at all to straighten their finances.

3) Only one-third are "disciplined" and very few, or 16 percent, say they are "highly disciplined." Compared to 2012, there are now more non-planners and fewer disciplined planners.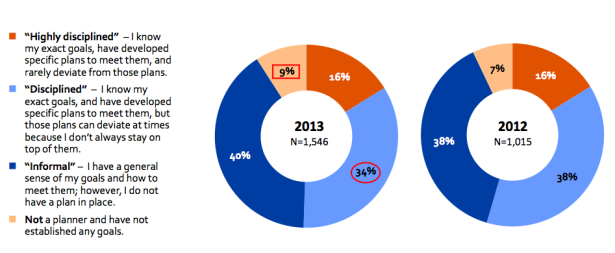 4) Men are more likely than women to say they are "disciplined" financial planners. Members of Generation Y, especially the youngest members of Generation Y, men, and those with the highest assets are more likely than their counterparts to consider themselves disciplined financial planners. So while 24 percent of Generation Y respondents said they were disciplined financial planners, only 16 percent of Generation X, 14 percent of the Baby Boomer generation, and 15 percent of the Mature Generation said the same.
 Here's a look at household debt in the United States: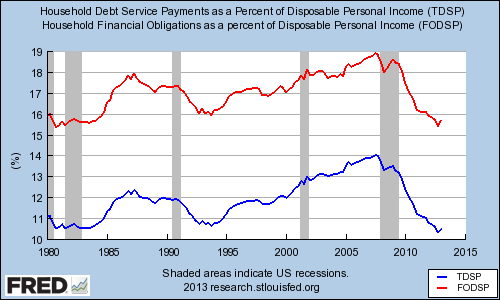 5) Three in 10 Americans, or 31 percent of respondents, say they find the immediacy of society today — characterized by 24/7 connectivity — to be distracting.
 
6) More than one and four, or 26 percent, of Americans either "often" or "always" feel too busy to think about long-term goals.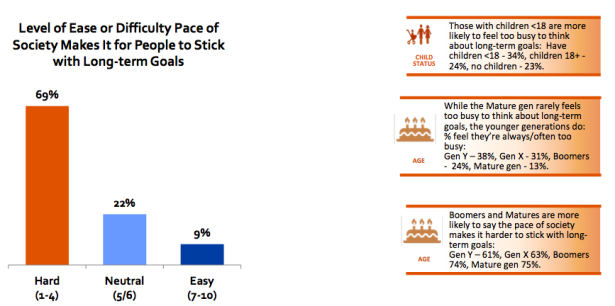 Don't Miss: American Express Wins This Big Ruling for Corporate America.
Follow Meghan on Twitter @MFoley_WSCS