7 Facts to Know How Americans Save for the Future
Northwestern Mutual has produced another report in understanding the financial behavior of Americans, this time looking at "Spending and Saving Habits." The study looked at perceptions of risk, saving methodologies, barriers to saving, and other variables to determine what the broader picture is for the state of American savings. According to Northwestern, some of the goals are as follows:
To evaluate the state of financial planning in America, and people's ability to stay on course over the long‐term to meet their goals.
To understand whether or not Americans feel they are 'moving in the right direction' in areas such as debt, saving, spending, health, and finances.
Northwestern surveyed a total of 1,546 Americans, and the data is weighted to be representative of the entire U.S. population; that is to say, it accounts for age, gender, income, region, household size, and marital status. Here's a look at 7 facts it found about what Americans think about saving:
1 .Slow and Steady
Apparently, if asked to compare themselves to a tortoise or a hare, Americans say that their savings are most identifiable with the large turtle that always wins the race. When asked about their approach to future financial goals, one-third of Americans said that the expression "slow and steady wins the race" most aptly characterized how they managed their savings. Only 13 percent of respondents said that they "were comfortable with the risks associated with growth strategies."
2. No Evolution Here
Just like their savings habits, Americans' ability to change said habits is also slow and steady — their views on savings haven't changed by a significant amount since last year. Only 2 percent fewer people since 2012 feel that slow and steady isn't for them, and slightly more now feel they would like to be more cautious, but are behind on their finances. The appetite for growth strategies has remained constant, with 13 percent advocating that position over the course of both years.
3. Personal Frugality
When questioned on the money they possess today, over half questioned said that their mentality is to save and be careful for long-term financial security. Only 14 percent said that they spend and "Live for today!" A respectable 35 percent took the noble path and decided they were somewhere in the middle. (They were questioned on a scale of 1-10, with 10 being the safest option.)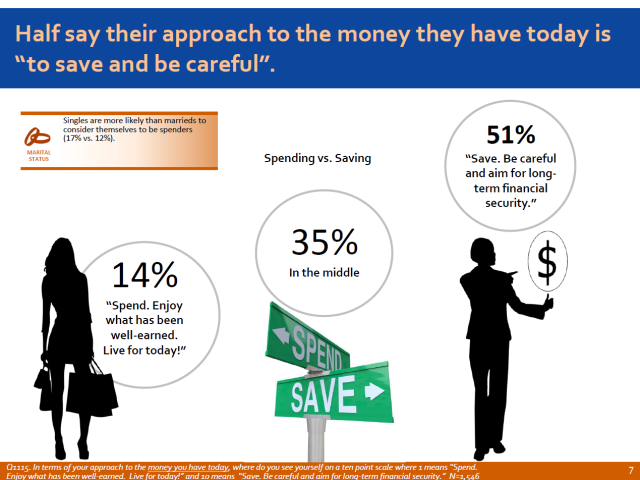 4. Age Divide
Four in 10 people polled said they would save more in the next 12 months when compared to their current spending habits, with another 4 in 10 claiming that they will save the same amount. However, the breakdown got more interesting when applied to age groups, and younger generations are more likely to save more, where older people tend to be loosening up a bit as they enter their golden years.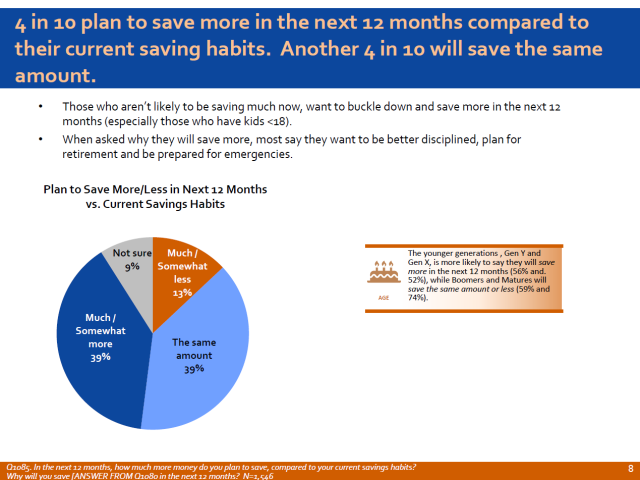 5. Bring on the Savings!
After three years to reflect on their habits, 6 percent more people had decided they were going increase their savings. This puts saving more even with saving the same amount, whereas previously more people intended to maintain a particular level of savings.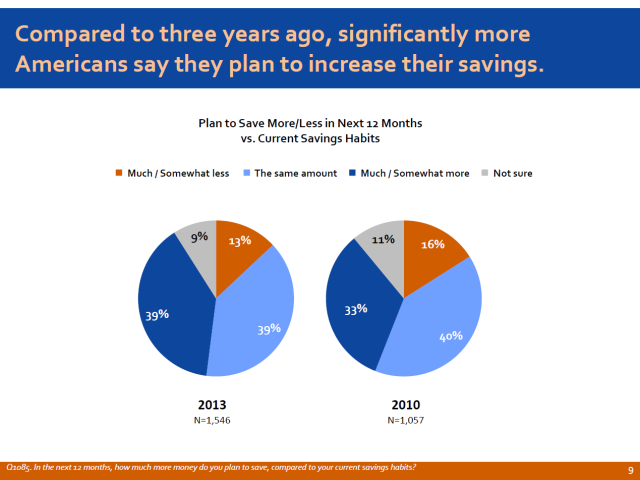 6. Hands in the Cookie Jar
Although Americans like to talk a thrifty game, it appears that necessity or other factors have forced them to dip into their savings. While 3 in 10 have increased savings in the last 3 years, 22 percent of those polled admitted to dipping into retirement accounts, and another 22 percent have reduced savings contributions. Not surprisingly, the older generation has largely been the one to tap into the retirement accounts, while younger generations have been the ones forced to stop saving.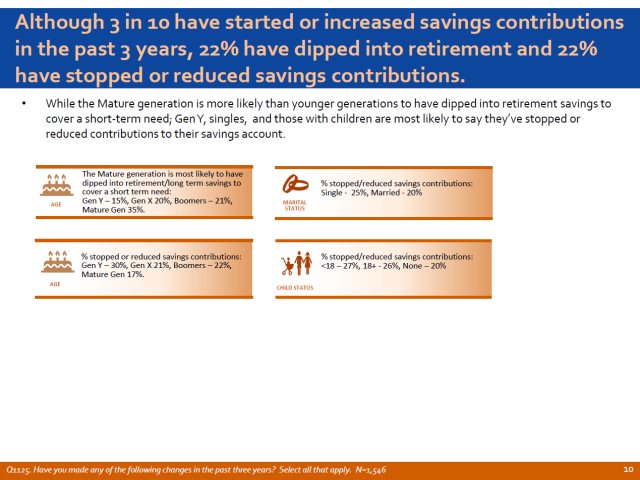 7. Reigning in the Budget
Despite the tough times for many Americans managing their savings, the vast majority either plan to maintain spending levels, or decrease them in the next 12 months. About 82 percent of Americans fit into this category of trying to control their personal budgets. Those with children, as well as younger people, make up the majority of the group looking to spend less.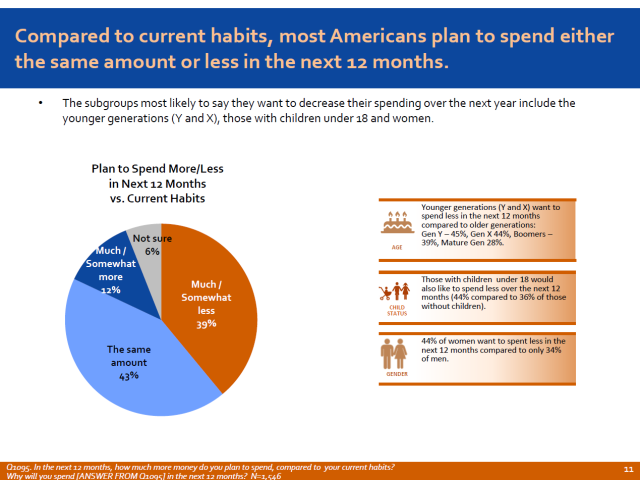 Don't Miss: 6 Facts To Prove Americans' Lack of Financial Planning.