7 Ways to Diagnose the Health of the Labor Market
The elephant in the room during a typical diagnosis of the U.S. economy is the labor market. Unemployment has always been in the spotlight, but the headline rate has come under increased scrutiny in the wake of the decision by the U.S. Federal Reserve to explicitly link forward guidance for monetary policy to economic metrics.
While the headline rate paints a broad picture of the health of the labor market, there are alternative measures that investors should keep an eye on.
1) Initial claims for unemployment insurance
Every week, the U.S. Bureau of Labor Statistics releases a report on the number of people claiming unemployment insurance. This report can be used as a proxy for layoffs — generally speaking, a higher number of claims means a weaker economy.
The number of people filing for initial unemployment claims declined 5,000 to a seasonally-adjusted 343,000, according to the most recent report. The four-week moving average, a more stable indicator for claims, declined 750 to 345,500. At this level, unemployment insurance claims are approaching, but have not quite reached, pre-crisis levels.
2) Challenger, Gray & Christmas Job Cuts Report
Figures released by the outplacement consultancy firm Challenger, Gray & Christmas pointed to a noticeable slowdown in job cuts during the first six months of 2013, though the pace of downsizing did spike slightly last month.
"Threats to job security still exist," commented CEO John Challenger. "However, in the form of federal spending cutbacks stemming from sequestration as well as potential fallout from implementation of health care reform. "So far, most of the job cuts related to healthcare reform have come from healthcare providers adjusting to lower Medicare reimbursements and state Medicaid cutbacks. As 2014 approaches, we could see more cuts related to health care reform as smaller employers, who are mandated to provide coverage if they have 50 or more full-time workers, cut the number of workers and/or hours to remain under the 50-worker threshold."
3) ADP National Employment Report
Businesses added 188,000 jobs in June, according to the ADP National Employment Report, a marked increase from the 134,000 jobs added in May. It was the strongest pace of hiring since February, indicating that the labor market has continued to shrug off substantial federal budget cuts and tax increases. Economists were expecting 150,000 jobs to be added last month.
The majority of new jobs were once again created by small businesses, which added 84,000 jobs compared to 55,000 jobs added by midsize firms and 49,000 new positions added by large companies. Trade, transportation, and utilities industries led the job gains with 43,000; those were followed by the 40,000 jobs created by professional and business services, and 21,000 construction jobs. Manufacturers, which are still affected by the eurozone recession, added just 1,000.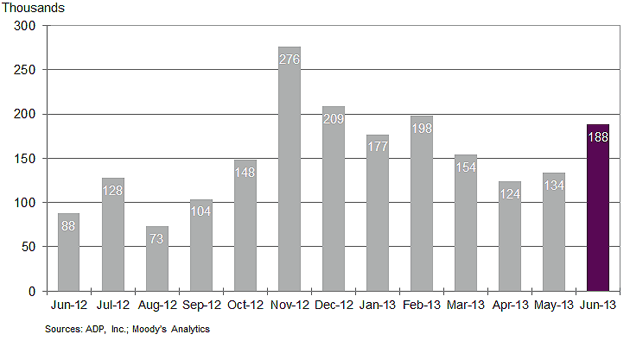 4) Gallup U.S.  Job Creation Index
Gallup's U.S. Job Creation Index showed this week that U.S. workers felt slightly more positive about their workplace hiring conditions in May and June than they were earlier this year. In fact, the reading was a five-year high.
The index remained at a reading of plus-22 for the second consecutive month, confirming that job creation rebounded this spring. At the beginning of the year, the index dipped to a plus-16 level as workers worried that hiring would not pick up this year. With the index generally trending upward, June's reading exceeded the relatively positive figures that were recorded midway through 2012, and it matched the level reached in June 2008, just before the U.S. economic crisis began.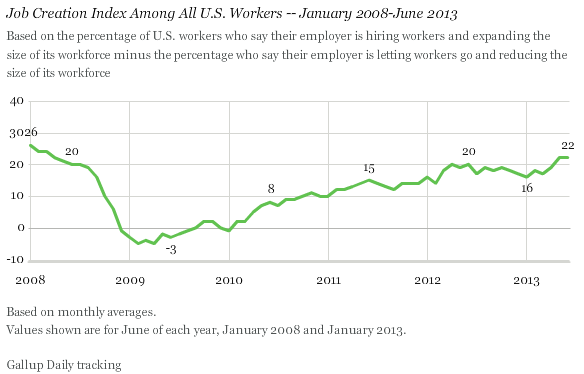 5) Gallup U.S. Payroll-to-Population Employment Rate
Gallup, the leading behavioral economic research firm, also tracks a payroll-to-population, or P2P, ratio. With a new report on Wednesday, Gallup's measure showed the highest P2P ratio so far in 2013 at 44.8 percent, up from 43.9 percent in May. Gallup's P2P metric is an estimate of the percentage of the U.S. adult population age 18 and older who are employed full-time by an employer for at least 30 hours per week. The P2P ratio is not seasonally adjusted.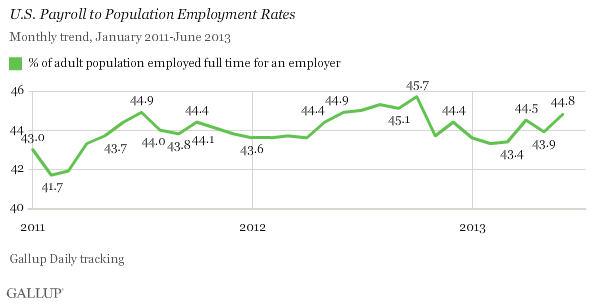 The U.S. Bureau of Labor Statistics tracks a similar metric — employment to population — which according to the department sits at 58.6 percent — down from about 63 percent before the financial crisis.
6) ISM Report on Business Employment Component
The Institute for Supply Management reported this week that its non-manufacturing index declined 1.5 percentage points on the month to 52.2 percent, indicating that America's service economy is growing, but at a slower rate than in May. The business activity and new orders components of the index also declined on the month, but the employment component showed a strong increase.
7) The Employment Situation Report
The Employment Situation report is the main indicator of labor market health. Last month, employers added 195,000 new jobs to their payrolls, according to the latest report from the U.S. Department of Labor. Economists polled by Bloomberg and Reuters only expected employment to increase by 165,000 jobs. Furthermore, payrolls for April and May were revised to show an additional 70,000 jobs.
On the downside, the unemployment rate stayed the same at 7.6 percent, slightly higher than expected. The U-6 unemployment rate, which includes everyone in the headline rate, plus people who are either employed part-time but prefer a full-time position, or want work but have stopped looking, jumped from 13.8 percent to 14.3 percent — its highest level in four months.