8 Billionaires Who Never Bothered to Get a College Degree
With renewed attention on student interest rates and vigorous debate on the usefulness of a college degree in the professional workspace, we look at 8 successful careers that were formed without completing their time at college.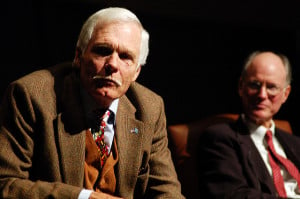 Ted Turner (Net worth: $2 billion)
At the age of 74, Ted Turner has a net worth of $2 billion. Turner attended Brown University, but did not graduate, and instead started working for his father at Turner Advertising. Seven years after his father committed suicide, Turner started buying television stations and turned those investments into Turner Broadcasting, which was later bought by Time Warner Inc (NYSE:TWX). When Time Warner merged with AOL Inc. (NYSE:AOL) in 2001, Turner became the largest individual shareholder. He is now a dedicated philanthropist, and is especially committed to the United Nations, to whom he has already given $916 million on his path to a $1 billion pledge.
Ralph Lauren
Ralph Lauren, CEO and Chairman of Ralph Lauren Corp (NYSE:RL), has a net worth of $7 billion. The fashion tycoon, 73, went to Baruch College for two years but dropped out to join the army. After his stint in the army, he began designing neckties for Beau Brummel in 1976,  and later that year, launched Polo with $50,000. The company has since been extended to a full menswear line that sells clothing, shoes, jewelry, home goods, and fragrances, earning Lauren the #53 spot on Forbes' United States billionaires list.
Mark Zuckerberg
At the ripe age of 29, Facebook's (NASDAQ:FB) Mark Zuckerberg has a net worth of $13.3 billion. Not bad for a twentysomething. He launched the social network in his dorm room at Harvard University with his college roommates, but dropped out after sophomore year in June 2004 to pursue his business venture. By the end of the year, Facebook had over 1 million users. Venture capital firm Accel Partners invested in Facebook in 2005, giving the site a major boost. Facebook was the most visited site in 2012, as well as 2011, and 2010. Time Magazine named the young entrepreneur "Person of the Year" in 2011.
Michael Dell
Michael Dell, 48, the chairman and CEO of Dell (NASDAQ:DELL) is a University of Texas dropout who is worth $15.3 billion. He started making his own computers in college when the personal computer was still in its infancy stage. Dell started selling directly to customers, and as his accounts outside his school began to rise, he dropped out to focus on his business efforts. In his first full year of business, he had $6 million in sales, and became the world's largest PC maker by 2001.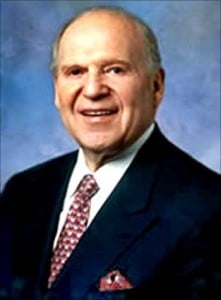 Sheldon Adelson
Gambling connoisseur Sheldon Adelson is the CEO and Chairman of Las Vegas Sands (NYSE:LVS) casino empire. The 79-year-old has a net worth of $26.5 billion. Adelson began his first business at age 12 selling toiletries, but later retired to attend college at City College of New York. He dropped out after less than two years, and like Ralph Lauren, joined the Army, after which he worked as a mortgage broker and investment adviser. After several failed investments, Adelson started a trade show for the computer industry and eventually created the Computer Dealers Expo which traveled to present the new PC products to consumers and other companies. By the late 1980s, Adelson and his business partners bought Sands Casino to complement their travel companies. He built a resort, shopping mall, and convention center for his company's events, and eventually shed his partnerships to build his $1.5 billion Venetian Resort Hotel Casino, and the Sands Expo and Convention Center. Several casino resorts have been opened since.
Larry Ellison
Larry Ellison, the CEO of Oracle (NASDAQ:ORCL), has a net worth of $43 billion at age 46 and is considered America's third richest man. He attended University of Illinois and was named Science Student of the Year, but dropped out after his second year after his adoptive mother died. He enrolled at the University of Chicago the following fall, but then dropped out again. He worked as a programmer for Amdahl Corporation and then later teamed up with two of his coworkers to found their own company, Software Development Labs, where Ellison served as CEO. The team later developed their system for commercial applications and named it Oracle, which IMB eventually adopted. After many rises and declines, the company made several major acquisitions, which continue today.
Bill Gates
Known as the world's most generous man, Bill Gates, and his business partner, Paul Allen, built the world's largest software business, Microsoft Corp (NASDAQ:MSFT). Gates enrolled in Harvard University but dropped out after two years when he and Allen eventually began developing software for Micro Instrumentation and Telemetry System. In 1975, the boys formed a partnership they called "Micro-Soft."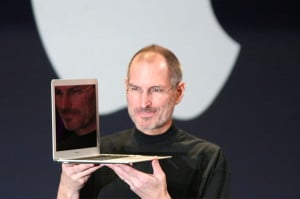 Steve Jobs
Steve Jobs caps off the list, even though his net worth, at $8.3 billion, is not the highest. The late Apple (NASDAQ:AAPL) co-founder attended Reed College in Portland, Oregon, but dropped out after six months. He initially became a video game designer with Atari in 1974, but left soon after to travel to India. In 1976, at age 21, he started Apple Computers with Steve Wozniak in his garage. The two went on to revolutionize the computer industry by making the machines smaller, cheaper, and more accessible. Jobs resigned as CEO of Apple in 1985 but returned in 1997, putting the company back on track after many major fallouts. He died in October 2011 following respiratory arrest related to his pancreatic tumor.
Editor's Note: This post has been updated to reflect the correct spelling of Sheldon Adelson's last name. We apologize for the error. 
Don't Miss: Here Are Some Surprising Findings About Hunger In America.