Airline Tells Boeing Its Dreamliner Quality Isn't Good Enough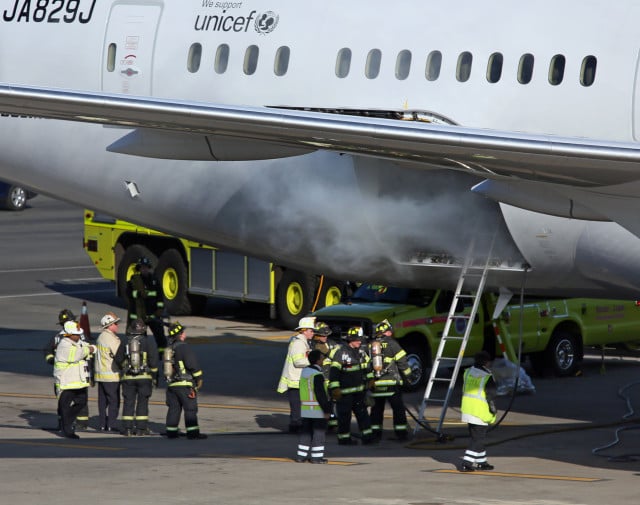 Throughout the airline industry, even among airlines like Norwegian Air Shuttle, United Continental (NYSE:UAL), and ANA Holdings (ALNPY.PK), which have experienced problems with Boeing's (NYSE:BA) Dreamliner, confidence in the 787 has appeared to be the rule, not the exception.
Earlier in September, Boeing's Dreamliner problems picked up once again. This time, technical problems struck the recently acquired, two-aircraft Dreamliner fleet of Norwegian Air Shuttle, the third-largest budget airline in Europe. At the beginning of the month, a brake indicator issue grounded one of the 787 planes at Arlanda Airport north of Stockholm, Sweden, forcing Norwegian Air to temporarily lease an aircraft from Boeing competitor Airbus to keep passengers moving.
The next issue was reported a week later: A Dreamliner scheduled to fly from Oslo, Norway, to Bangkok apparently experienced problems getting enough electricity from its power supply units and was unable to take off. Once again, Norwegian Air leased a plane from Airbus in order to move the passengers. The airline operator's 787 Dreamliner fleet ran into more problems several days later, as well.
The Dreamliner's technical problems began with two battery meltdowns in January, which caused regulators to implement a four-month, worldwide grounding of all 787 Dreamliners — the first such global grounding in 30 years. Boeing engineers and other industry experts redesigned the system so that the battery cells would be separated and insulated, which put the plane back in the sky in April.
But more technical issues followed. A jet operated by United Continental was forced to make an emergency landing in Houston; an Ethiopian Airlines 787 caught fire at London's Heathrow Airport because of a faulty emergency beacon; a faulty fuel pump indicator and an oil level indicator caused United flights to be diverted last summer; and then, Norwegian Air's string of mechanical malfunctions began.
As with many other carriers that have experienced technical hiccups with the Dreamliner, Norwegian Air CEO Bjorn Kjos remains supportive of the company and the aircraft. Kjos told The Wall Street Journal in an interview several weeks ago — before the Arlanda airport incident — "For us to succeed, it's absolutely vital to keep a cost focus, and that takes things such as new fuel-efficient aircraft."
Recent incidents have not caused the airline to change its plans to phase in more Dreamliners on its routes, as Norwegian Air Shuttle's communications manager, Charlotte Holmbergh Jacobsson, told the Journal last week. "We'll get a third one in November and hope it will function without problems," she said. "We have confidence in these aircraft, that's why we bought them."
But just because airlines have confidence in the plane does not mean that they are not disturbed by the problems. Norwegian Air said Monday to Reuters that it called in Boeing's management for a meeting in Oslo this week to address the number of technical problems its two Dreamliners have experienced. "We are going to tell them this situation is far from good enough," company spokeswoman Anne-Sissel Skaanvik told the news service. "We have not had the reliability that we had expected from brand new planes, so something must happen, fast … Clearly Boeing has not had good enough operative quality control."
Norwegian Air has three more Dreamliners on order, and it plans to lease three additional 787s in order to expand its transatlantic service. That eight-jet fleet is worth approximately $1.65 billion at list price.
For the most part, industry experts have termed these events as typical "teething problems" of the new passenger plane. "This should be no surprise whatsoever," Andrew Thomas, author of Soft Landing: Airline Industry Strategy, Service, and Safety, told the Christian Science Monitor after January's battery fires. "Every new complex collection of systems – and the Dreamliner is certainly that – will experience unknowns."
In his opinion, the "magnitude, scale, and scope of the supply chain involved; the number of parts and systems; and the just-in-time nature of the manufacturing process guarantees that, like almost every other human endeavor, there will be imperfections and errors," he said to the publication.
Because the 787 employs so many new technologies — including the carbon-composite fuselage and the lithium batteries that power complex new electrical systems — that had never been used before in aircraft design, Thomas's statement rings particularly true. "This is basically an all-electric airplane," Rob Mark, publisher of Jetwhine.com, told the Christian Science Monitor.
At the time of the battery meltdowns, Boeing's stock price took a dip, and the company was forced to launch a fight a tough public relations battle to rebuild confidence in the wide-bodied jet.
"I want to reiterate that we have extreme confidence in the 787 airplane and the 787 ideas," Mike Sinnett, the 787′s chief project engineer for Boeing, said in a teleconference in January. "For a long, long time we looked at the airplane and there were so many things that we wanted to do. We wanted to make an airplane that was more fuel efficient, more comfortable for passengers, and we wanted to give the airlines more flexibility. We've achieved those goals. We're very, very happy with how it is performing."
In terms of reliability, he compared the rollout of the 787 to the 777, which came out in 1997. "The performance of both of these airplanes — the 787 and the 777 — has been better than any other new large wide-bodies that were introduced into the world's fleets," said Sinnett.
Here's how Boeing is trading over the past 5 market sessions: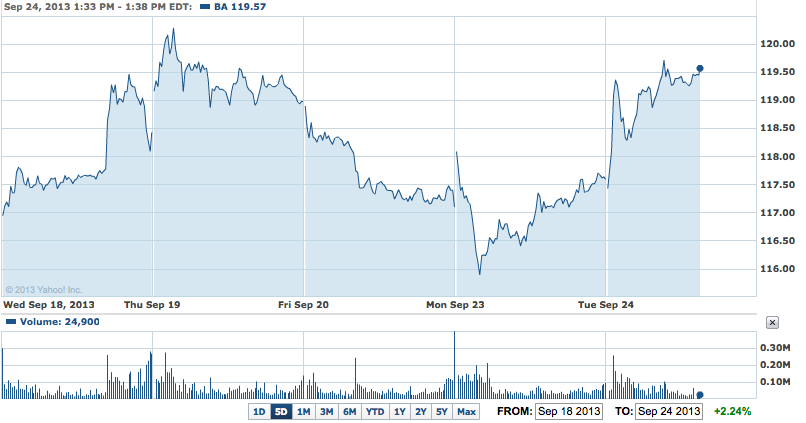 Follow Meghan on Twitter @MFoley_WSCS
Don't Miss: Is the Justice Department Picking on American, US Airways?.