Americans Are Raiding Retirement Accounts
The Federal Reserve has unleashed record amounts of liquidity into the financial system, but as many people know all too well, very little is making its way to Main Street. Amid stagnant wages and rising expenses, more Americans are raiding their retirement accounts.
A recent analysis by Wells Fargo found that a high number of workers are now turning to their 401k plans as a source of lending. The bank reported that in the fourth quarter of 2012, the number of people taking loans out from their 401ks surged 28 percent from a year earlier. Furthermore, the average new loan balance jumped 7 percent from $6,662 to $7,126 in the same period.
While the perception may be that younger generations are careless with spending and retirement planning, older workers were most likely to tap their 401k plans. Of the participants who took out loans, 34.2 percent were people in their 50s, which is the greatest percentage of any age group in the study. People in their 60s and 40s came in at 28.9 percent and 27.3 percent, respectively. In fact, the increase among those in their 50s was almost double the increase among those under 30 years old.
"The increased loan activity particularly among older participants is concerning because those are the years when workers can start to make catch-up contributions and really need to focus on preparing for retirement," said Laurie Nordquist, director of Wells Fargo Retirement, in a press release. "However, we know that this age is also the sandwich generation, caught between paying for their kids education and supporting elderly parents, which makes saving for retirement even more challenging."
One in five people have 401k loans…
The analysis is based on 1.9 million survey participants that have retirement plans administered by Wells Fargo. In addition to the new loan activity, the bank found that 19.2 percent of people with money in a 401k plan had at least one outstanding loan, with an average balance of $7,764.
Younger participants have grater loan amounts as a percentage of their account balance. For those under 30, the average outstanding loan balance is 38.2 percent of their remaining untouched balance. For those over 60, it drops to 21.1 percent. Only 9 percent of people under 30 have an outstanding loan, compared to nearly 25 percent of people in their 40s.
"While the increase in loan activity is concerning, we know that loans are not the biggest driver of leakage from retirement savings," said Nordquist. "In fact, employees cashing out their 401k when they leave an employer are a greater concern. Those dollars are often spent whereas with loans the funds are often repaid and stay in the retirement nest egg."
At least people are saving more…
On the positive side, workers appear to be saving more of their income in retirement accounts. In the fourth quarter, the number of participants deferring 3 percent or less declined by 1.8 percent, while people contributing 10 percent or more gained 1.3 percent.
Additional trends include:
Of the participants who increased their deferral rates from 3 percent to a range of 4-6 percent, a significant amount are in their 20s and 30s.
Of the participants who increased rates from the 4-6 percent range into the 7-9 percent range, most are in their 30s.
Participants over 50 increased rates from the 7-9 percent range to 10 percent or more.
25.2 percent of all 401k plan assets are now in managed investment options, up 4.1 percent from a year ago.
Despite this progress, almost 20 percent of those 65 and older have their entire balance in a single investment. Over 70 percent of those (or 14 percent of all participants over 65) have all their money in fixed-income investments.
Life events and special circumstances can impact the retirement saving process, but it is generally considered a bad idea to take a loan out from your 401k plan. If you are laid off or leave your job, the entire loan typically becomes due within a few months. Furthermore, long-term gains can be hindered by not having the money invested.
Here's how the market traded Thursday: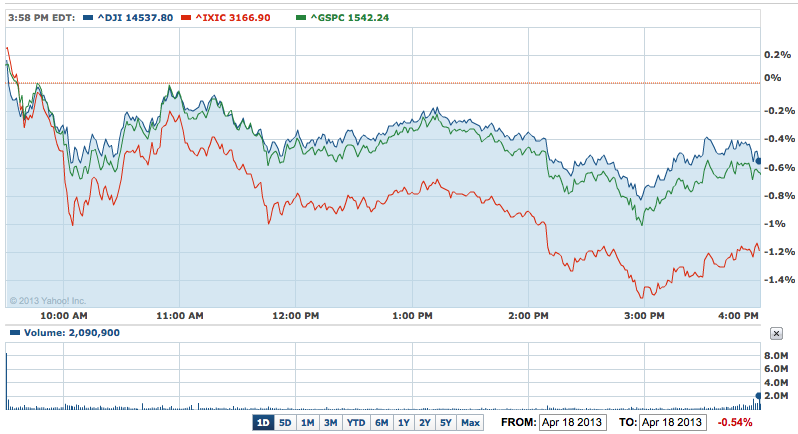 Don't Miss: Are Your Income Taxes Fair?