Are Gun Stocks Ignoring Obama and Congress?
The debate over firearms has ignited a wave of emotions and political rhetoric over the past several months, but investors in gun-related stocks appear to have steady hands.
Earlier this year, President Barack Obama and Vice President Joe Biden rolled out a wide-ranging list of executive actions regarding gun control. Obama also called on Congress to expand background checks on all gun sales, ban military-style assault weapons, and ban capacities of more than 10 rounds. After months of discussions and finger pointing, Congress did not answer Obama's call.
A bill aimed at expanding the system of background checks failed in the Senate last week. It received only 54 votes, six votes short of the 60 needed to advance. Although the bill had co-sponsorship from both political parties, five democrats broke from party lines, and only four GOP senators voted in favor of the bill. The Senate also blocked a proposal to ban semiautomatic rifles and high-capacity ammunition magazines.
A visibly angry Obama gave a speech shortly after the Senate's decision. He said, "So all in all, this was a pretty shameful day for Washington. But this effort is not over. I want to make it clear to the American people we can still bring about meaningful changes that reduce gun violence, so long as the American people don't give up on it. Even without Congress, my administration will keep doing everything it can to protect more of our communities…but we can do more if Congress gets its act together"…
The National Rifle Association also released a statement that said: "Expanding background checks at gun shows will not prevent the next shooting, will not solve violent crime and will not keep our kids safe in schools. While the overwhelming rejection of President Obama and Mayor Bloomberg's 'universal' background check agenda is a positive development, we have a broken mental health system that is not going to be fixed with more background checks at gun shows. The sad truth is that no background check would have prevented the tragedies in Newtown, Aurora or Tucson."
Although the gun control bill is on pause for the moment (Senate Majority Leader Harry Reid has pledged to bring the expanded background amendment back to the floor for a vote), national attention and heavy media coverage of tragic shootings have caused many people to make purchases ahead of any major changes.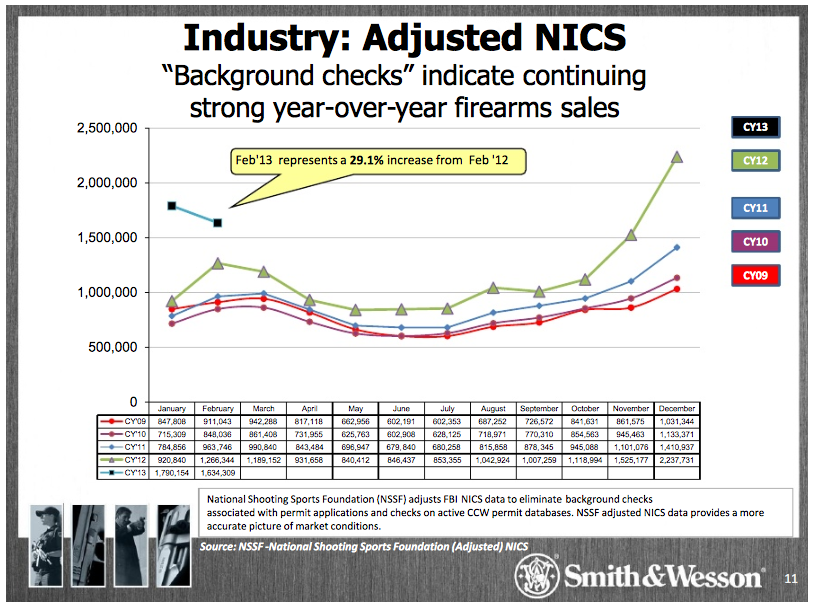 As the chart above from Smith & Wesson shows, background checks for February were down from January, but 29.1 percent higher from a year earlier. According to an analysis of the gun industry by The Associated Press, the federal government has conducted roughly the same number of background checks for gun owners and prospective buyers under Obama's first term, as it did under George W. Bush's first six years of presidency. For the first time since 1993, the number of federally licensed retail gun dealers in the U.S. increased in 2010 and 2011, adding 1,167 more licensed dealers.
In another sign the current administration is the best thing to happen to gun sales since the Second Amendment, Smith & Wesson Holding Corp. (NASDAQ:SWHC) announced quarterly results in March that exceeded targets.
The second largest publicly-traded gun manufacturer reported net sales of $136.2 million for its fiscal 2013 third-quarter, up 38.8 percent from a year earlier. Net income from continuing operations came in at $17.5 million (26 cents per share), compared to $5.4 million (8 cents per share) in the same period last year. Analysts were expecting earnings of 23 cents per share with $133.7 million in revenue.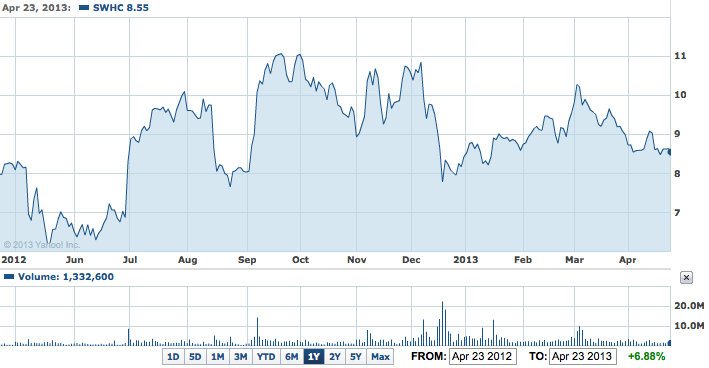 With strong demand and profit margins improving, Smith & Wesson also raised its guidance. For the current quarter, it expects to earn between 38 cents and 40 cents per share, above analysts' estimates of 30 cents per share. The company expects net sales from continuing operations to come in between $575 million and $580 million for fiscal 2013.
Sturm, Ruger & Co. (NYSE:RGR) also recently announced impressive quarterly results. The largest publicly-traded gun manufacturer reported net sales of $141.8 million for the fourth-quarter, up 52 percent from $93.2 million a year earlier. Earnings came in at $1.00 per share, compared to only 54 cents per share in the fourth-quarter of 2011. On average, analysts were expecting earnings of 94 cents per share with revenue of $124 million.
For the full year, Ruger announced net sales of $491.8 million, representing a 50 percent increase from the prior year. The company notes that demand for its products outpaced growth in the overall industry as measured by the National Instant Criminal Background Check System for both the fourth-quarter and twelve months ended December 31, 2012.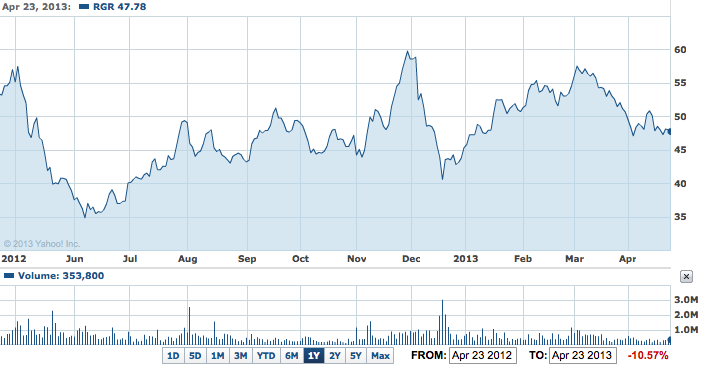 Although Smith & Wesson and Ruger both have strong fundamentals, their stock prices have mostly ignored actions coming from Washington. Shares of Smith & Wesson have traded between $8 and $9 per share for the majority of 2013, and are up only 1.3 percent this year. Ruger shares have mostly traded between $45 and $50 per share, and are up 5.24 percent year-to-date. Cabela's (NYSE:CAB) has been one of the biggest movers in the industry. Shares of the speciality retailer declined after the Senate's vote last week, but are still up more than 32 percent year-to-date.
Don't Miss: Are Americans Falling for Bernanke's Wealth Effect?