Are Home Prices Making Boom-Time Gains?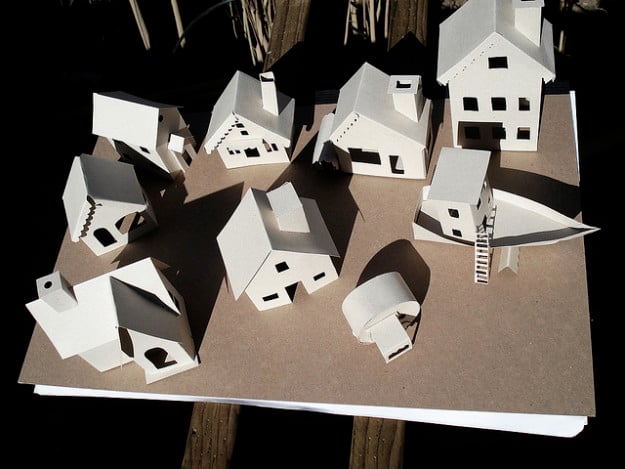 Standard & Poor's/Case-Shiller Home Price Indices, a leading measure of U.S. home prices, showed that all 20 cities measured posted boom-time gains in March; average home prices rose for the third straight month, the latest sign of how tighter inventories and soaring housing demand have led to an increase in home prices after several years of distressing declines.
Home prices in March rose 10.9 percent from the same month last year, the greatest year-over-year gain in almost seven years. Home prices are still 28 percent below their 2006 peak, but they have returned to levels last seen in late 2003. A year ago, home prices were 35 percent below their 2006 high. On a monthly basis, the 10- and 20 city composites both gained 1.4 percent from February.
A number of the largest home price gains came in the West, including many markets hit hardest by the foreclosure crisis. In March, prices surged 22.5 percent in Phoenix from the same month last year, and gained 22.2 percent in San Francisco. Las Vegas, Atlanta, Detroit, Los Angeles, Portland, Minneapolis, San Diego, Tampa, Miami, and Seattle all posted double-digit increases as well.
"Home prices continued to climb," says David M. Blitzer, Chairman of the Index Committee at S&P Dow Jones Indices, adding that "other housing market data reported in recent weeks confirm these strong trends: housing starts and permits, sales of new home and existing homes continue to trend higher." But, "at the same time, the larger than usual share of multi-family housing, a large number of homes still in some stage of foreclosure and buying-to-rent by investors suggest that the housing recovery is not complete."
Still, the signs that momentum is increasing exist. A tight supply of homes for sale, continued ultra-low interest rates, and pent-up demand have provided the necessary impetus to propel the recovery forward. As Blitzer noted, other recent housing data support that thesis. Existing home sales increased slightly in April from March, and were nearly 10 percent above year-ago levels, according to the National Association of Realtors. However, sales have slowed in the past six months because of limited supply and tight credit. Meanwhile, new homes sales rose 2.3 percent in April from March to a 454,000 annual rate — the second-highest level in nearly five years.
Many economists say that the housing market will continue to improve and outperform the broader economy over the next few quarters. Mortgage interest are, and will continue to be, a big help. While they have trended higher for the past three weeks, the average for a fixed rate 30-year loan was still low by historical standards. At 3.59 percent for the week ended last Thursday, Freddie Mac said that rates are still low enough to keep buying homes affordable, which should further aid home sales and construction.
Near-record low mortgage interest rates, which have kept home buying more affordable, and pent-up demand have been enough to keep many economists cautiously bullish. But, as such a stance would suggest, there are several potential problems with the housing recovery that the recent gains hide.
Robert Shiller, a Yale economist and co-founder of the index, believes that these strong increases may be a bit of a statistical mirage. "Foreclosure sales are down, so naturally [price] indexes that include foreclosures are up," he told CNNMoney. Foreclosures sell for less than comparable non-foreclosed properties, so with fewer sales of those homes, prices will show gains. However, when the percentage of distressed properties being sold stabilize near their historic norms, price gains will flatten.
Another factor arguing against continued price gains is that home prices are already at what Shiller considers to be a "normal level," adjusted for inflation. The housing downturn only took prices to levels they would have been at had they not unnaturally increased during the bubble, he said.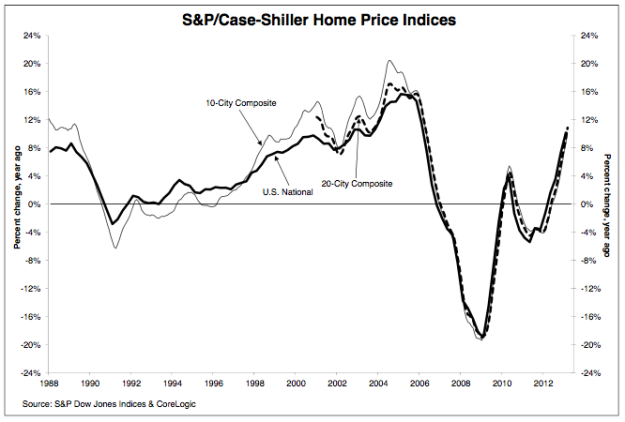 Here's how the market traded on Tuesday: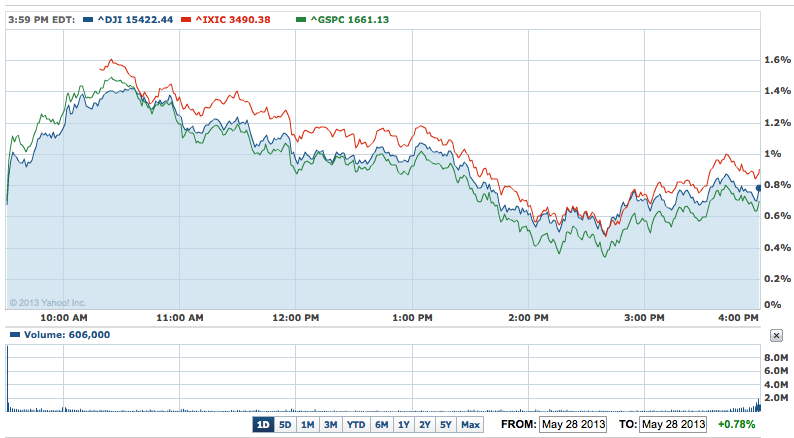 Follow Meghan on Twitter @MFoley_WSCS
Don't Miss: Taking a Deep Look at America's Energy Status.