Are Republicans Losing More Than Votes for Re-Election?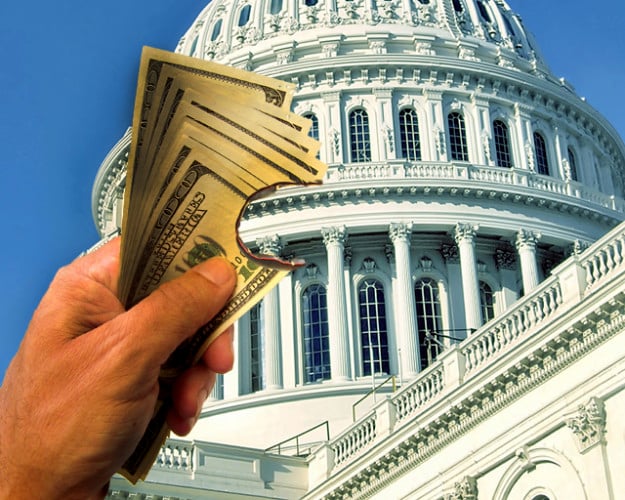 During the 2012 elections, the American Trucking Association — the largest in the U.S. — gave $724,500 in donations to federal candidates, and 78 percent of those funds went to Republicans, according to The Center for Responsive Politics. After the shutdown and default scare these past weeks, though, the organization seems to be changing sides, according to Bloomberg.
"If I was your political broker, my advice would be that you sell your Republican shares and buy the Democrats," said the association's chief executive officer, Bill Graves, at an annual convention. Graves made it clear that he felt Republicans no longer have businesses' best interests at heart, calling their stands on economic issues "foolish, ill-advised, reckless, and detrimental." He claimed that the GOP imperils businesses by threatening to "burn the house down."
One major source of tension for Graves and others like him is the highway bill, previously an easily passed nonpartisan item concerning interstate highway maintenance. Now the bill only passed with a two-year extension, four years shorter than usual, and without much-needed tax changes. Ray LaHood, the U.S. Transportation secretary until earlier this year, said that the new law gave "no certainty at all for anybody to do long-term planning" on, according to Bloomberg.
For Graves, what needs to be done seems clear and simple. "Our No. 1 issue is getting a package of infrastructure investment. … We know we can't rely on the general fund to keep saving the Highway Trust Fund. We know how expensive tolls are. We know the answer is a fuels tax. That's a fairly straightforward conversation to have with a member."
"The business community is fed up with the inaction of Congress when it comes to infrastructure. [They] know that America has fallen way, way behind. There's a long, long list of bridges that need to be replaced or repaired. There's a long, long list of roads that need to be fixed," Bloomberg reports LaHood as saying.
Frustrations in the business community could spell disaster for Republicans in upcoming elections, and Democrats know it. The Democratic Congressional Campaign Committee recently sent a letter to more than 1,000 heads of businesses, asking them to remember the GOP's behavior and promising cooperation and stability from their end — clearly thinking ahead to the 2014 midterm elections. Additionally, CNN just released a post-shutdown poll that showed 75 percent of those surveyed thought Republicans in Congress did not merit re-election. The American Trucking Association may soon be putting its money where its mouth is.
Don't Miss: Increased Construction Spending Continues to Fuel Job Growth.