Businesses Feel Better About the Economy, But Remain Cautious
Although stocks continue to make new all-time nominal highs, the recovery on Main Street is still lacking to say the least. Small business owners felt slightly more optimistic last month, but are still cautious regarding the future as problems remain in Washington and the overall economy.
The National Federation of Independent Business, the leading nonprofit small business association representing small and independent businesses, reported that its Small Business Optimism Index increased 2.6 points in April to 92.1, compared to 89.5 in the previous month. December's level of 88.0 was the second worst reading since March 2010. In the 45 months of economic expansion since the beginning of the "recovery" in July 2009, the index has averaged 90.7.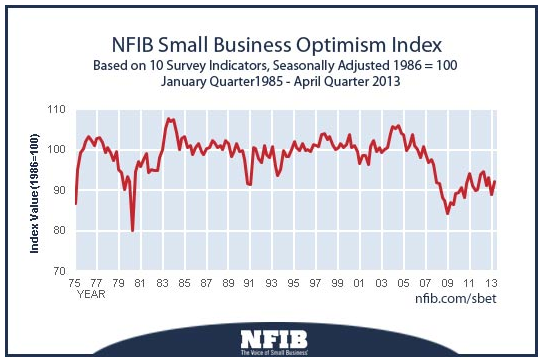 Optimism among small business owners has been struggling to hold above a reading of 90.0 in recent years. Corporate profits are surging, but consumers and small businesses still face too much doubt about the future and are receiving little help from lawmakers.
Bill Dunkelberg, chief economist at the NFIB, explains, "Small-business confidence saw an uptick this last month, but it was a ho hum, yawn, at-least-it-didn't-go-down reading. The subpar recovery persists for the small business sector. Economic performance is contradictory — corporate profits are at record levels and the stock market hits new highs, yet GDP growth for the past six months has averaged about 1.5 percent and the unemployment rate is 7.5 percent. Nothing in the NFIB data suggests that the small business half of the economy is expanding other than by an amount driven by population growth and associated new business starts now in excess of terminations. The lack of leadership in Washington and the resulting uncertainty depresses consumers' and business owners' willingness to spend and invest, and make bets on the future."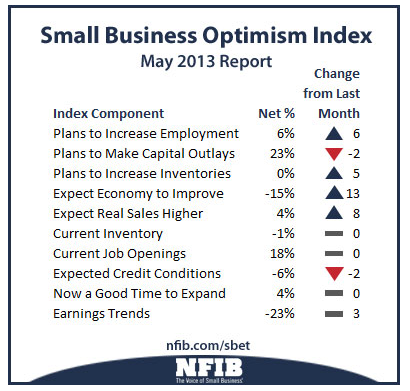 Of the ten index components, four showed gains and four remained unchanged. Plans to make capital outlays and expected credit conditions both declined from the previous month.
Only four percent of owners said it was a good time to expand their businesses in April, unchanged from the previous month and historically a very weak number. The net percent of owners expecting better business conditions in six months was a net negative 15 percent, a 13 point improvement from the prior month, which was among the lowest in the 40-year history of the NFIB survey.
Sales remain in negative territory for small businesses, but it reached their highest levels in 10 months. The net percent of all owners reporting higher nominal sales over the past three months improved by 3 points to hit a negative 4 percent. Sixteen percent of small employers cite weak sales as their top business problem. Taxes and government red tap were the top two problems at 23 percent and 21 percent, respectively.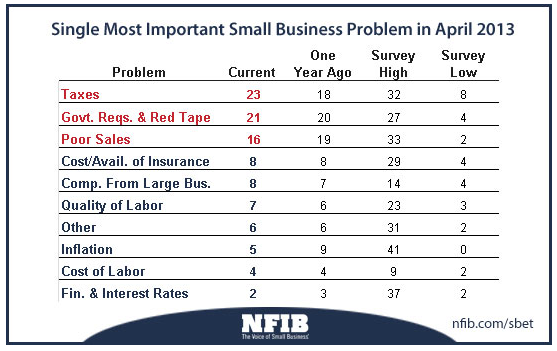 April was another positive, but lackluster month for job creation. Small businesses reported increasing employment an average of 0.14 workers per firm last month, slightly lower than the previous month's reading. Forty-nine percent of owners surveyed said they hired or tried to hire in the last three months.
Don't Miss: College Grads: Overqualified and Underprepared?