Bill Gross: Is the End of the Bull Market Within Sight?
Everywhere PIMCO founder and co-chief investment officer Bill Gross looks, he sees bubbles.
"Not just in the bond market," he told Bloomberg Television in an interview earlier this week, but in the bull-run of the stock market over the past few years as well. These bubbles, of course, are being inflated by the billows of Federal Reserve bond buying. Now bogged down in its fourth discrete round of quantitative easing, the Fed has pumped so much liquidity into the economy that what once felt like a flood is now the new normal.
"As long as the Fed and Bank of Japan and other central banks keep writing checks and do not withdraw, then the bubble can be supported," Gross said. For some context, the Federal Reserve is throwing $85 billion at the yield curve every month, or about 0.6 percent of GDP. The BoJ is spending 7.5 trillion yen ($80 billion per month), or almost 1.4 percent of GDP.
In the U.S., the conversation about paring back purchases has been going on in earnest for a number of months. This week alone, three regional Fed presidents suggested reducing purchases immediately, while one suggested that a wind-down begin in summer. At the beginning of the year, the Fed announced that it would continue with QE as long as inflation did not exceed 2 percent (currently at an annual rate of 1.8 percent), and as long as the headline unemployment rate remained above 6.5 percent (currently at 7.5 percent).
Meanwhile, Japan's most recent stimulus initiative has just begun, and will last for at least two years.
At a glance, QE floods commercial banks with liquidity in a hope to promote private lending. Central banks do this principally by buying government bonds, but also — most notably in the U.S. — by buying asset-backed securities. There are a thousand ways to cut it, but at the end of the day QE is a stimulant for equities, and Mr. Market has become addicted to the drug. The post-recession bull market was borne on the back of unconventional monetary policy, and it's easy to see what happens when the IV is removed.
"There will be repercussions" when purchases stop, Gross suggested in his interview with Bloomberg. "It doesn't mean something like 2008, but the potential end of the bull markets everywhere. Not just in the bond market but in the stock market as well, and a developing one in the house market as well."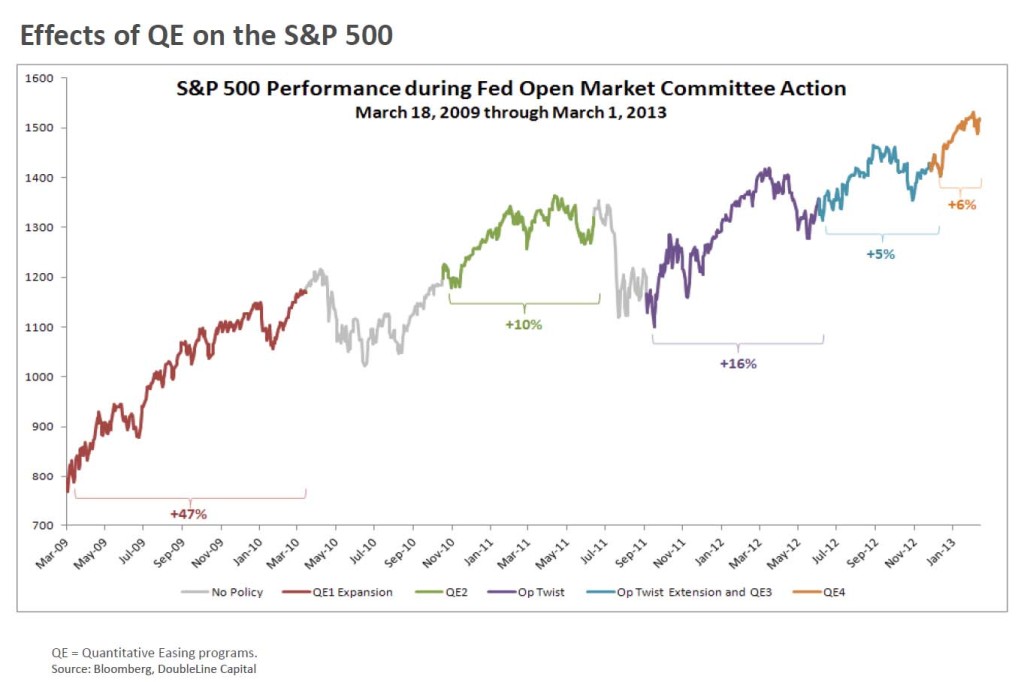 Mr. Market has found himself in a position where just the prospect of tapered purchases can drive down stock prices. "It is almost a day-to-day thing in terms of the market," said Gross, referring to how sensitive the markets have become to the conversation.
Regional Fed President's Weigh In
Speaking on the U.S. economic outlook and monetary policy earlier this week, Federal Reserve Bank of Philadelphia President Charles Plosser began by saying that "preserving price stability is the most important function of a central bank." The Fed's massive quantitative easing program has caused concerns over price stability, and hawks have kept a careful eye on the rate of inflation, but as it stands, it looks like pressures remain low.
Plosser — critical of current policy — points out that over the past three years, average personal consumption expenditures inflation in the U.S. has been about 1.8 percent, and has been running at a slightly lower rate over the past four quarters. "At this point," he said, "I do not see inflation or deflation as a serious threat in the near-term. However, I do believe that our extraordinary level of monetary accommodation will have to be scaled back, perhaps more aggressively than some think, to ensure that inflation over the medium term remains consistent with our target."
On Wednesday, Richmond Federal Reserve President Jeffery Lacker called for the U.S. Central Bank to end its role in stimulating the housing market, pointing to modest recovery in the sector.
Worrying about the inflationary effects of extended Fed activity in housing, Lacker suggested that the central bank end its policy of purchasing mortgage-backed securities, something he has consistently opposed. As he sees it, the unconventional policies of the Fed could drive up prices as the housing market picks up, stating, "Inflation doesn't take care of itself — it requires some attention from a central bank. The inflation outlook looks good now, but I think there are risks to the inflation outlook a couple of years ahead of us."
Don't Miss: Consumer Sentiment Hits Highest Level Since July 2007.