Boeing's Dreamliner Hits New Problems in India's Skies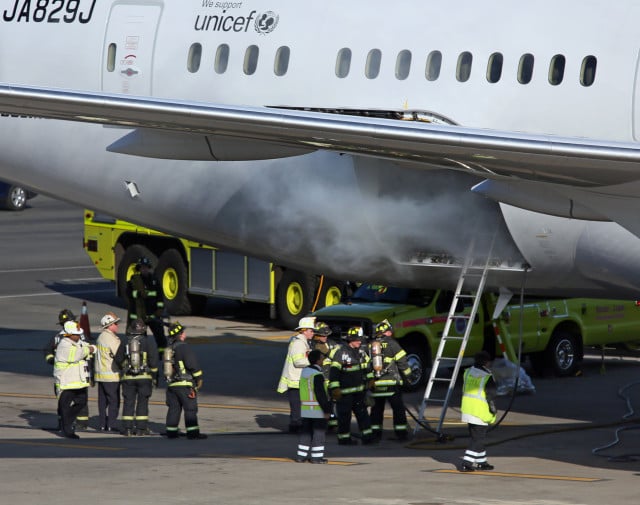 Sometime during the nearly three-hour-long flight from Delhi to Bangalore, India on Saturday, a fuselage panel fell from the underbelly of a Boeing (NYSE:BA) 787 Dreamliner operated by Air India.
According to a report appearing in the Times of India, the aircraft was ferrying 148 passengers, including crew, and its pilots did not realize the eight-by-four-foot panel had fallen off until the flight landed. Included alongside the story was a photograph, taken from beneath the plane, showing a large hole in the Dreamliner's carbon-composite fuselage that left internal components and structure exposed.
"It was the mid-underwing-to-body fairing located on the belly of the airplane on the right side," Boeing spokesman Doug Alder told Reuters, describing the missing piece of fuselage as a part that "provides a more aerodynamic surface in flight." The company is now looking into why the panel fell off, but Alder declined to answer whether the plan was manufactured at Boeing's South Carolina factory, where a number of Air India's airplanes have come off the assembly line. To fix the problem, the airline carrier told the Times of India that the lost panel had been replaced by one taken from a just-delivered 787 Dreamliner that had not yet been put into service. Now that plane is awaiting a spare part.
The Dreamliner's technical problems began with two battery meltdowns in January, which caused regulators to implement a four-month, worldwide grounding of the 787 Dreamliner — the first such global grounding in 30 years. Boeing engineers and other industry experts redesigned the system so that the battery cells would be separated and insulated, which put the plane back in the sky in April. But more technical issues followed.
A jet operated by United Continental (NYSE:UAL) was forced to make an emergency landing in Houston; an Ethiopian Airlines 787 caught fire at Heathrow Airport because of a faulty emergency beacon; a faulty fuel pump indicator and an oil level indicator caused United flights to be diverted last summer; and then Norwegian Air Shuttle's two-jet fleet experienced a string of mechanical malfunctions in September.
For the most part, industry experts have termed these events as typical "teething problems," of the new passenger plane. "This should be no surprise whatsoever," Andrew Thomas, author of "Soft Landing: Airline Industry Strategy, Service, and Safety," told the Christian Science Monitor after January's battery fires. "Every new complex collection of systems — and the Dreamliner is certainly that — will experience unknowns." In his opinion, the "magnitude, scale, and scope of the supply chain involved; the number of parts and systems; and the just-in-time nature of the manufacturing process guarantees that, like almost every other human endeavor, there will be imperfections and errors."
Since the 787 employs so many new technologies — including the carbon-composite fuselage and the lithium batteries that power complex new electrical systems, which have never been used before in aircraft design, Thomas's statement rings particularly true. "This is basically an all electric airplane," says Rob Mark, publisher of Jetwhine.com, told the publication.
At the time of the battery meltdowns, Boeing's stock price took a dip and the company was forced to launch a fight a tough public relations battle to rebuild confidence in the wide-bodied jet. "I want to reiterate that we have extreme confidence in the 787 airplane and the 787 ideas. For a long, long time we looked at the airplane and there were so many things that we wanted to do,"
Mike Sinnett, 787 chief project engineer for Boeing, said in a teleconference back in January. "We wanted to make an airplane that was more fuel efficient, more comfortable for passengers, and we wanted to give the airlines more flexibility. We've achieved those goals. We're very, very happy with how it is performing."
But even with the ongoing problems, Boeing's stock has remained near record levels, closing Tuesday down $1.28 at $118.18. Yet Boeing, which has dominated the Japan's aeronautics industry since the Second World War, did suffer a blow last week when Japan Airlines ended its half-century relationship with the jet manufacturer, announcing it would purchase 18 A350-900s and 13 A350-1000s from rival Airbus, an $9.5-billion order that will replace the carrier's fleet of Boeing 777s.
Even before that setback, Boeing was lagging behind Airbus, whose 1,112 orders are nearly 90 more than Boeing has in its backlog. Even more telling is that fact that Airbus's 350 took its maiden flight only in June of this year while, Boeing's equivalent aircraft, the Dreamliner, took to the sky for the first time in 2009, and only 979 orders have been made. Data also shows that some airlines have opted to purchase the Airbus A330 — a 20-year-old model with a reputation for reliability and economy.
Follow Meghan on Twitter @MFoley_WSCS
Don't Miss: Housing Market Feels Impact of Government Shutdown.