Can Apple Keep Meeting Its High Expectations?
With shares of Apple (NASDAQ:AAPL) trading around $90, is AAPL an OUTPERFORM, WAIT AND SEE, or STAY AWAY? Let's analyze the stock with the relevant sections of our CHEAT SHEET investing framework:
T = Trends for a Stock's Movement
Apple designs, manufactures, and markets mobile communication and media devices, personal computers, portable digital music players, and a variety of related software, services, peripherals, networking solutions, third-party digital content, and applications. The company's products and services feature the iPhone, iPad, Mac, iPod, Apple TV, a portfolio of consumer and professional software applications, the iOS and OS X operating systems, iCloud, and further accessory, service, and support offerings. Apple also delivers digital content and applications through its iTunes, App, iBook, and Mac App stores.
The latest supply chain rumors from Asia suggest that the mass production of Apple's upcoming iPhone 6 is about to kick off. According to industry sources cited by Taiwan's Economic Daily News via Reuters, primary Apple supplier Hon Hai Precision Industry, also known as Foxconn, has embarked on a major recruitment drive as it seeks to hire more than 100,000 workers from mainland China. Foxconn's additional 100,000 workers will boost the size of its overall workforce by more than 10 percent. According to the Economic Daily News' sources, Pegatron, another known manufacturer of Apple's mobile devices, is also rumored to be hiring more workers and is believed to be boosting its workforce by 30 percent at its Kunshan facility in Jiangsu, China. The Economic Daily News noted that the two recruitment drives "will be the continent's largest recent jobs action." While seasonal hiring sprees are not unusual for large contract electronics assemblers like Foxconn and Pegatron, it is believed that the timing of this recruitment drive is related to the expected launch of the iPhone 6 in the third quarter. The supply chain sources reported that Foxconn will handle approximately 70 percent of the iPhone 6 orders, while Pegatron will take the remaining 30 percent. The percentage of iPhone 6 orders given to each manufacturer appears to be roughly proportional to the number of facilities that Apple is linked to at each manufacturer. According to Apple's latest supplier list, the Cupertino, California-based company has used 29 separate Hon Hai facilities for the manufacturing of its various products during 2014, while only eight Pegatron facilities have been used. Multiple media outlets and analysts have predicted that Apple's iPhone 6 will be released in two larger screen sizes of 4.7 inches and 5.5 inches. The iPhone 6 sizes appeared to have been confirmed by two recent leaks that purported to show LCD backlight components for the 4.7-inch and 5.5-inch displays.
Per the Economic Daily News' sources, the large-screen iPhone 6 models are highly anticipated by consumers and are expected to drive shipments that "far exceed the iPhone 5 series." Apple has long resisted the overall smartphone market trend toward larger screens; its current flagship iPhone 5S only has a 4-inch display. The 5.5-inch iPhone 6 model may prove especially popular in the country where the device is being manufactured. According to data from market research firm Canalys, smartphones with screens that are 5 inches or larger accounted for 39 percent of shipments in greater China last quarter. Both devices are expected to be released sometime this fall, although some sources believe the 4.7-inch iPhone 6 will debut several weeks before the 5.5-inch model.
T = Technicals on the Stock Chart Are Strong
Apple stock has been moving higher over the last couple of months. However, the stock is currently pulling back and may need time to consolidate. Analyzing the price trend and its strength can be done using key simple moving averages. What are the key moving averages? The 50-day (pink), 100-day (blue), and 200-day (yellow) simple moving averages. As seen in the daily price chart below, Apple is trading above its rising key averages which signal neutral to bullish price action in the near-term.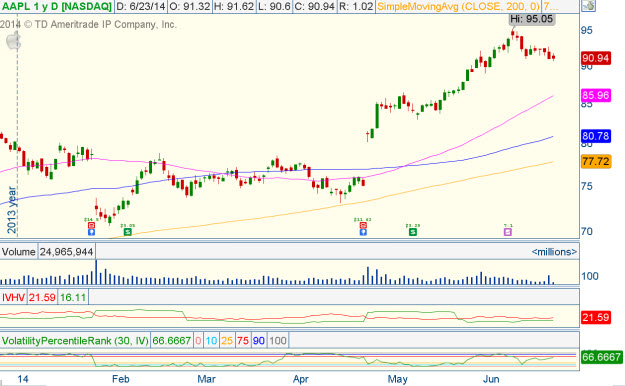 (Source: Thinkorswim)
Taking a look at the implied volatility (red) and implied volatility skew levels of Apple options may help determine if investors are bullish, neutral, or bearish.
| | | | |
| --- | --- | --- | --- |
| | Implied Volatility (IV) | 30-Day IV Percentile | 90-Day IV Percentile |
| Apple options | 21.59% | 66% | 64% |
What does this mean? This means that investors or traders are buying a significant amount of call and put options contracts, as compared to the last 30 and 90 trading days.
| | | |
| --- | --- | --- |
| | Put IV Skew | Call IV Skew |
| July Options | Flat | Average |
| August Options | Flat | Average |
As of today, there is an average demand from call buyers or sellers and low demand by put buyers or high demand by put sellers, all neutral to bullish over the next two months. To summarize, investors are buying a significant amount of call and put option contracts and are leaning neutral to bullish over the next two months.
On the next page, let's take a look at the earnings and revenue growth rates and the conclusion.
E = Earnings Are Increasing Quarter-Over-Quarter
Rising stock prices are often strongly correlated with rising earnings and revenue growth rates. Also, the last four quarterly earnings announcement reactions help gauge investor sentiment on Apple's stock. What do the last four quarterly earnings and revenue growth (Y-O-Y) figures for Apple look like and more importantly, how did the markets like these numbers?
| | | | | |
| --- | --- | --- | --- | --- |
| | 2014 Q1 | 2013 Q4 | 2013 Q3 | 2013 Q2 |
| Earnings Growth (Y-O-Y) | 15.16% | 5% | -4.73% | -19.85% |
| Revenue Growth (Y-O-Y) | 4.7% | 5.65% | 4.19% | 0.85% |
| Earnings Reaction | 6.19% | -7.99% | -2.49% | 5.13% |
Apple has seen increasing earnings and revenue figures over the last four quarters. From these numbers, the markets have been pleased with Apple's recent earnings announcements.
P = Excellent Relative Performance Versus Peers and Sector
How has Apple stock done relative to its peers, Google (NASDAQ:GOOG)(NASDAQ:GOOGL), Microsoft (NASDAQ:MSFT), BlackBerry (NASDAQ:BBRY), and sector?
| | | | | | |
| --- | --- | --- | --- | --- | --- |
| | Apple | Google | Microsoft | BlackBerry | Sector |
| Year-to-Date Return | 15.29% | 0.68% | 16.55% | -6.96% | 7.39% |
Apple has been a relative performance leader, year-to-date.
Conclusion
Apple strives to provide innovative products and services that consumers and companies love to own. The company suppliers Foxconn and Pegatron, have embarked on a major recruitment drive as it seeks to hire more workers. The stock has been moving higher over the last couple of months, but is currently pulling back. Over the last four quarters, earnings and revenues have been on the rise, which has left investors pleased about recent earnings announcements. Relative to its peers and sector, Apple has been a year-to-date performance leader. Look for Apple to OUTPERFORM.
Let's analyze the stock with the relevant sections of our CHEAT SHEET investing framework:
Using a solid investing framework such as this can help improve your stock-picking skills. Don't waste another minute — click here and get our CHEAT SHEET stock picks now.
More From Wall St. Cheat Sheet: